John Madden: Cowboys Star Micah Parsons Credits the Legendary Coach's 'Madden NFL' Series for Teaching Him Football
Article Highlights:
Dallas Cowboys star Micah Parsons credits John Madden and the Madden NFL games for teaching him to play football
Parsons also told NBC Sports' Peter King what questions he'd want to ask the football icon, who died on Dec. 28
Could Parsons appear on the Madden NFL 23 cover? Don't get your hopes up
Without John Madden's presence, Dallas Cowboys linebacker Micah Parsons may never have found himself playing professional football. Which, considering the two never crossed paths, is an incredible idea to ponder.
The notion isn't exactly hyperbolic either. Long before he became the frontrunner for NFL Defensive Rookie of the Year, Parsons was a Pennsylvania-raised child who spent hours playing the Madden NFL series. In the wake of Madden's death on Dec. 28, the Cowboys' star rookie reflected fondly on how a simple video game turned him into the man he is now.
Micah Parsons credited John Madden and the 'Madden NFL' games for teaching him football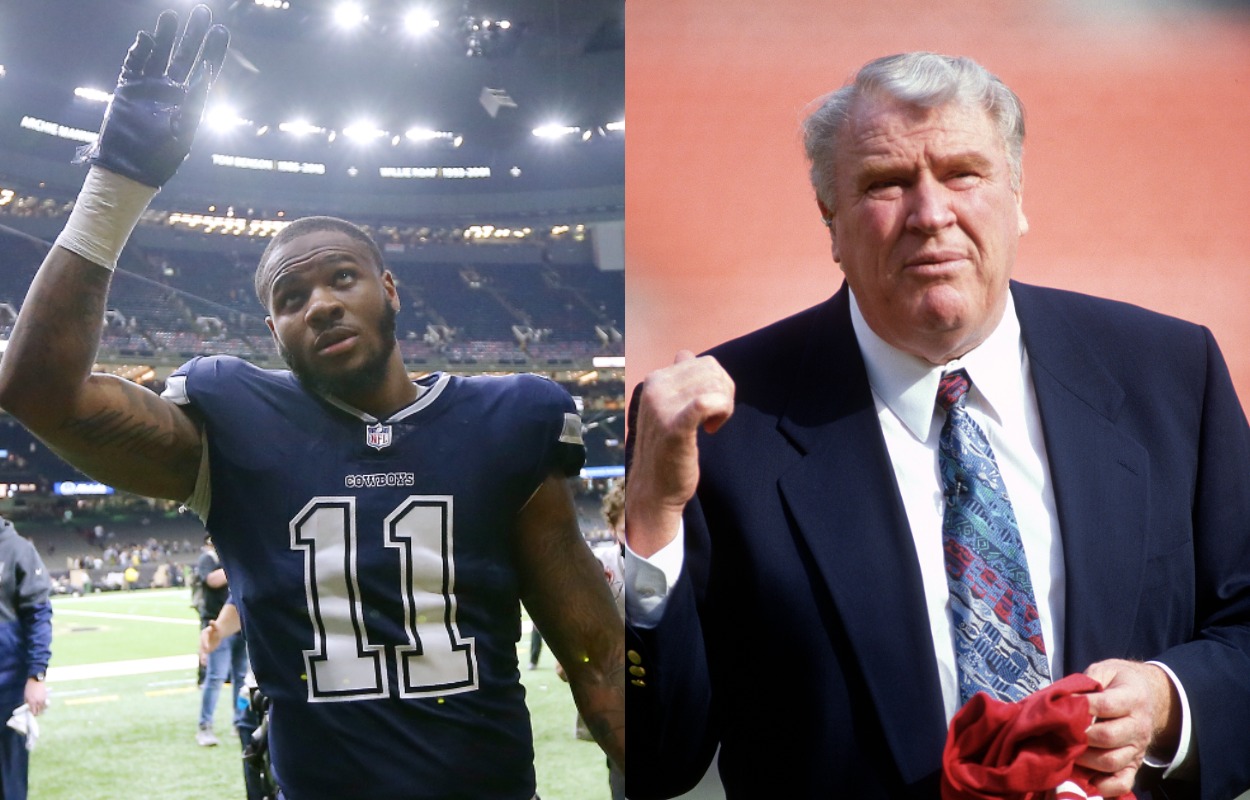 Parsons has talked repeatedly throughout his rookie year about his love for the Madden NFL series. In various interviews and social media posts, he described his love of playing as Kansas City Chiefs quarterback Patrick Mahomes and even shared his frustrations regarding his early catch rating, a lowly 57.
Like many other young NFL players, Parsons grew up playing Madden throughout the 2000s and 2010s. In the Jan. 3 edition of NBC Sports' Football Morning in America, Parsons credited the Madden games for helping him truly learn the sport of football.
"It allowed me to have a real understanding of the game — how different formations worked, how route concepts worked, knowing where every player should be, how to beat zone coverage, where the weaknesses were in certain coverages. I was able to really understand football from playing Madden." 
Parsons, the 12th overall pick in the 2021 NFL Draft, debuted with a 75 overall in Madden NFL 22. As of publication, his overall had skyrocketed to an 87, and his catch rating is even up to 62.
"As I progressed in football, so much of it for me was instinct," Parsons told NBC Sports' Peter King, "but I learned so much about the techniques and the schemes from the game. It's helped me all through football."
Parsons, an avid gamer, would have asked Madden an important question if they met
When the Cowboys drafted Parsons last year, a reporter asked him what he knew about the team's high-profile offense during his introductory press conference. 
"I used them in Madden quite often," the former Penn State standout replied. "So I know what kind of talent they got."
The Madden series has had a clear impact on Parsons' life and football dreams. The rookie linebacker told King he's still mourning Madden's loss and hopes others will do the same, even if they're not football players.
Parsons told King that, had he received the opportunity, he would have asked Madden two (well, technically three) questions. The first, he explained, is learning why the legendary coach and broadcaster cared so deeply about football and what else Madden loved.
As for the final question?
"I probably would have asked him if I could be on the cover one day," Parsons said.
Parsons' dominant rookie season might very well earn him the 'Madden NFL 23' cover
If the Pro Football Hall of Famer still did his yearly All-Madden team, Parsons would likely find his name on there. The rookie recorded 13 sacks, forced three fumbles, and totaled 20 tackles for loss in the NFL's first 16 weeks. 
Barring any COVID issues, he'll have an opportunity to increase those numbers in Week 18 against the rival Philadelphia Eagles. Dallas is expected to play its starters even after clinching the NFC East Division two weeks ago.
Down the line, perhaps after Parsons ends his rookie year with a Super Bowl ring, he could have another honor headed his way. He's certainly done enough as a rookie on one of the NFL's most recognizable franchises to potentially appear on the Madden NFL 23 cover.
However, a defensive player has not appeared on the cover since then-Seattle Seahawks cornerback Richard Sherman did so in 2014's Madden NFL 15. EA Sports does not typically announce the next Madden cover athlete until the spring.
Cowboys fans might want Parsons to stay far away from the cover and its infamous curse. However, don't expect the star linebacker to ever consider refusing the offer, not with how thankful he is for the series' existence. 
Like Sportscasting on Facebook. Follow us on Twitter @sportscasting19.