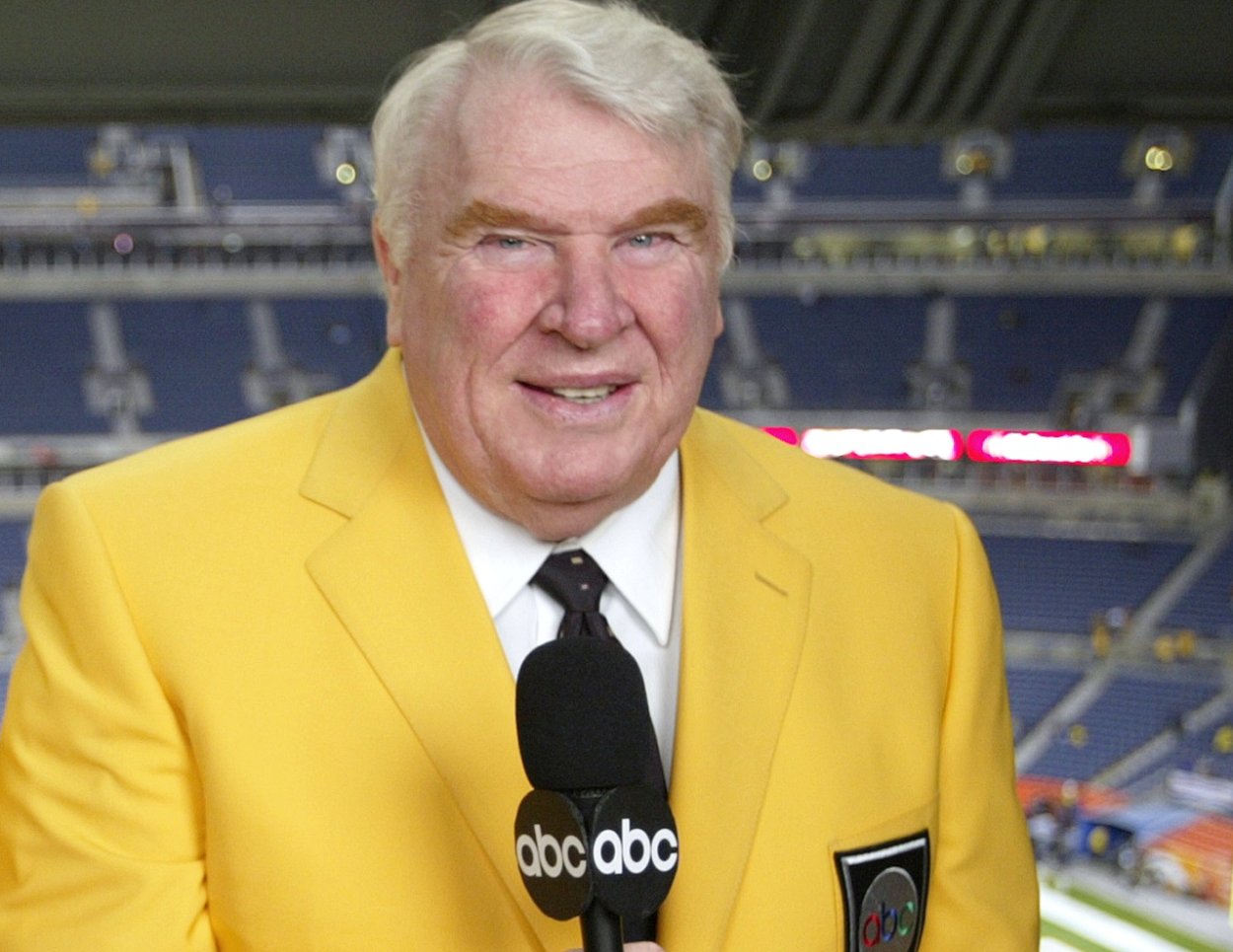 John Madden Hated Calling Dallas Cowboys Games Long Before He Began Traveling in a Bus
For as much as John Madden loved traveling, he hated calling Dallas Cowboys games in the 1980s.
By the early '80s, the Dallas Cowboys cemented themselves as America's Team and the face of professional football. Although that proved excellent for the likes of Roger Staubach and Tom Landry, John Madden couldn't say the same thing.
By that point, Madden's coaching days were over. Instead, the Super Bowl 11 champion spent his Sundays in the broadcast booth for CBS. As much as he enjoyed traveling and analyzing football games, the former AFL Coach of the Year utterly despised calling Cowboys games.
John Madden hated calling Dallas Cowboys games because of the hotels
Younger NFL fans might be surprised to know what the league's climate looked like in the early '80s. Consider that the New York Jets still played in New York — they shared Shea Stadium with the Mets in a perfect marriage of lovable losers and tortured fanbases — and the Seattle Seahawks were an AFC team.
Much like today, however, the Dallas Cowboys were a national draw. The franchise won two Super Bowl titles in the '70s and consistently appeared in the postseason before ineffective drafting and stubborn management led to Jerry Jones' arrival as the owner in 1989.
Everyone wanted a piece of the Cowboys, which created problems for Madden. In a 1982 interview with Sports Illustrated, the beloved announcer said he disliked jumping through so many hoops when he needed to work a Cowboys game.
"The thing I hate about doing one of their games is that they lead the league in lobbies. Normally, there'll be 30 or 40 people milling around the lobby where a team's staying. When the Cowboys are in a hotel, it'll be more like 500. You can't even get in the damn dining room. You have to call room service."

John Madden
Considering that Madden called NFL games until his retirement in April 2009, it's safe to say those packed hotels didn't scare him away.
Madden called many notable Cowboys games over the years
Despite working as an NFL announcer for 30 years, Madden never served as the color commentator in a Super Bowl featuring the Dallas Cowboys. Whether that's poor timing or an indictment of the Cowboys is up to you.
However, Madden did work plenty of memorable games involving America's Team. His role on Fox's No. 1 broadcast team in the '90s allowed him to see the Cowboys play on Thanksgiving every other year. Madden and Pat Summerall watched Minnesota Vikings rookie receiver Randy Moss torch the home team for 163 yards and three touchdowns on Nov. 26, 1998.
Four years earlier, future Cowboys head coach Jason Garrett, Dallas' third-string quarterback at the time, outdueled Green Bay Packers quarterback Brett Favre in a 42-31 victory on Nov. 24, 1994. 
While at NBC in January 2007, Madden was the color voice for a Cowboys-Seahawks wild-card matchup. Cowboys quarterback Tony Romo famously botched the hold on what would have been a game-winning 19-yard field goal with 1:19 left, and Seattle hung on for the 21-20 victory.
Packed hotels weren't the only difficult part of John Madden's travel schedule
For most of his broadcasting career, Madden didn't only have production meetings and packed hotels to worry about each week. He needed to ensure his bus, the infamous Madden Cruiser, made it to the game in time.
Madden, who disliked flying because of claustrophobia, began traveling the country in a Greyhound bus from 1987 through his final game in February 2009. The original Madden Cruiser moved to the Pro Football Hall of Fame in 2018.
For his sake, we hope Madden at least had the space to comfortably eat and even sleep in his bus when he worked Cowboys games.
So here we have a Super Bowl-winning coach who complained about hotels and didn't like flying. Let this serve as a reminder that celebrities are just like us, even if they're in the broadcast booth each Sunday and not on the couch.
Like Sportscasting on Facebook. Follow us on Twitter @sportscasting19.