John Means Missed a Perfect Game Because of a Bad Play by the Catcher, Not a Bad Rule
By any measure, John Means of the Baltimore Orioles on Wednesday threw a masterpiece against the Seattle Mariners.
Means faced the minimum 27 batters in the Orioles' 6–0 win, allowing no hits, no runs, no walks, and only one baserunner. It was how the baserunner reached first base that created some controversy about an old, well-known rule. Means missing out on a perfect game because that rule was properly enforced has many pundits screaming for its elimination.
The rule in question is Rule 6.09(b) in Major League Baseball's Official Baseball Rules. Generally, Rule 6.09 covers the ways a batter becomes a runner, and 6.09(b) would be the answer on the standardized test if the question pertained to which item on the list is not like the others. But does different make it a bad rule? Or is it a bad rule because — in this instance — it nullified a more palatable result?
John Means struck out Sam Haggerty, and that was the issue
John Means was almost untouchable Wednesday. Of his 113 pitches, 79 were strikes. He threw first-pitch strikes to 26 of the 27 hitters he faced, which is simply ridiculous. He finished with 12 strikeouts.
Means' gem was the first non-perfect no-hitter in Major League Baseball history in which the opponent did not have a batter reach base via walk, hit by pitch, or error. Instead, a wild pitch separated Means from MLB's first perfect game in nearly nine years.
That is where Rule 6.09(b) comes into play. Per MLB's official rulebook, "The batter becomes a runner when – (a) he hits a fair ball; (b) the third strike called by the umpire is not caught, providing (1) first base is unoccupied, or (2) first base is occupied with two out."
When Means struck out Sam Haggerty with one out in the bottom of the third inning, the third strike broke downward and skipped between the legs of catcher Pedro Severino. But here's the thing: If you look at the video of the play, two things become apparent:
That was some filthy stuff Means had Wednesday.
Severino was coming up out of his stance as the pitch broke instead of dropping to his knees to block it.
Blame the rule all you want, but the inescapable bottom line is this: Means lost his perfect game because of the imperfect execution of fundamentals by Severino. Period.
For what it's worth, Means didn't seem to care much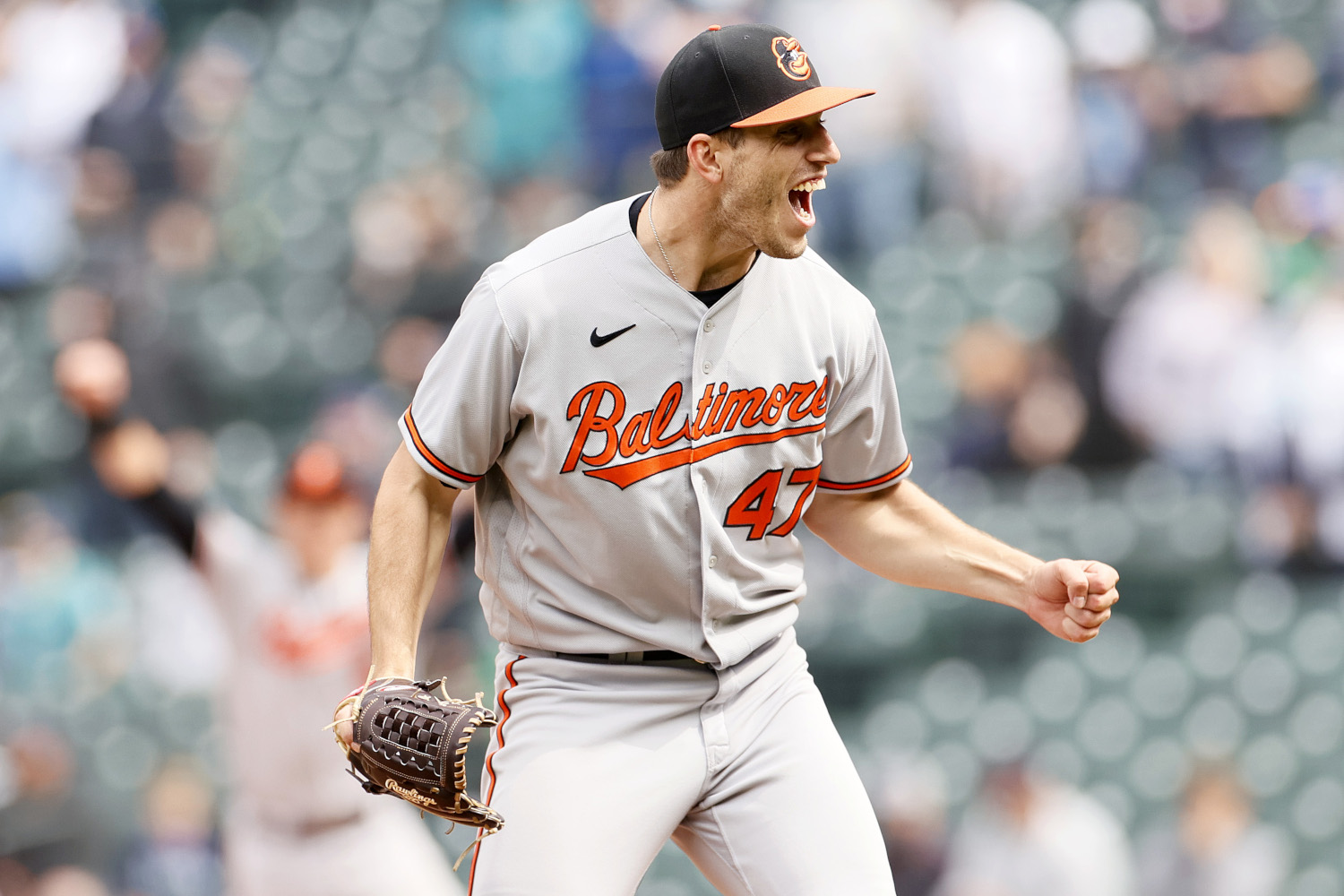 With his gem Wednesday, Means broke the longest current no-hitter drought by a single franchise. The Orioles last had a no-hitter on Aug. 13, 1969, when Hall of Famer Jim Palmer blanked the Oakland Athletics on no hits. The franchise did record a group no-hitter in 1991, also against Oakland.
It's already the third no-hitter this season. Joe Musgrove of the San Diego Padres threw the first no-hitter in that franchise's history — dating to 1969 — against the Texas Rangers on April 9 before Carlos Rodon of the Chicago White Sox blanked the Cleveland Indians on April 14.
Means told reporters after Wednesday's game he really didn't care whether it was a perfect game.
"It's such a crazy feeling," Means said, per The Associated Press. "It's such a whirlwind of an experience. I don't think I've been able to process it yet. But to be in the same breath as Palmer, I don't think that it gets much better than that."
Perfect or not, John Means was dominant … again
The last perfect game in MLB also came at Seattle's T-Mobile Park when Felix Hernandez of the Mariners went 27 up and 27 down against the Tampa Bay Rays on Aug. 15, 2012. It was the 23rd perfect game in MLB history and the seventh this century.
For John Means, it was the latest — and best — effort of a season that has been dominant thus far.
In seven starts this season, Means has a 1.37 ERA in 46.0 innings, allowing only 21 hits with a WHIP of 0.674. Last season, Means made 10 starts and posted a 4.53 ERA and 0.985 WHIP in 43.2 innings. Home runs were the problem in 2020 — he served up 12, an average of 2.5 per nine innings. He's surrendered five bombs in 2021.
To put Means' current numbers in perspective, the lowest qualified WHIP in a single season is 0.737 by Hall of Famer Pedro Martinez in 2000. Means is allowing only 4.1 hits per nine innings. Trevor Bauer set the MLB record last season with a 5.1 mark. The lowest total over a full season was set by Nolan Ryan, another Hall of Famer, in 1972 when he allowed 5.3 hits per nine.
Statistics courtesy of Baseball Reference.