John Wall Has a Long History of Injuries, but It Was a Fall in His Own Home That Could Prove to Be the Most Significant
John Wall was one of the best — and most physically gifted — point guards in the NBA. His speed from end to end made him a blur. He had the athleticism to get to the rim however and whenever he wanted. But injuries started to catch up with the Kentucky product, and his play dropped off in a hurry. Wall has done damage to both knees, his wrist, his shoulder, and his heel. But it was a slip and fall in his own home that may have been the nail in his career coffin.
Wall and his contract have proven to be a strain on franchises the past few years. He was dealt from Washington to Houston for Russell Westbrook, but was injured again for more than half of last season. Now the Rockets are preparing to dump Wall as well. The end of the line may be in sight for the No. 1 overall pick in the 2010 NBA Draft.
Houston is trying to find a way off of John Wall's contract
Wall signed a four-year, $171 million extension with Washington heading into the 2019-20 season. In 2021-22, the point guard is set to earn more than $44 million as part of the deal. It escalates to more than $47 million in 2022-23, Wall's age 32 season.
In a like-for-like trade as both teams tried to rid themselves of their respective point guards with huge contracts, the Wizards sent Wall and a protected first-round pick to Houston in exchange for Westbrook. The Rockets dealt Westbrook in another move to try and placate James Harden, while Washington got an upgrade over Wall with a point guard who could actually be on the floor.
Now, according to Shams Charania, Houston and Wall are working together on a deal to move the 31-year-old.
Wall has a long history of injuries, but tearing his Achilles at home in 2019 may end up being the most significant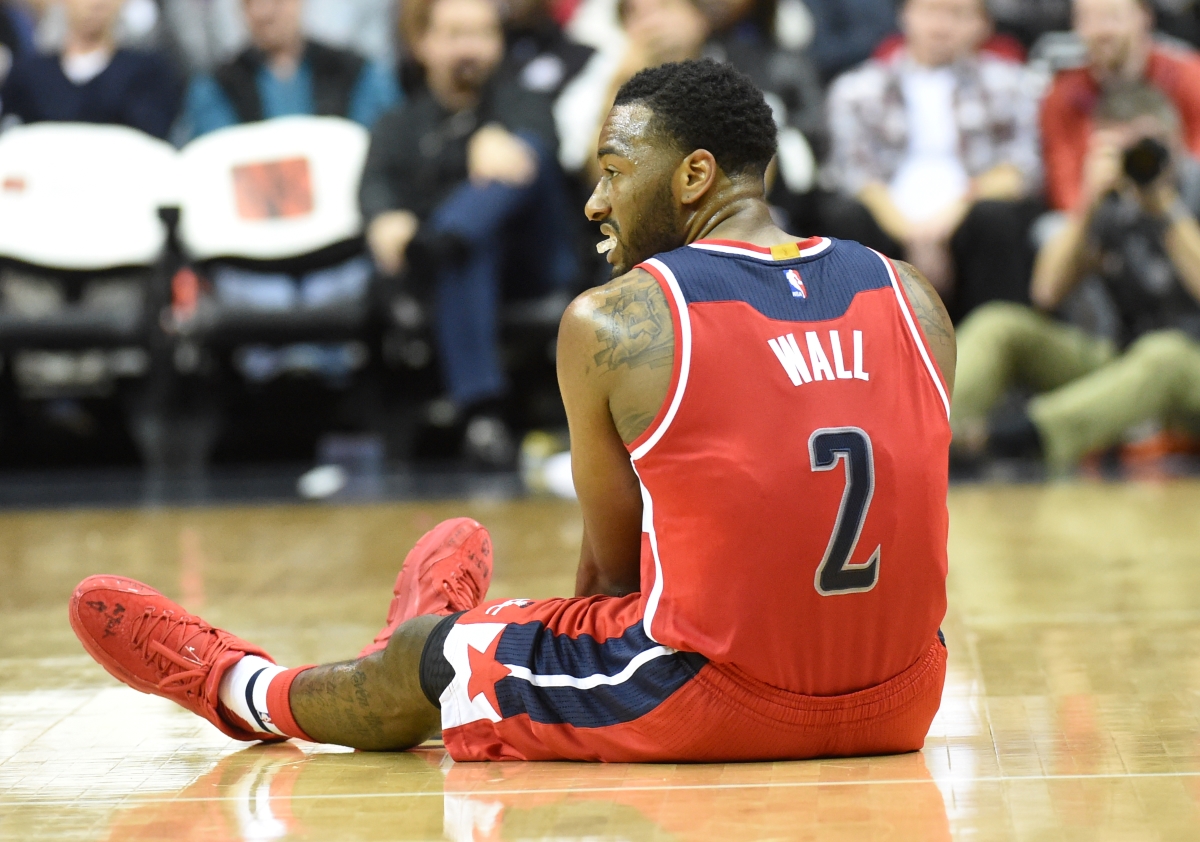 Wall's injury history, according to NBC Sports, dates back to 2012 when he missed the first 33 games of his third season in the league. He missed chunks of games seven other times between 2015-2018, the majority of which were knee-related.
In December of 2018, Wall saw a specialist to deal with recurring pain in his left heel. Ultimately, the 6-foot-3 guard had surgery that ended his season. The real kicker (no pun intended) came on Jan. 29, 2019 — a month after Wall had that heel surgery — when Washington announced its star had partially ruptured his Achilles tendon in a fall at home. According to Bleacher Report, the Achilles surgery revealed Wall had also developed an infection from his heel surgery.
He missed the entire 2019-20 season before heading to Houston, where he played 40 games last year. (The 2019-20 season on his Basketball-Reference pages reads, "Did Not Play (injury–left heel, Achilles, infection.) Ouch.
From 2014-2016, Wall averaged a double-double with 18.7 points and 10.1 assists, adding 1.8 steals per game as an all-defensive team player. He played 156 out of a possible 164 games over those two seasons.
In the four seasons since, the five-time all-star has played 113 total games.
The future of John Wall's career looks bleak
Wall remains on his max contract for two more seasons. He played more games last year (40) than he has since 2017-18, when he played 41.
An injury history like the former Wildcat's, coupled with an albatross of a contract, spells disaster for a career. Wall is about to end up with his third team in as many seasons. Based on the last four years of evidence, the once athletically dominant point guard is, unfortunately, staring directly at the end of his basketball career.
All statistics courtesy of Basketball-Reference and salary information courtesy of Spotrac.
RELATED: The Ben Simmons Saga Continues as a 'Small-Market' Mystery Team Is Now After the Young Star