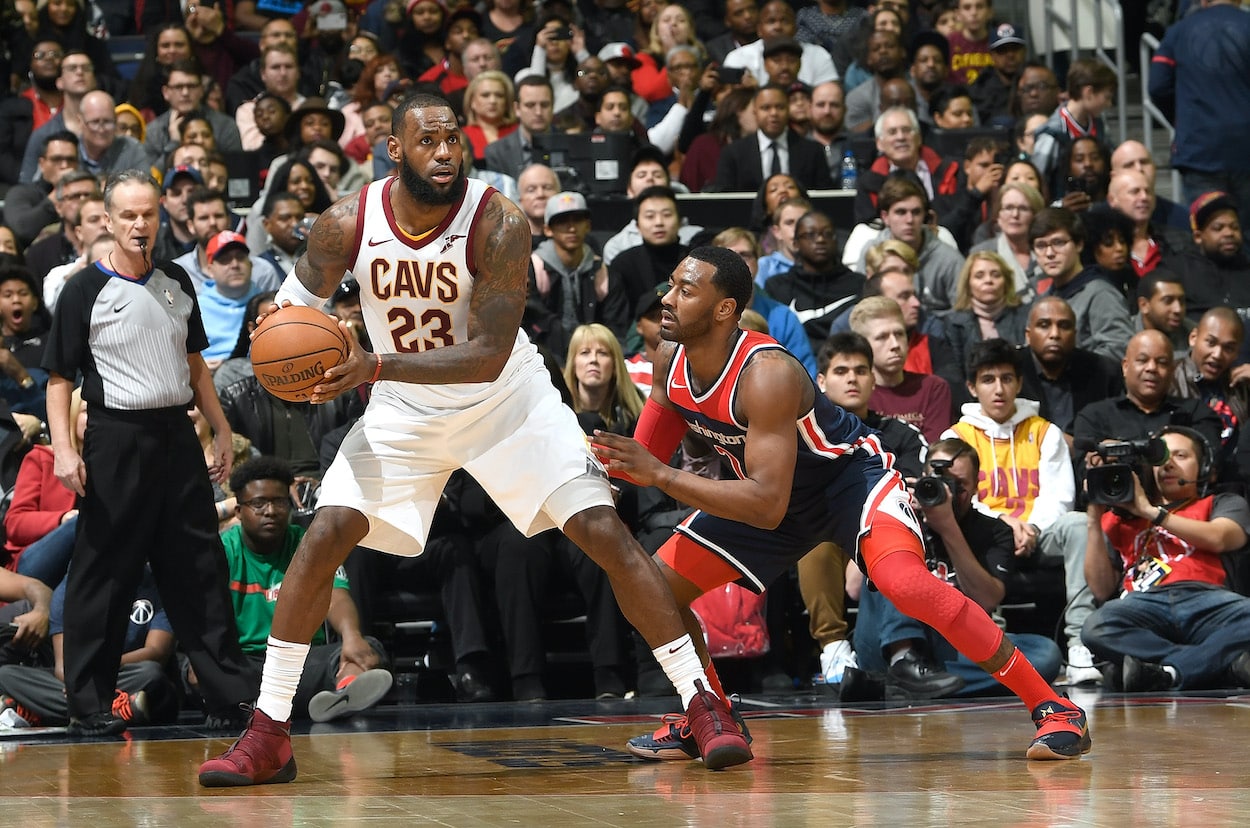 John Wall Idiotically Claims the Wizards Would've Crushed LeBron James and the Cavaliers in the 2017 Playoffs
John Wall wishes the Wizards could've played LeBron James and the Cavaliers in the 2017 NBA playoffs.
Throughout most of the 2010s, players in the Eastern Conference almost had no hope of reaching the NBA Finals unless they were fortunate enough to be teammates with LeBron James. LeBron-led teams went to eight straight NBA Finals from 2011-18, and only three of those Eastern Conference Finals series went past six games.
But John Wall, who's never faced off against James in the playoffs, is convinced his Washington Wizards would've taken down the Cleveland Cavaliers in 2017. Yeah, he's probably lucky we'll never know how that series would've turned out.
John Wall claims the Wizards would've beat LeBron James and the Cavaliers in the 2017 playoffs
Warning: NSFW language
Back in 2017, the Eastern Conference seemed to be a two-horse race between the Boston Celtics and the Cavaliers. The Toronto Raptors ended up as the No. 3 seed after a 51-31 record, but they could never slow down James in the postseason. The No. 4 seed Wizards likely couldn't, either, but Wall is confident they would've taken down The King.
"We was going to beat the s*** out of LeBron," Wall said in a recent interview with Tidal League.
"I'm telling you, if you interview anybody on the Cavs, that was one team they did not want to see in the East," he continued. "They did not want to see us. Me and Kyrie (Irving), we matching up. I'm taking Brad (Beal) over J.R. (Smith). You got Bron over Trevor Ariza. I'm taking you know who. Kevin Love and Markieff Morris, I'm taking Kevin Love, but Markieff Morris can shoot threes and post up. I'm taking (Marcin) Gortat over Tristan Thompson, and our bench was deeper than theirs.
"We had Bogie (Bojan Bogdanovic), Kelly Oubre. Then you look at every game we played that year, it was always a one- or two-point game. They broke our 18-game home winning streak when LeBron hit that bank f***ing shot. I told him that s*** was luck."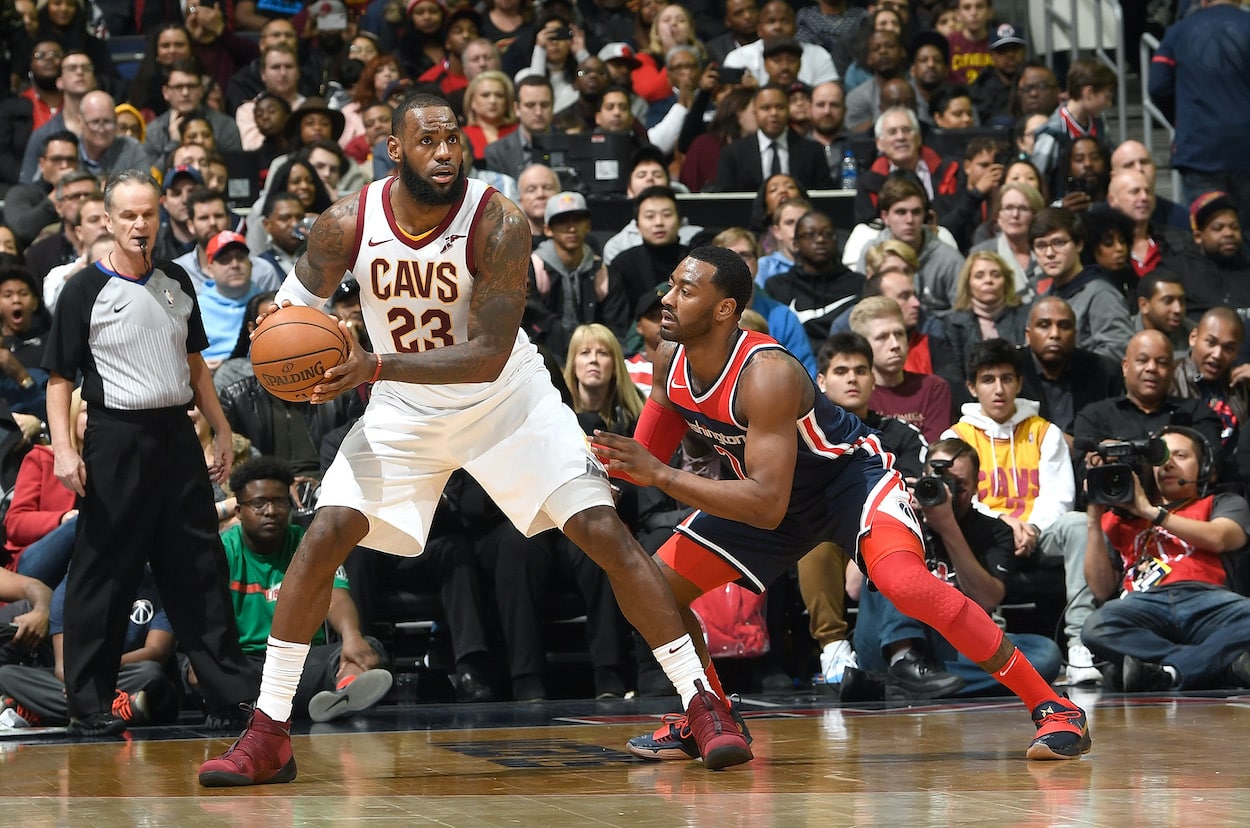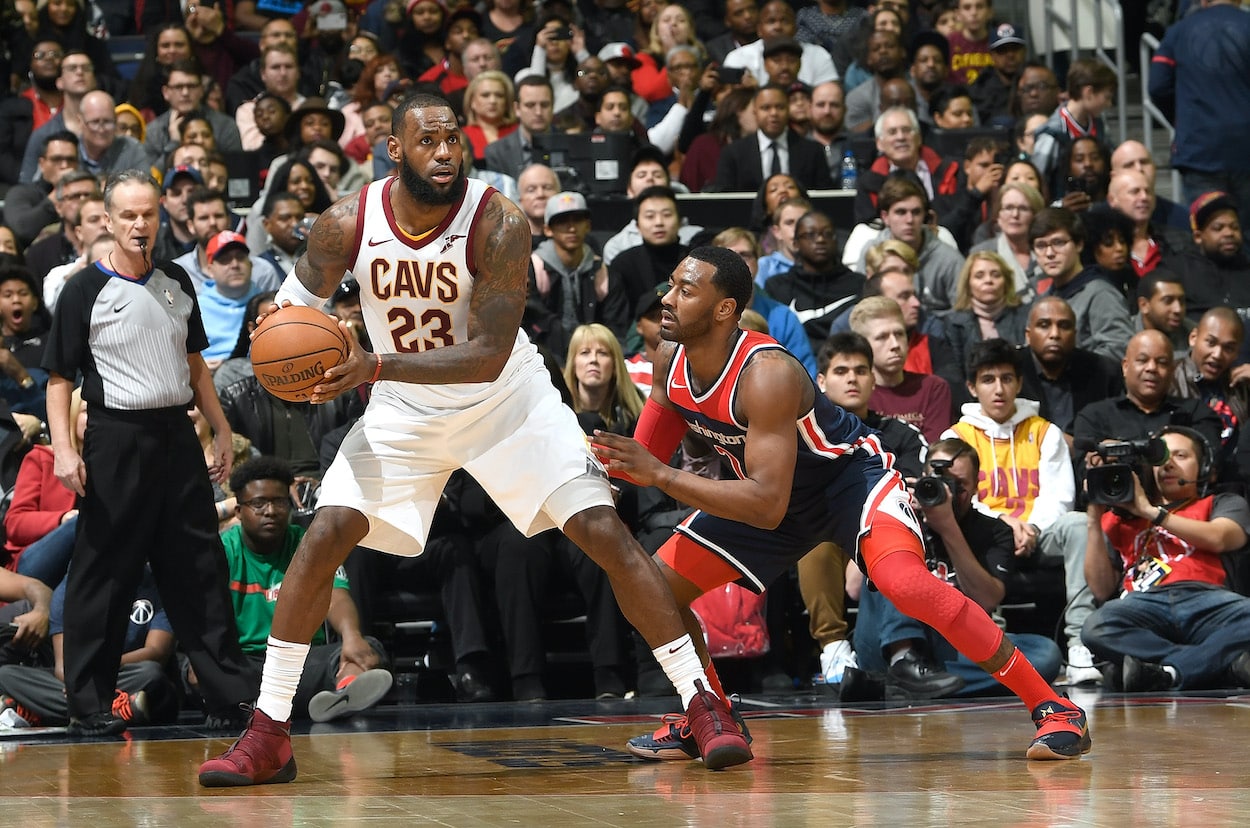 Ok, let's break this down.
It was a lucky shot. I'll give that to Wall. But his memory of the Wizards-Cavaliers matchups that year is a bit fuzzy. Washington and Cleveland faced off three times in the 2016-17 regular season. The Cavs won the first game by 11 and the second by five in overtime, and the Wizards won the third by 12. Additionally, I agree with most of Wall's matchup breakdowns, but there's no way 2017 John Wall was better than 2017 Kyrie Irving. Irving was better statistically, and he's also a much more accomplished playoff performer. I mean, he made one of the most iconic game-winning shots in NBA Finals history. Meanwhile, Wall has never even made it past the second round.
In the 2017 playoffs, the Cavaliers cruised to the ECF by sweeping both the Indiana Pacers and the Raptors. The Wizards, though, beat the Atlanta Hawks in six games before losing to the Celtics in seven games. Maybe if Wall didn't score just 18 points on 8-of-23 shooting and 1-of-8 from three in Game 7, Washington would've been able to test itself against Cleveland in the ECF.
Throughout his NBA career, Wall is 7-16 straight up against James. Does he really think that would've changed in the playoffs? You know, when LeBron plays his best and Wall plays his worst? Yeah, I don't think so.