John Wall For Kristaps Porzingis Is the Risky Trade the Dallas Mavericks Must Make to Become NBA Title Contenders
John Wall and the Houston Rockets are working on finding a new home for the veteran, which might present the Dallas Mavericks with an opportunity to solve their Kristaps Porzingis while adding a vital secondary playmaker.
Both Houston and Dallas take on plenty of risk in a hypothetical Wall-for-Porzingis trade. Yet, it's a deal that could make sense for each team. This is especially true of the Mavericks, a team desperate to add another dependable creator alongside Luka Doncic.
The Dallas Mavericks are one of the few teams who can trade for John Wall
The Rockets seem determined to trade John Wall and not resort to a buyout, but that's easier said than done when he's owed up to $91.7 million in the next two seasons.
Wall is under contract for over $44 million this upcoming season. He also has a player option worth north of $47 million for the 2022-2023 campaign. Not many teams can move big contracts while also upgrading their rosters, but the Mavericks could be one of those teams. Kristaps Porzingis is the crucial figure here.
Porzingis' future with the Mavs has become a major point of interest in Dallas. He hasn't lived up to the $158 million extension he signed in the summer of 2019, averaging just 13.1 points and 5.4 rebounds in the playoffs after dealing with more injuries during the 2020-21 regular season and offering little value in the low post. The Latvian big man also has underlying tension with Luka Doncic.
Dallas hasn't suggested it would look to move the 26-year-old, who still has up to three years and over $100 million on his contract. But the reality is Porzingis might not be the best fit for this Mavs roster, and his contract matches up well for a possible Wall trade that might otherwise be tricky for the Rockets.
Here's another detail: the Mavs can toss in a guy on a walk year — possibly Willie Cauley-Stein — to make the money work and still afford the Rockets some future cap flexibility.
Trading one injury-prone player (Porzingis) for an older, more expensive player with durability questions (Wall) is a risky play. But it's one Mark Cuban and Co. need to consider.
Wall could be a necessary secondary playmaker for Luka Doncic
The Dallas Mavericks have a generational talent in Doncic. But the team's ceiling just isn't that high because Dallas ultimately relies on Luka to create practically all of its offense. That changes if the Mavs add an All-Star-caliber guard.
The 2010 No. 1 overall pick might not be the same kind of explosive talent he was during his prime years with the Washington Wizards. Still, John Wall managed to be productive on a woeful Rockets team. He averaged 20.6 points, 6.9 assists, and 3.2 rebounds last season. The speedy point guard still excels going downhill and getting to the foul line, averaging 5.3 free-throw attempts per game last season. That would have ranked second on the Mavs, behind only Doncic.
Wall would also give Dallas a transition threat who can make plays in the open floor. Dallas ranked just 24th in pace and often lived and died with Doncic creating in the half court. That changes a bit with Wall, who can take outlet passes and start breaks in the blink of an eye.
Frankly, Dallas doesn't need a guy like Porzingis, who adds little value when he isn't shooting the three-ball efficiently. It already has a floor-spacing big in Maxi Kleber, and today's NBA is mostly defined by strong guard play.
Wall could relieve Doncic of some ball-handling duties and allow him to be more of a threat off the ball. The presence of Tim Hardaway Jr. and Dorian Finney-Smith's ability to play an undersized 4-man also gives Dallas added spacing, which accounts for Wall's somewhat unsavory perimeter shooting numbers.
Both teams take on some risk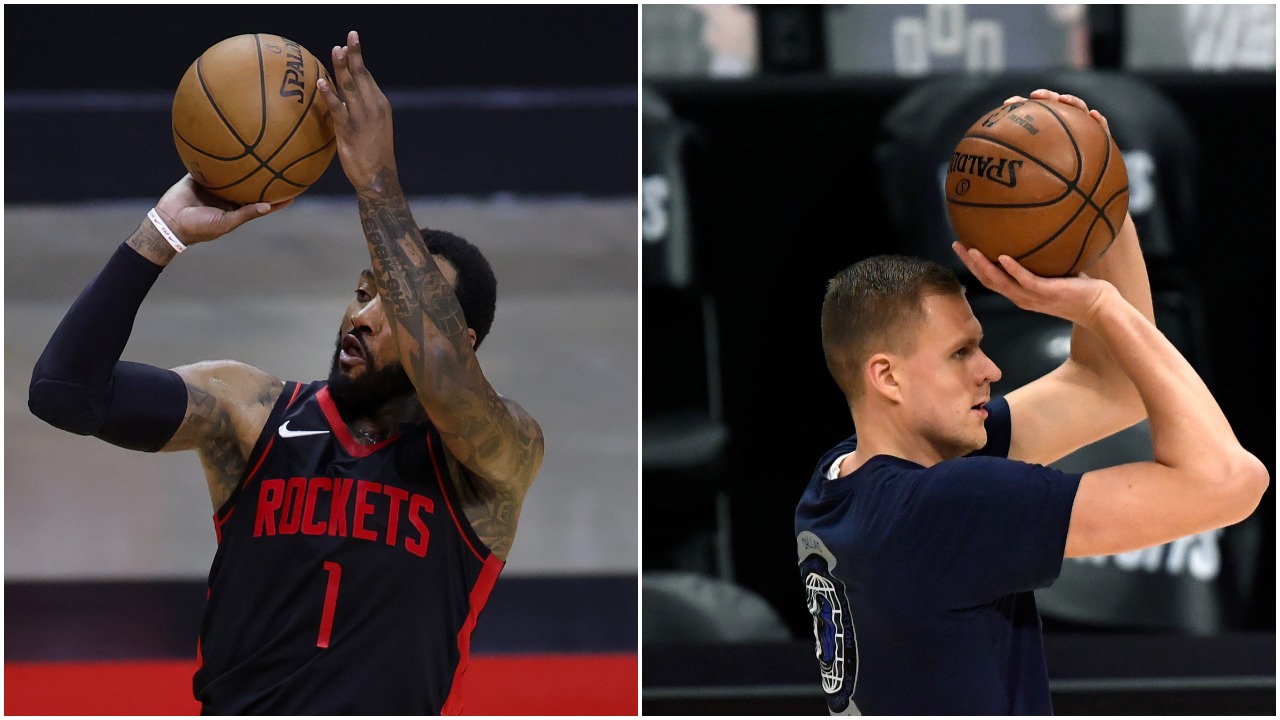 A John Wall-for-Kristaps Porzingis trade has elements of "lose-lose" for both teams.
The Mavs and Rockets would both take on big money. Houston is in a rebuild and might not be interested in rostering such a big deal without a clearer sense of direction. Meanwhile, Dallas has a decent number of guards on the roster and is reportedly expressing interest in Frank Ntilikina.
Yet, it's worth wondering whether a rejuvenated Wall is a better fit for Doncic and more likely to get the Mavs closer to title contention than Porzingis. Similarly, the Rockets might be willing to bet on KP, who is still only 26 and might fit well alongside Christian Wood in the frontcourt. Plus, Houston appears to have its backcourt of the future in Kevin Porter Jr. and Jalen Green.
On its face, this proposed trade seems needlessly risky. But it's one the Mavs should try to make if they are hungry to make a more immediate push for contention.
Stats courtesy of Basketball Reference. Contract information courtesy of Spotrac.
RELATED: Longtime Teammate Gives Impassioned Defense of Kristaps Porziņģis: 'Once You Get That Type of KP Back, I Think We Can Beat Anybody'