John Wall Emphatically Proves He's Nothing Like Ben Simmons at Houston Rockets Training Camp
John Wall and Ben Simmons are both seeking a trade. But they're going about it in two very different fashions.
Simmons' refusal to report to Philadelphia 76ers training camp and adamance about never playing in Philly again continues to dominate the NBA landscape. Although Sixers officials still want the star point guard to report, it doesn't look like he will do so any time soon.
Simmons is looking out for his ends. On the other hand, Wall is actively helping his current employer even as he tries to make his way a contender. The different approaches highlight John Wall's value as a veteran leader, despite his rather large contract.
John Wall is making his presence felt at Rockets camp
John Wall and the Houston Rockets already agreed he would sit out the start of the season as the two sides worked out a trade. Wall could easily sit back and await his fate. Instead, he's getting involved.
Rockets head coach Stephen Silas praised Wall for remaining engaged as a young Houston team prepares for the 2021-22 campaign. He's even served in something of an advisory role for Silas.
Although Wall is a bit of a polarizing figure and had his leadership questioned following his somewhat contentious departure from the Washington Wizards, he's been a consummate professional in Houston. He has already committed to traveling with the team, though he won't suit up. The five-time point guard is embracing his role.
"My job here is to be a mentor via leadership, try to teach these young guys how the NBA goes and be a support system throughout the whole season," Wall said, via SportsRadio 610.
It says a lot about Wall that he genuinely wants to partake in the building process for a team he's about to leave and one that finished with the worst record in the NBA last season. Not to mention, it's quite the departure from Ben Simmons' approach to his own trade demands.
Wall separates himself from Ben Simmons
If nothing else, Wall has made one thing abundantly clear: he's nothing like Ben Simmons.
Whereas Simmons is showing a certain level of stubbornness in refusing to at least try to hash things out with the Sixers, a top contender in the Eastern Conference, Wall is exhibiting a sense of patience despite wallowing on a lowly Rockets team. Moreover, he seems to be relishing the chance to help young guys develop.
It's probably fair to say that teams with an eye for a point guard upgrade would prefer to acquire Simmons over Wall if forced to make a choice. The 76ers guard is nearly six years younger. He is a vastly superior defender and has a cleaner bill of health in recent seasons.
Yet teams might also worry about potential ego issues with Simmons. That doesn't appear to be an issue with Wall, who just wants to win and, at 31, still has something left in the tank.
Will Wall's approach boost his trade stock? Or is his contract eventually going to necessitate a buyout?
John Wall might have to ask for a buyout to get out of Houston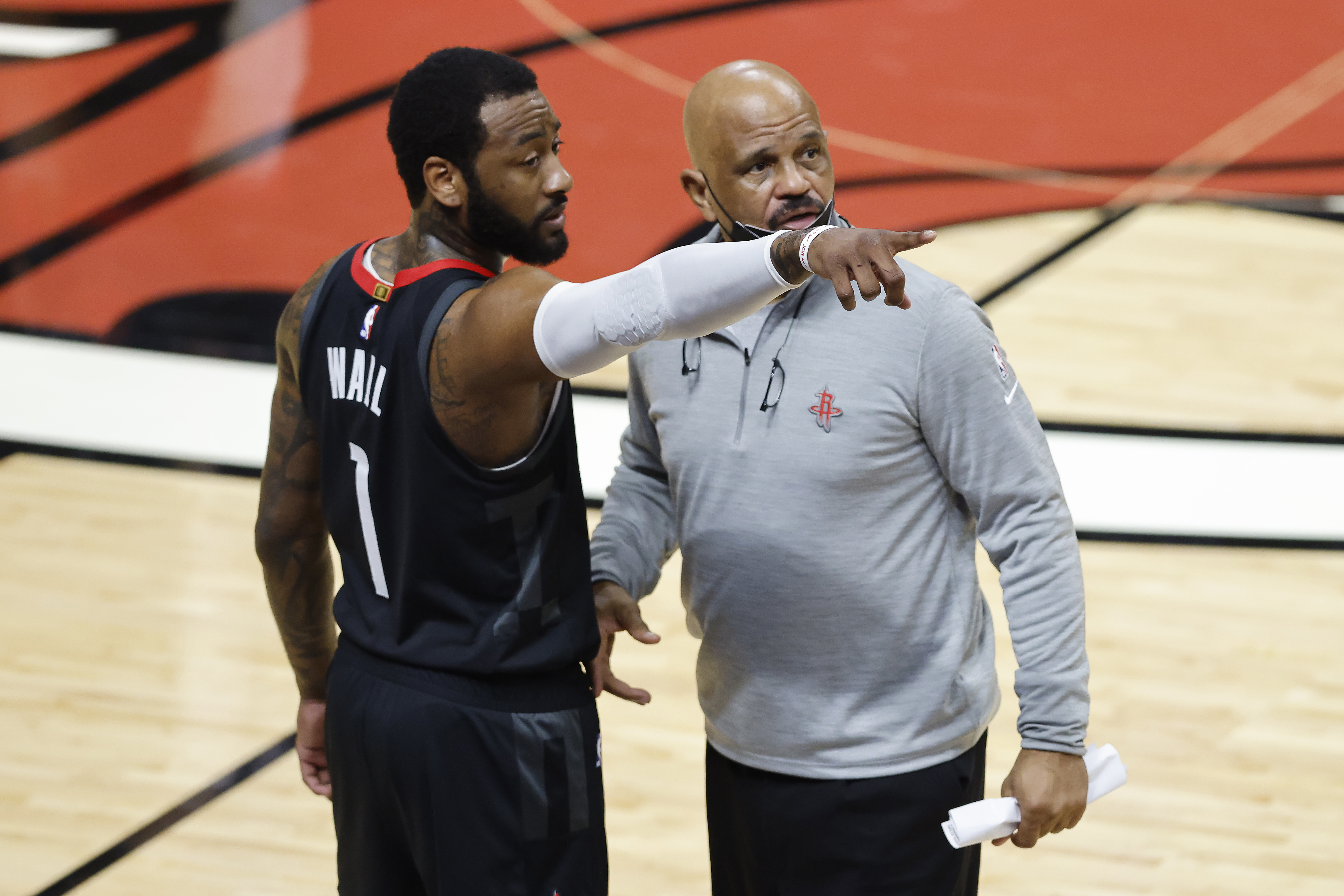 The Rockets are determined to find a trade partner for John Wall, rather than just come to a buyout agreement. Realistically, though, a buyout might be the only feasible option.
Houston currently owes Wall over $44 million this upcoming season, and the veteran point guard has a player option for over $47 million for the 2022-23 campaign. It will be hard to find a team that both has the tradable contracts to make a deal work. Plus, teams might show hesitance because of Wall's recent injury history.
However, Wall has demonstrated a high level of character. The criticisms of Ben Simmons are clear indicators that things like character and leadership do indeed matter. Maybe that makes all the difference in a contender maneuvering to get him.
Contract information courtesy of Spotrac.
RELATED: John Wall Has a Long History of Injuries, but It Was a Fall in His Own Home That Could Prove to Be the Most Significant