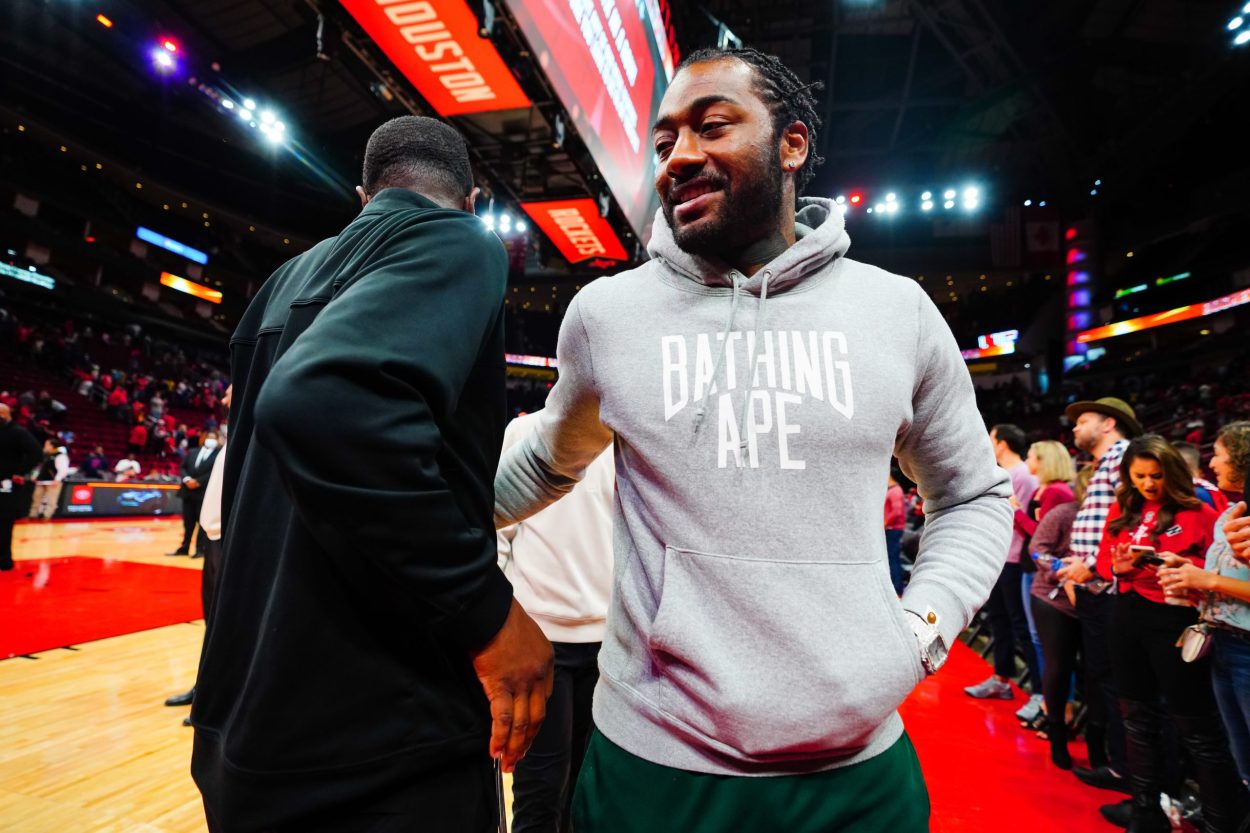 A John Wall Reunion Is Exactly What the Wizards Need, but There's a Catch
John Wall's openness to a Wizards return could solve the team's PG problem, but a reunion is complicated.
With the Spencer Dinwiddie experiment ending in colossal failure, the Washington Wizards once again find themselves in need of a point guard. Might they seek a reunion with John Wall?
The former Wizards star has spent the entirety of the 2021-22 season riding the bench for a Houston Rockets team in rebuild mode. The Rockets might have traded Wall at the Feb. 10 NBA trade deadline, but the Los Angeles Lakers refused to budge on an offer reportedly including Russell Westbrook and pick swaps.
Alas, Wall's future remains uncertain, though he almost certainly will not be in H-Town next season. With Optimus Dime and Bradley Beal reportedly open to a rekindling of their old partnership, a return to D.C. makes sense for Wall. But it's also extremely complicated for the Wizards to bring him to The District.
John Wall and Bradley Beal reportedly leaving the door open for Wall to rejoin the Washington Wizards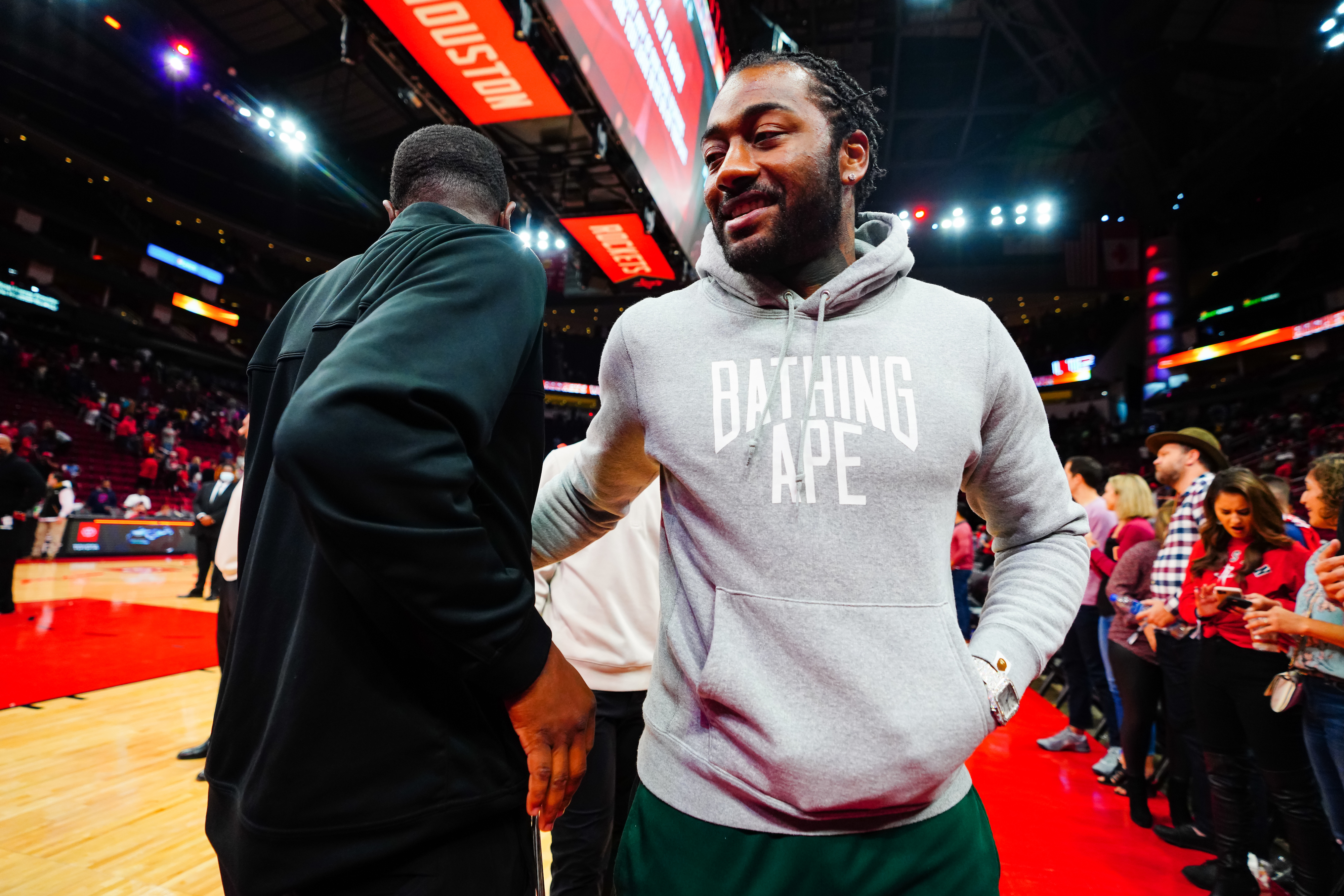 For seven seasons, Wall and Beal cultivated one of the best backcourt partnerships in the NBA. Now, the two are keeping the door open for their relationship to see a new chapter.
David Aldridge of The Athletic reported this week that Wall would "welcome" a return to the Wizards, with one league source telling Aldridge that the veteran point guard has discussed the idea with his camp. Additionally, while Beal isn't openly recruiting his former teammate, the star combo guard "wouldn't dismiss" Wall once again donning a Wizards uniform.
Although Beal played a small role in Wall's somewhat messy divorce from the Wizards organization, the two have always shared a close personal relationship. Given Washington's desperation to build a winner around Beal and the superstar's desire to win now, maybe bringing back a veteran presence like Wall can help move the needle.
After all, Wall is the kind of point guard archetype the Wizards appear to need.
A healthy Wall solves a lot of Washington's offensive issues
One of the reasons the Spencer Dinwiddie experiment failed is that he struggled to generate rim pressure. That's an area where Wall thrives.
Dinwiddie often settled for long, contested floaters and ill-fated mid-range attempts. He shot just 37.8 % in the paint (non-restricted area) and made around 40% of all floaters before the All-Star break, per NBA.com. With Dinwiddie failing to score in the lane and the Wizards lacking defined post threats, Washington had a difficult time getting good looks in the half court.
Conversely, Wall excels at getting all the way to the cup and either scoring or finding kickouts and cutters. He had similar numbers to Dinwiddie in efficiency in the paint last season, but generally offers a better option in terms of challenging bigs at the rim and not settling for mid-range attempts.
Wall also projects nicely in pick-and-rolls with Kristaps Porzingis, who can space the floor and follows misses well on the offensive glass. The same goes for Kyle Kuzma as a sweet-shooting 4-man who scores on short rolls and makes plays off the dribble.
Moreover, Wall is a former All-Defensive guard who can create turnovers and guard multiple positions. The Wizards could use that kind of player next to Beal.
Then again, this is all assuming Wall, 32 in September, still has some explosiveness and feels healthy. He's tried to illustrate his readiness and overall improvements via Instagram workout clips and the like. But individual workouts and game speed are two very different things.
The Wizards would want to ensure Wall is physically ready before making a decision. Even then, a reunion between the two sides is complicated because of contract issues and potential personal vendettas.
Plenty of complexities involved
Multiple factors could prevent John Wall from rejoining the Wizards, including his contract.
Next season will be the last of Wall's current deal. He has a $47.36 million player option that he will almost assuredly accept. The Wizards no longer have the tradable salaries to match after trading Dinwiddie and Davis Bertans, so they cannot acquire Wall from the Rockets.
No, Washington must hope that Houston and Wall reach a buyout agreement. It's not impossible, but not necessarily likely, either.
The Rockets will certainly try to find trade partners before resorting to a buyout. Even if Wall is on an expiring deal, paying a good chunk of a $47.36 million salary isn't exactly desirable for a rebuilding Houston team, particularly it receives zero value in return.
Another element is the fact that team governor Ted Leonsis portrayed a certain readiness to move on from Wall. Is he open to reconciliation, or might old wounds fester? Will Bradley Beal feel comfortable ceding some leadership responsibilities?
What about Wall himself? Can he swallow his pride and acknowledge that he probably won't be more than a third or fourth option in Washington?
Stats courtesy of Basketball Reference unless otherwise noted. Contract information courtesy of Spotrac.