John Wall Sends an Encouraging Message About James Harden's Future With the Houston Rockets
One of the most captivating storylines of the NBA offseason has been that of James Harden and his relationship with the Houston Rockets. Reports have said that Harden doesn't want to be in Houston anymore. This is in addition to the Rockets already trading their other former MVP in Russell Westbrook, too. So, is Harden going to play with the Rockets this season? His newest teammate, and the guy the Rockets traded Westbrook for, has an encouraging message about Harden's future in Houston. That teammate is, of course, John Wall.
James Harden hasn't shown up for training camp
According to USA Today's Rockets Wire, James Harden didn't show up to Houston Rockets training camp on Dec. 6. This was due to COVID-19 protocols.
However, this comes after a headline-filled offseason with Harden and the Rockets.
After yet another year where the Rockets failed to reach the NBA Finals, Houston parted ways with Mike D'Antoni and Daryl Morey. Reports then later came out that Harden and Westbrook were concerned about the direction the Rockets were going in as an organization, per ESPN. Shams Charania of The Athletic then reported that Westbrook wanted out of Houston, and Adrian Wojnarowski of ESPN also reported that Harden turned down an extension and made it clear that he wanted to be traded to the Brooklyn Nets.
Westbrook has since been traded to the Washington Wizards for John Wall and a pick. Harden, though, is still on the Rockets.
John Wall joins him on the Houston Rockets
When healthy, John Wall has been one of the best point guards in the NBA. After finding a ton of success at the University of Kentucky, Wall was the No. 1 overall pick by the Washington Wizards in the 2010 NBA draft.
Wall averaged over 16 points per game and eight assists or more in each of his first two seasons before averaging 18.5 points per game to go with 7.6 assists and four rebounds in 2012-13. However, in 2013-14, Wall earned his first of five consecutive All-Star selections. He averaged 19.3 points per game, 8.8 assists, 4.1 rebounds, and 1.8 steals that season. He also led the Wizards to the playoffs for the first time since 2007-08. The Wizards ultimately reached the Eastern Conference Semifinals that year.
Wall led the Wizards back to the Eastern Conference Semifinals in 2014-15, and averaged 17.6 points per game, 4.6 rebounds, and 10 assists. The Wizards then didn't make the playoffs in 2015-16, but Wall still had a great year. In 2016-17, though, Wall had the best season of his career. He ultimately scored a career-high 23.1 points per game to go with a career-high in assists with 10.7. Wall also averaged 4.2 rebounds and two steals per game that year. The Wizards went to the Eastern Conference Semifinals again, too.
Wall then only played in 41 games in 2017-18, though, and then 32 games in 2018-19. He has not played since Dec. 26, 2018, as he had surgery on his left heel and then ruptured his left Achilles tendon just weeks later.
After spending his entire career with the Wizards, Washington recently traded Wall and a pick to the Houston Rockets for Russell Westbrook.
John Wall sends an encouraging message about James Harden's future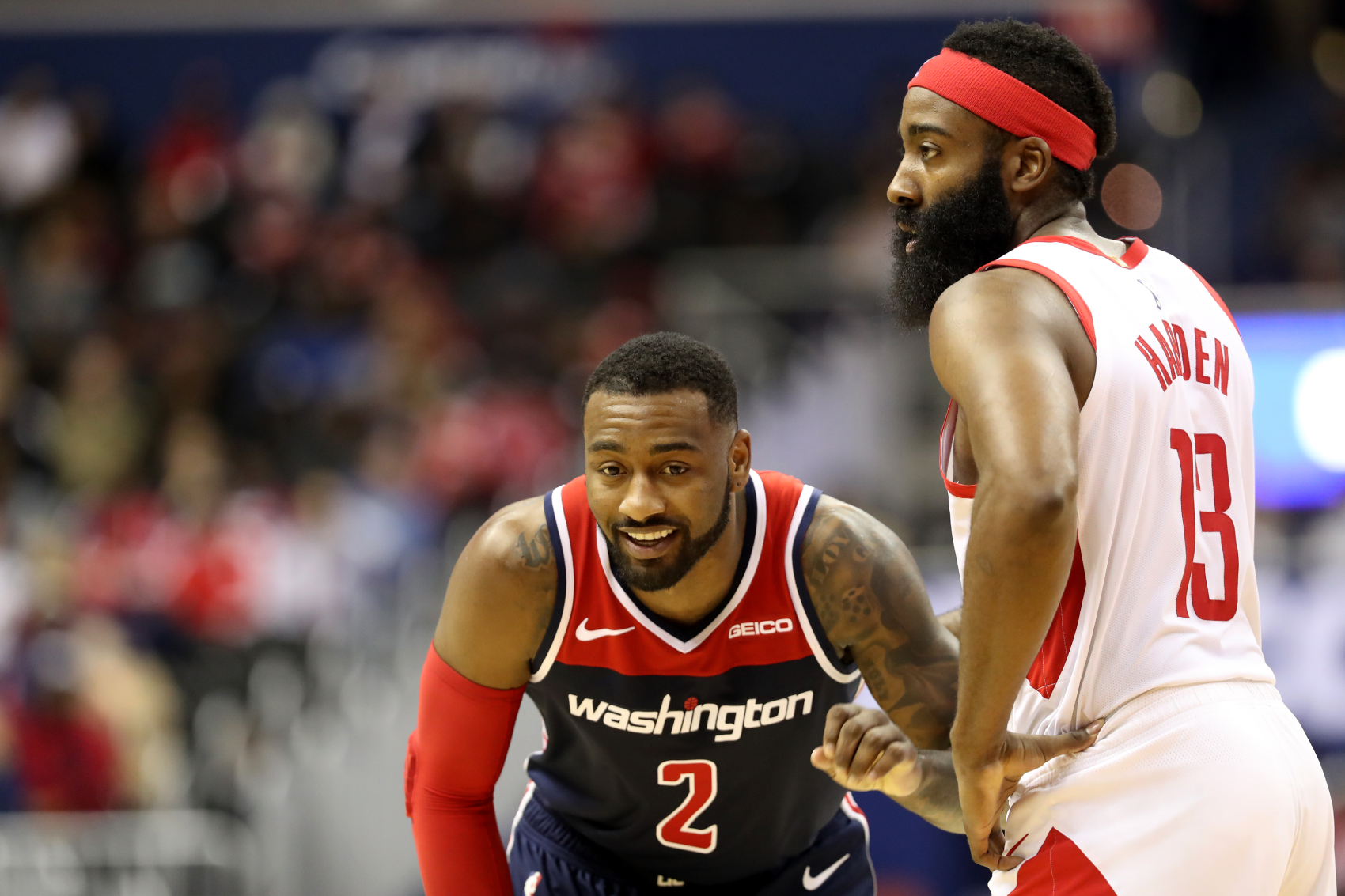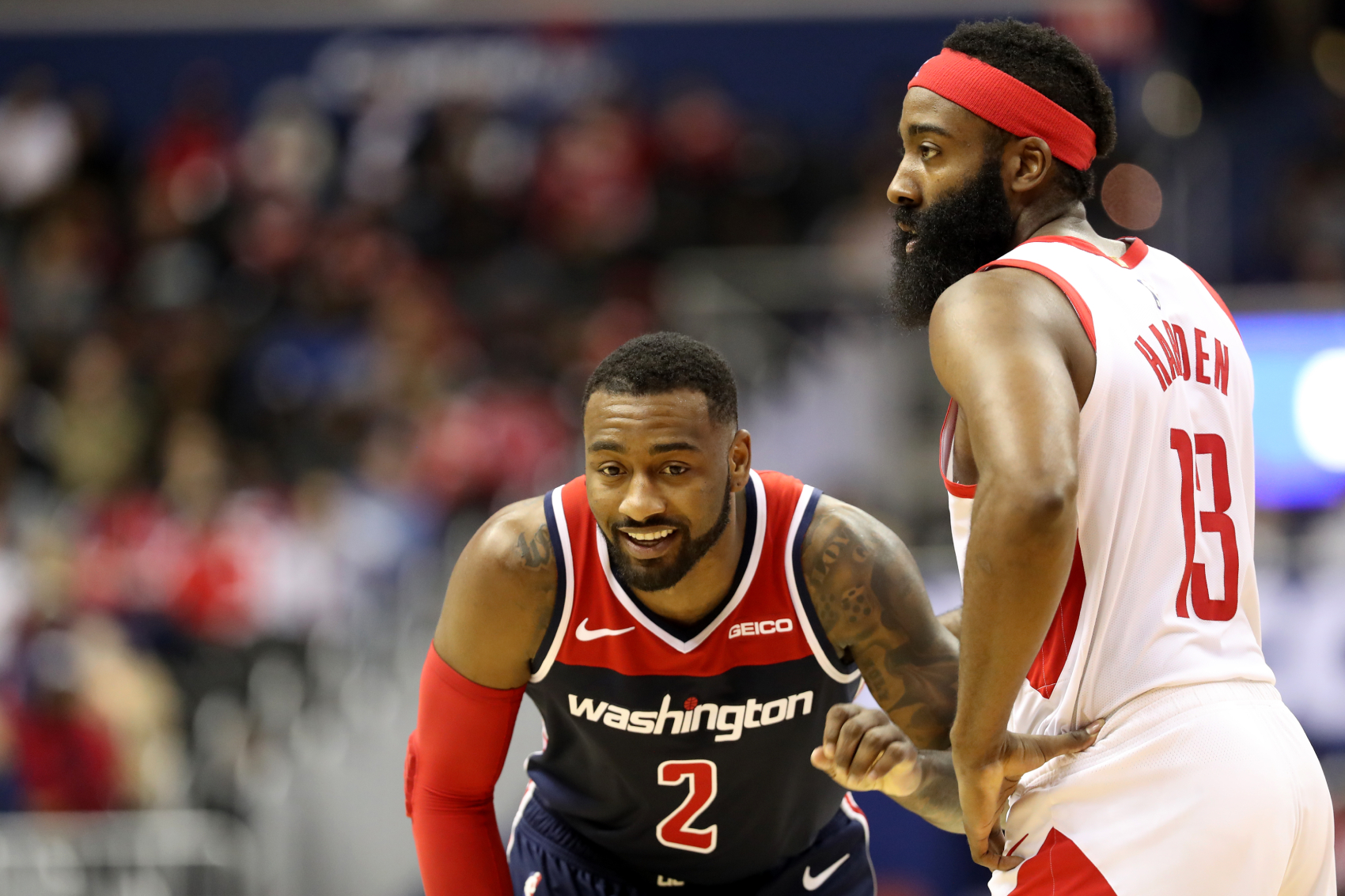 Although Harden was not at training camp with Wall and the Rockets, Wall had an encouraging message about Harden's future with the team.
After practice, Wall mentioned that he had spoken with Harden since getting traded to the Rockets. He also said that they want to play together and that he "for sure" expects Harden to be with the Rockets soon, according to Rockets Wire.
"Me and James had a great talk since I've been traded here," Wall said, according to Rockets Wire. "We've been friends way before this. What's going on right now, it's because of the testing protocol, and things like that. We're gonna figure out what's the best decision when he wants to get here, and be here. We've been on the same page since I've been traded here."
Well, that's interesting to hear. It has looked as if Harden is ready to get out of Houston as soon as possible. Maybe, he is actually excited to play with his new teammate.
Time will ultimately tell, though. We'll see when James Harden reports to training camp and if he is actually all-in with the Houston Rockets this season or not.
Stats courtesy of Basketball Reference