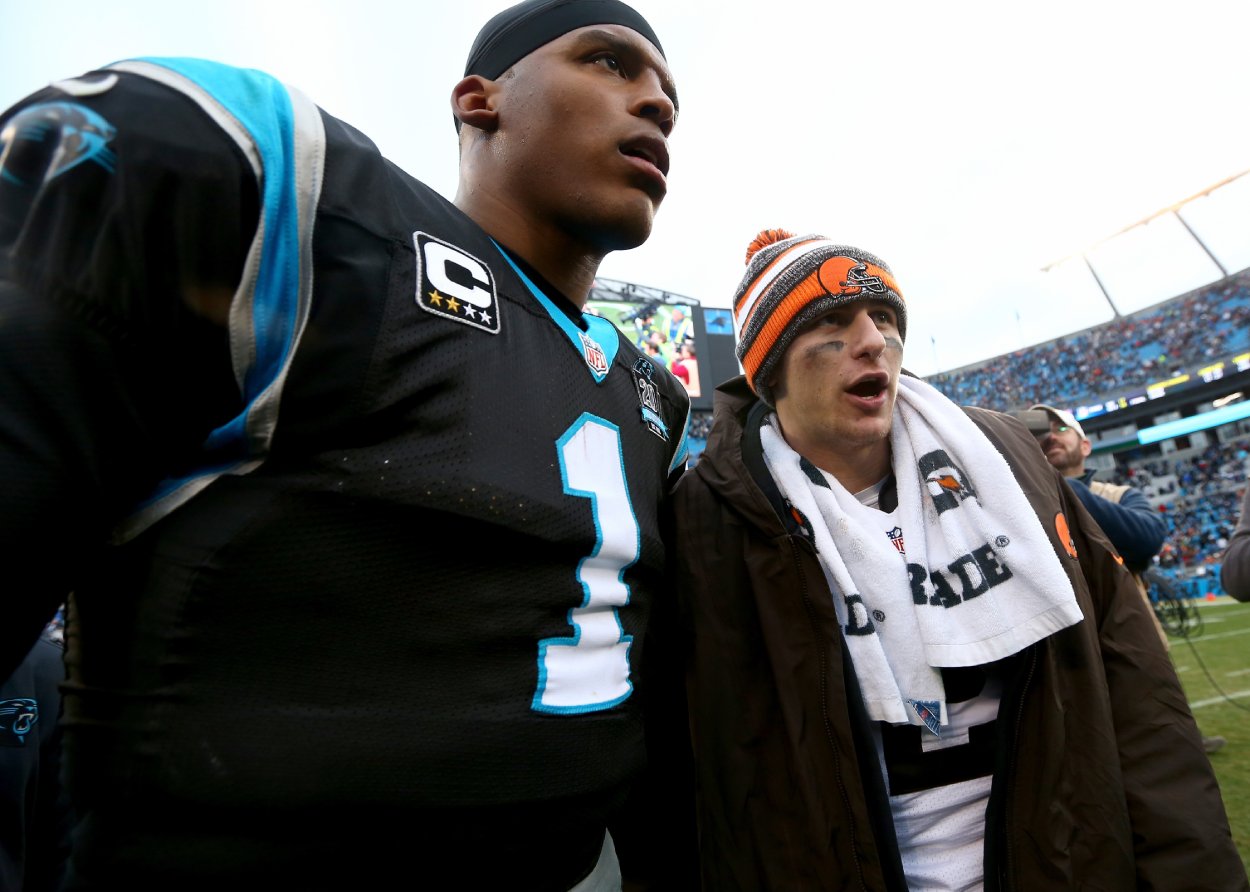 Johnny Manziel Just Gave Cam Newton a Ringing Endorsement That Has Nothing to Do With the Patriots' Quarterback Battle
Johnny Manziel had some very kind words for New England Patriots quarterback Cam Newton and his football legacy.
The last few years have been unkind to New England Patriots quarterback Cam Newton and his football legacy. Johnny Manziel, of all people, has his own opinion on the matter.
Because Newton has battled injuries and inefficiency in recent seasons, it can be easy to forget how electric he was in his prime. Manziel, the former Heisman Trophy winner, offered significant and heartwarming praise for the 2015 NFL MVP's impact on the game.
Johnny Manziel called Cam Newton the greatest college football player ever
Who is the greatest player in college football history? If you poll 100 people, you may get 100 different answers ranging from Bo Jackson to Joe Burrow.
Johnny Manziel, previously a dynamic dual-threat quarterback at Texas A&M, offered his own opinion. The 2012 Heisman Trophy winner tweeted his answer, and it is another former SEC quarterback.
"Cam Newton is the best CFB player to ever lace em up," Manziel wrote. He also attached the #unpopularopinions hashtag.
Well, there are plenty of college football fans who might indeed find his opinion to be unpopular or flat-out wrong. However, the former first-round pick may not be too off in his evaluation.
Newton had a legendary season at Auburn in 2010
Newton has to rank near the top when it comes to players who had one elite college football season.
Unlike Manziel, who started two seasons at Texas A&M, Newton only started one season in college. After initially backing up Tim Tebow at the University of Florida, he transferred to a junior college ahead of the 2009 season.
Auburn offered Newton a scholarship, and he returned to the SEC in 2010. From there, the former top recruit led the Tigers to a national championship victory and posted one of the most memorable seasons by a college quarterback in recent memory.
Newton completed 66.1% of his passes for 2,854 yards, 30 touchdowns, and seven interceptions. He shined on the ground and ran for 1,473 yards and 20 touchdowns, routinely lighting up SEC defenses. He even caught two passes for 42 yards and a score.
From there, the rest is history. The Carolina Panthers selected Newton first overall in the 2011 NFL draft, and he spent nearly a decade as the team's starting quarterback. Whether or not his fantastic season in 2010 made him the greatest player in college football history, however, is another conversation for another day.
Newton is trying to keep his NFL dreams alive with the Patriots
Manziel's praise for Newton comes as the latter is trying to remain a starting quarterback in the NFL.
The former NFL MVP had an inconsistent 2020 season with the New England Patriots. He only threw eight touchdowns in 15 games and rushed for another 12 scores. Although the Patriots re-signed Newton, they also used the 15th overall pick in the 2021 NFL draft on Alabama star quarterback Mac Jones.
Even if Newton's best days are behind him, he had a terrific tenure with the Panthers and is among the most explosive quarterbacks in league history. It took Manziel, of all people, to remind fans to celebrate the good times. These are strange times that we live in, aren't they?