Johnny Manziel Just Revealed Whether He Would Join Dwayne 'The Rock' Johnson's XFL
In college, Johnny Manziel was one of the most electric players to watch in the entire country. His excellent play never translated to the pros, though, as Manziel is currently out of the game. However, there is another big-time option for Manziel to consider that would allow him to continue his football career — the XFL. With Dwayne "The Rock" Johnson and his business partners officially owning the league now, could Manziel consider playing in it?
Johnny Manziel didn't join the XFL last season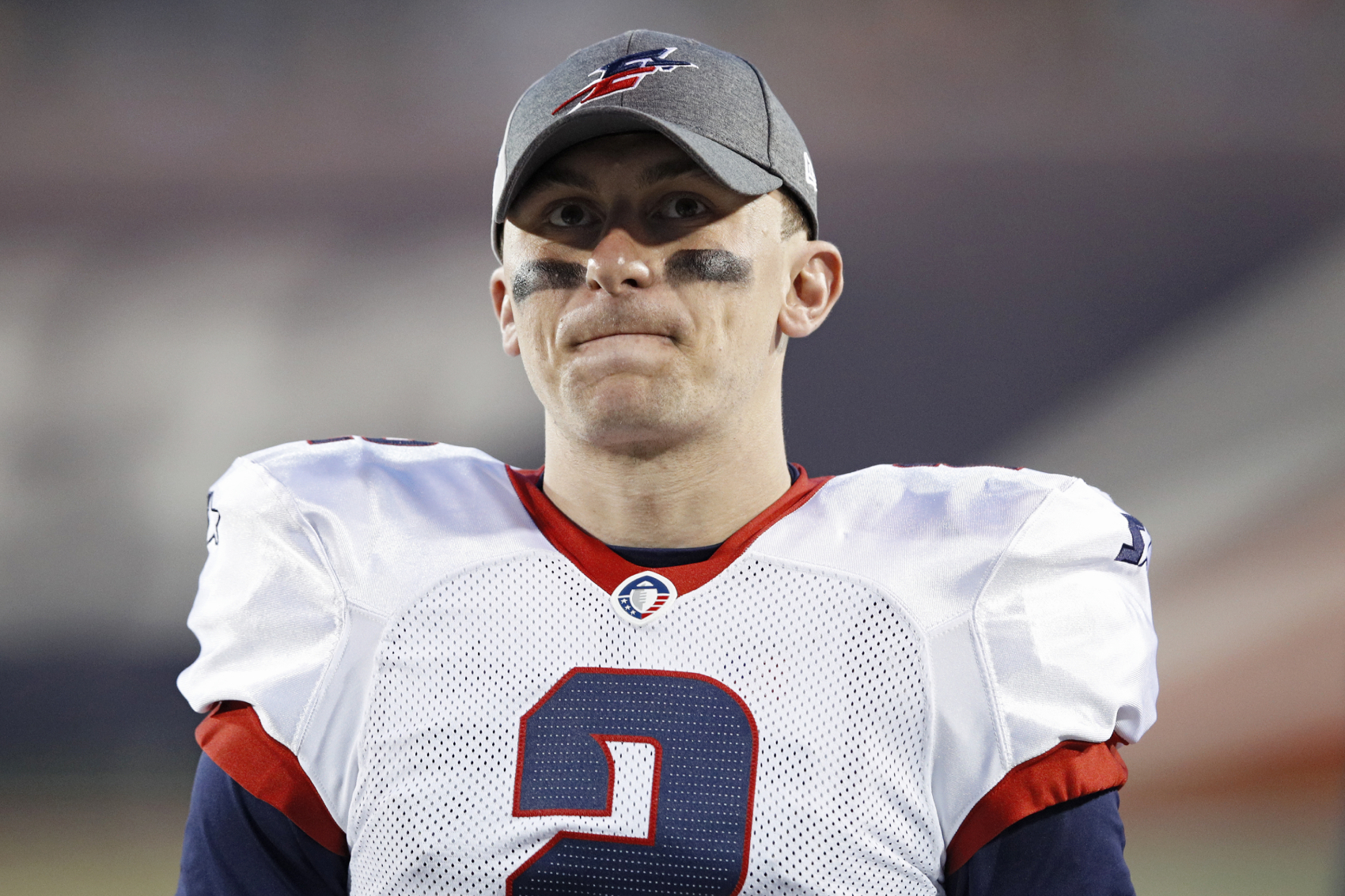 Manziel was an incredible player to watch in college at Texas A&M. In 2012, he threw for 3,706 yards, 26 touchdowns, and nine interceptions, and he ran for 1,410 yards and 21 touchdowns. His play that year led to Manziel winning the Heisman Trophy, and it helped Texas A&M go 11-2 overall.
He then continued to play well in 2013, throwing for 4,114 yards, 37 touchdowns, and 13 interceptions. Manziel also ran for 759 yards and nine touchdowns that year.
After declaring for the draft following the 2013 season, Manziel ended up going to the Cleveland Browns in the first round of the 2014 NFL draft. Manziel's NFL career didn't go very well, though. He appeared in 14 games in two seasons, starting in eight of them, and he threw for 1,675 yards, seven touchdowns, and seven interceptions.
Manziel then played in the Canadian Football League in his post-NFL career, and then the Alliance of American Football, but things didn't work out in either league.
The XFL then ultimately relaunched its league earlier this year, but the season came to an end prematurely due to the COVID-19 pandemic. Manziel never joined the league during its 2020 season, and former commissioner Oliver Luck said this about Manziel.
"I would argue that the players we have are better than those guys, to be honest with you," Luck said when asked about Manziel and Trent Richardson, according to the Tampa Bay Times. "Johnny has his own history, and we have coaches from the CFL who have seen him close up." 
Dwayne 'The Rock' Johnson is an owner of the XFL
After the XFL's season didn't work out due to COVID-19, the league declared bankruptcy in April, according to ESPN. 
A group including WWE star, actor, and former football player Dwayne "The Rock" Johnson then agreed to purchase the XFL in August for about $15 million.
"The acquisition of the XFL with my talented partners, Dany Garcia and Gerry Cardinale, is an investment for me that's rooted deeply in two things — my passion for the game and my desire to always take care of the fans," Johnson said, according to ESPN.
So, now that one of the world's biggest stars is an owner of the XFL, does that mean one of football's biggest stars will play in it?
Johnny Manziel revealed whether he would play in Dwayne 'The Rock' Johnson's XFL
Manziel recently spoke to TMZ and discussed Johnson now being an owner of the XFL.
"Listen, anything The Rock touches is gonna be gold as always," Manziel said, according to TMZ. "But, I think football is a little bit behind me. I'm just trying to do other things in life that make me happy, that's it."
So, does that mean that Manziel is done with football and wouldn't try to play in the XFL? Not quite.
"You never say never," Manziel said. "I'm still an athletic guy. I still go work out. I still do a lot of stuff. … At the end of the day, let's see where the rest of life take me and we'll go from there."
He also said this when asked about what he would do if he got a call from Johnson.
"For The Rock, you do anything," Manziel said. "So, with The Rock, anything is possible, but football for me right now is not at the forefront of my mind — it's just chillin' and trying to be one of the bros."
It doesn't appear that Manziel will be playing for an XFL team anytime soon, but like he said — never say never.
Stats courtesy of Sports Reference and Pro Football Reference