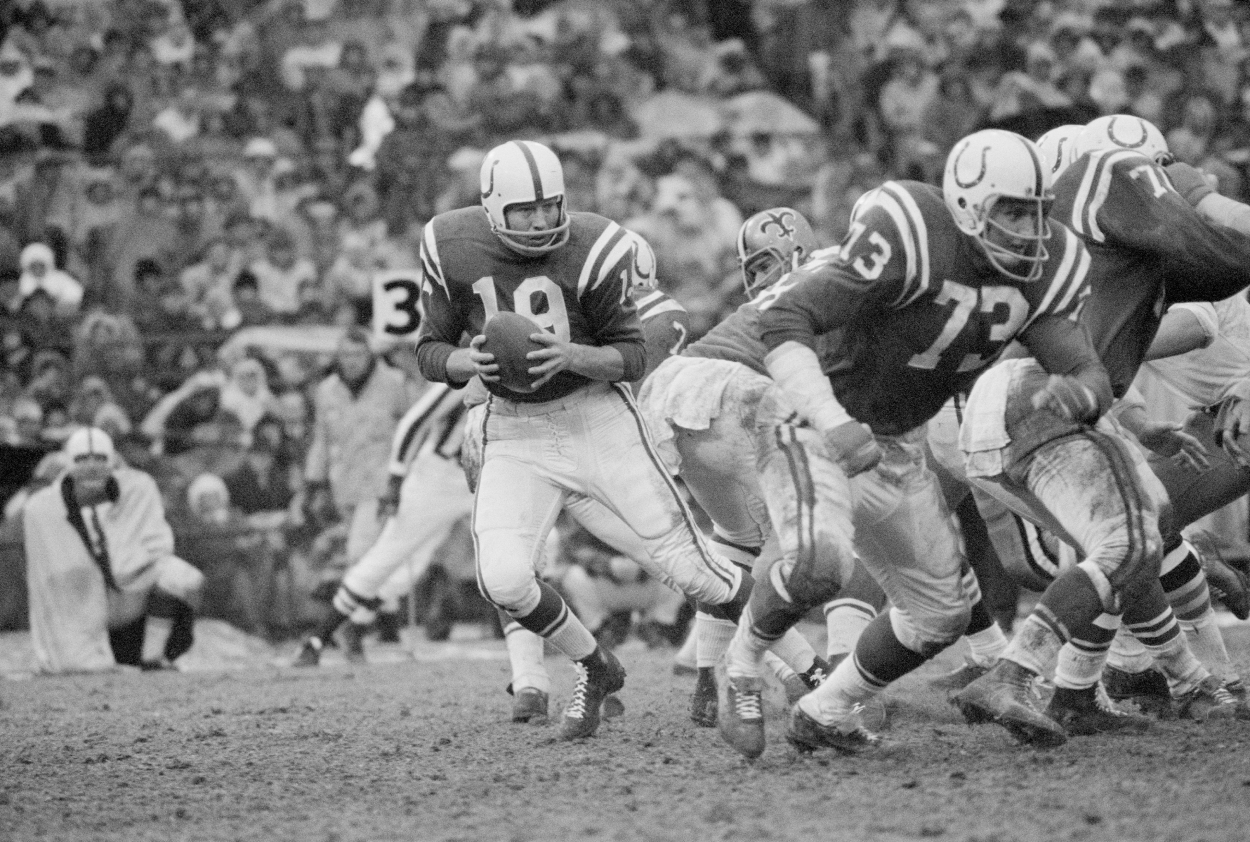 Johnny Unitas Earned $6 Per Game After the Pittsburgh Steelers Made Their Worst Mistake in Franchise History
The Pittsburgh Steelers made their worst mistake ever in 1955.
Back then, he was John Unitas. In 1955, he was a dejected John Unitas. Still puzzled by being let go by the Pittsburgh Steelers, he didn't know which way to turn. He felt he wasn't given a fair shot and had to move on. The move eventually worked out for the quarterback as he became Johnny Unitas, a star with the Baltimore Colts and an eventual NFL Hall of Famer. For the Steelers, it simply became their worst mistake ever.
Johnny Unitas made $6 per game after being released by the Pittsburgh Steelers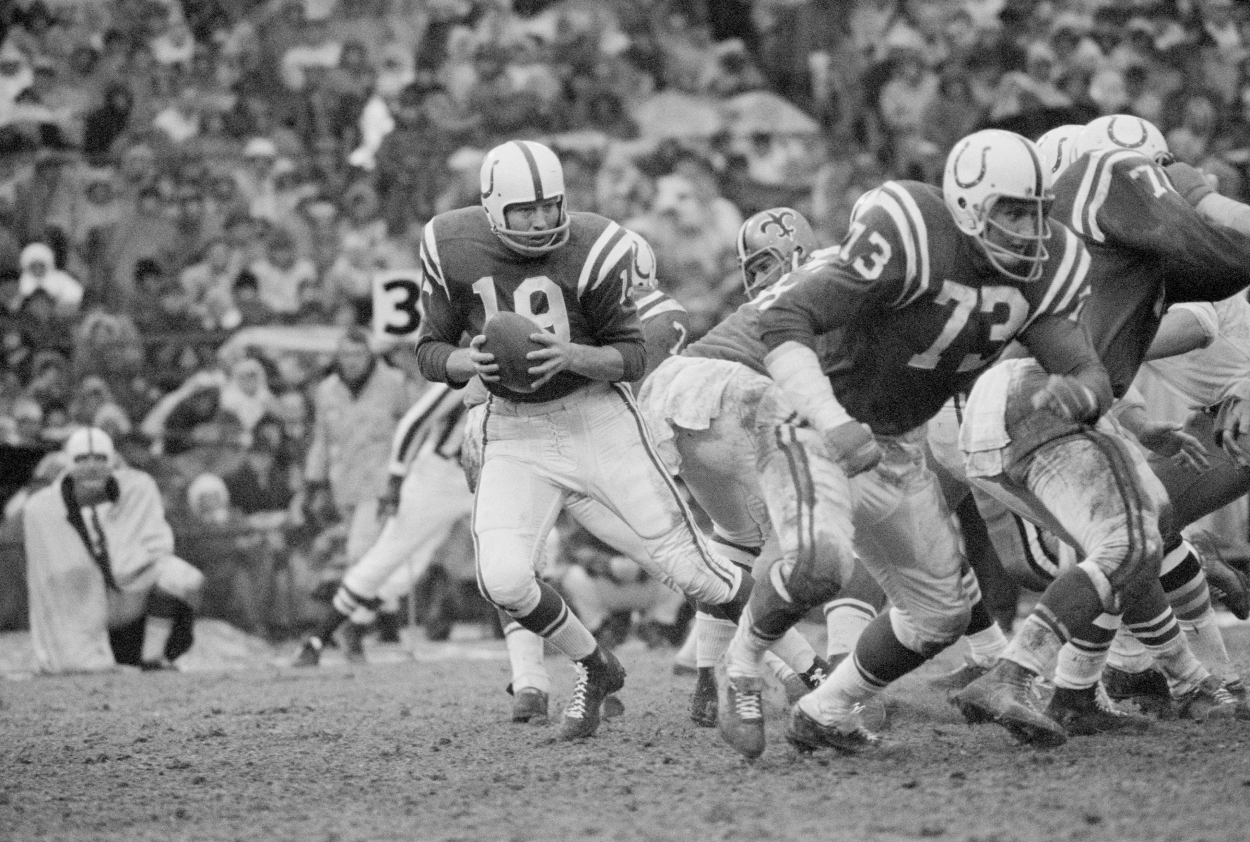 The Steelers drafted Unitas in the ninth round of the 1955 NFL Draft. He played collegiately at Louisville after getting shot down by his first choice, Notre Dame. Unitas' senior year was marred by injuries, and he finished the season with 527 passing yards, second to Jim Houser, who collected 560.
The Steelers selected him but never gave him any real shot as he was labeled QB No. 4 when they were only keeping three.
"They had four quarterbacks," Art Rooney Jr. said, according to a 2002 Pittsburgh Post-Gazette article. "Jimmy Finks, Ted Marchibroda, a kid named Vic Eaton and Unitas, who was a local hero. By the time they went through the drills, Unitas wouldn't get a chance to perform. Never got in an exhibition game, either."
"I passed for three or four touchdowns in scrimmage, and I got away on a couple of 30-yard runs, but they never let me play in exhibitions," Unitas told Sports Illustrated in 1957.
Fred Zangaro, a teammate of Unitas' at Louisville, consoled the quarterback and drove him to the home field of the semipro Bloomfield Rams where he made $6 per game.
"He was good. Took a lot of razzing from other teams because he was cut by the Steelers," said Chuck "Bear" Rogers, the Rams' coach and GM, according to the Post-Gazette. "We didn't pay the players much. A couple of guys made $15 a game. One made $10. We paid Unitas $6. I'd get some of the money back, fining guys for missing practice."
Even Art Rooney Sr.'s son, Tim, pleaded with him to keep Johnny Unitas
When the Steelers cut Unitas, he was dejected, but he still kept working at getting better.
"After practice, Unitas would work out with anybody who was around, bouncing balls off kids' heads," Rooney Jr. said.
One of those kids was 18-year-old Tim Rooney. According to the Post-Gazette, Tim compiled an 11-page letter to his father, Steelers owner Art Rooney Sr. In that letter, he pleaded for the owner to overrule the coaches' decision to release Unitas.
"None of the Rooneys can spell, you know, so you can imagine what this letter looked like," Art Jr. said. "I think it was in pencil, too. Anyway, my dad read it and said: 'These wise guys. I pay these coaches, and these kids think they know more.'"
Needless to say, the Steelers stuck with their decision, and Unitas suited up for the Bloomfield Rams.
The Baltimore Colts beat out the Cleveland Browns for Unitas' services
In 1956, Unitas signed with the Colts but also drew interest from the Cleveland Browns.
"The Browns were interested in me, but Don Kellett, general manager of the Colts, called and offered me a contract, and I took it," Unitas said to Sports Illustrated.
"The Colt offense wasn't hard for me to pick up," he continued. "My college coach at Louisville teaches the same system as Weeb Eubanks. I just had to get used to making quicker handoffs because the pro backs are faster. Then Coach has worked with me to teach me to throw a softer pass—hang the ball up there for the receiver, you know."
Unitas became the full-time starter in Baltimore in 1957 and led the league in passing yards (2,550) and touchdowns (24). He made the first of his eight straight Pro Bowls. Unitas was a 10-time Pro Bowler, a three-time MVP, and a Super Bowl Champion. He was inducted into the Pro Football Hall of Fame in 1979.
He was also the Pittsburgh Steelers' biggest mistake.