Jon Gruden Resigns, but That Doesn't Mean Derek Carr and the Raiders Are on the Brink of Disaster
Jon Gruden is no longer head football coach of the Las Vegas Raiders. Gruden, on his second go-around with the franchise, had been the head man since 2018, but he announced his resignation amid an NFL investigation that turned up a slew of inappropriate and offensive emails written by him over a 10-year period.
Normally, losing a head coach midseason spells disaster for a team, but context is key when considering the Raiders' chances of success for the rest of the 2021 season.
Gruden's resignation was purely driven by scandal. In terms of the actual football production for Las Vegas, which is something that has been the downfall for many coaches, the Raiders have actually been a pleasant surprise in 2021.
Gruden leaves the Raiders in the care of now-interim head coach Rich Bisaccia, who inherits a 3-2 team with enough intriguing pieces to continue winning and perhaps make some noise.
Derek Carr has shown that he can get the job done at quarterback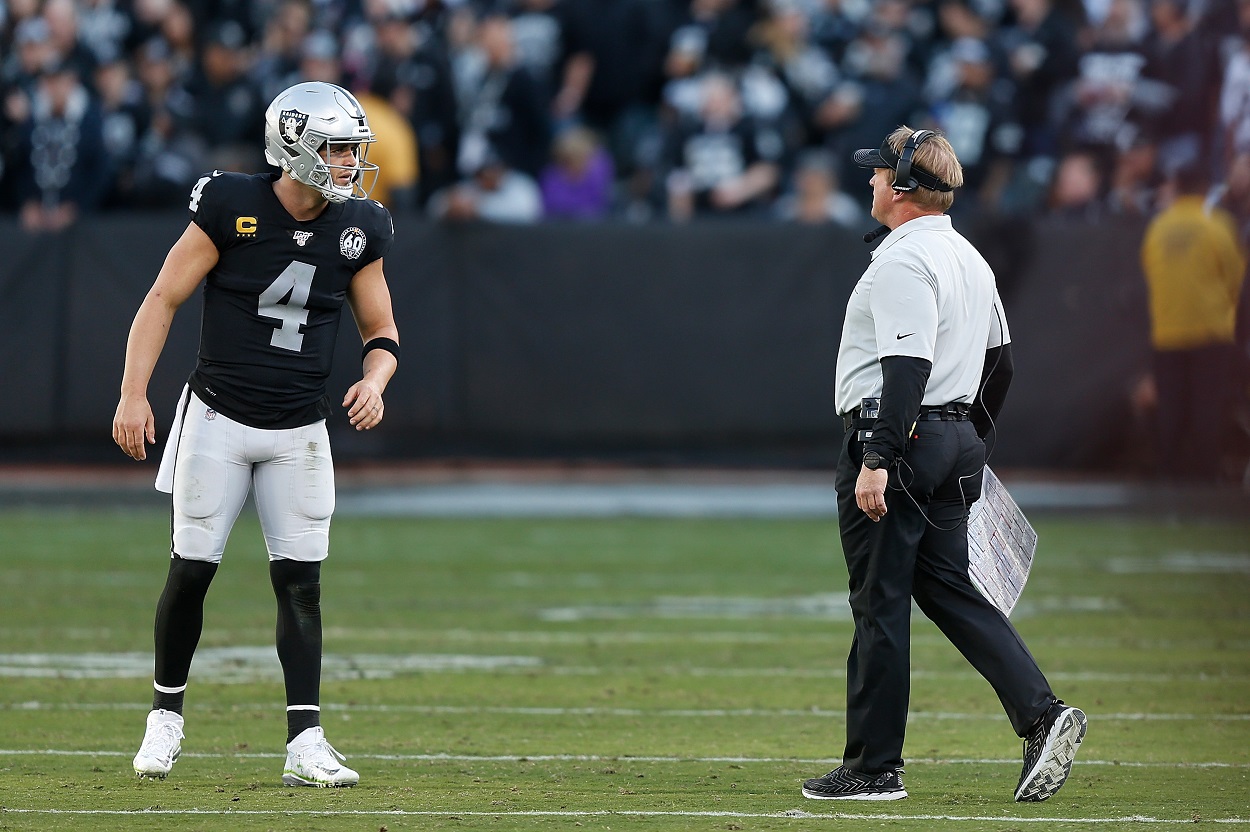 The Raiders, then in Oakland, selected Carr in the second round of the 2014 NFL Draft because of his immense potential. While he's been far from a bust for the Raiders, having started an incredible 115 of 115 games since his rookie season, the results have been varied.
On one hand, Carr has a massive arm and isn't afraid to use it to rocket the football down the field. He's thrown for 28,501 yards and 178 total touchdowns since entering the league. The downside, even this season, is that he's had accuracy issues that have led to him throwing far too many interceptions. He's thrown eight touchdowns so far in 2021, compared to four interceptions.
Still, anybody who has seen Carr play this season knows that he's really just a play or two away from finding his groove.
He's ranked second in all of the NFL with 1,605 passing yards through five games, behind only Tom Brady. He's also developed a strong connection with a trio of dynamic pass catchers in Henry Ruggs III, Hunter Renfrow, and Darren Waller.
The best friend for an inconsistent quarterback is a receiver or tight end who can make their wrong throws look right.
The Raiders' pass-catchers are the keys to Carr's continued success without Gruden
The value of a good head coach can't be understated, but the ultimate reality of the NFL is that coaches coach and players play. Even Bill Belichick has had a hard time winning anything meaningful without Tom Brady, and he's arguably the greatest coach of all time. That's just one example.
A good coach can only do so much. So ultimately, a team's success or failure is defined by its players.
That's actually good news for the Raiders, and it leads one to believe that Las Vegas can still accumulate wins this season. Gruden may be gone, but Carr is still surrounded by immense talent on offense. This is the same group that's putting up 22.6 points and just under 400 yards a game.
All Bisaccia and offensive coordinator Greg Olson have to do is pick up the playbook and get back to work.
Ruggs, in his second season out of Alabama, has become the star deep threat the Raiders envisioned when they drafted him No. 12 overall in 2020. He can take the top off any defense, and he and Carr have developed a strong connection. He's caught 28 passes for 348 yards and a touchdown this season, but the stats that really matter for him are yards per catch (20.5) and long reception (72). He's a momentum shifter.
If Ruggs is the home-run threat, Renfrow has become the Gold Glove infielder for the Raiders. He's a do-everything slot receiver who has clearly earned Carr's trust. Through three games, he's caught 28 of 38 targets for 305 yards and a touchdown. Most impressively, he's a top-40 wide receiver in terms of first-down catches.
Let Darren Waller continue to be the guy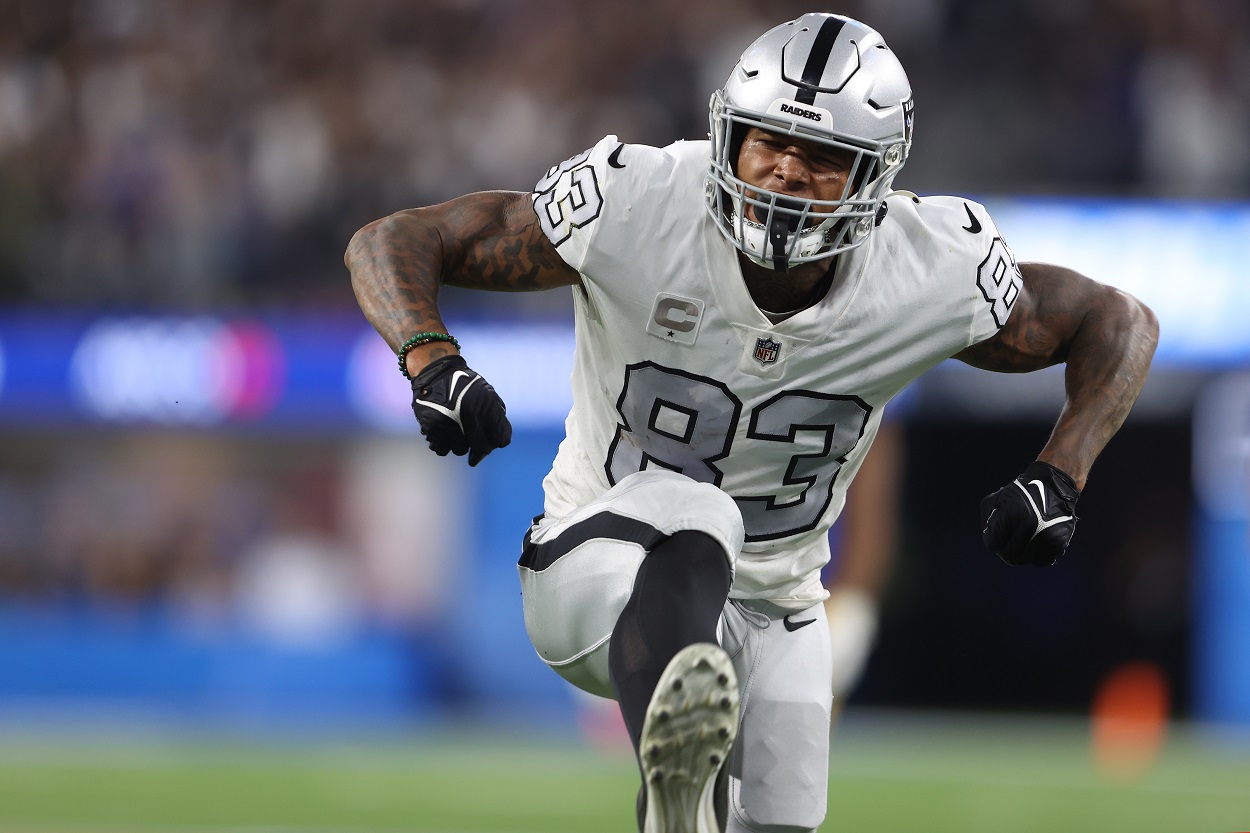 The Raiders don't need Gruden to tell them that Waller, their 6-foot-6, 255-pound tight end, is the star player who can really keep them competitive in 2021.
He's simply unstoppable as a tight end. He has the speed to run just about every route, the size to dominate smaller defenders at the point of attack, and hands made of butter. Much like the Green Bay Packers do with Davante Adams or the Kansas City Chiefs do with Tyreek Hill, Las Vegas has to continue getting Waller the rock no matter the circumstance.
He's coming off two 1,000-yard seasons and is likely poised for another with 319 yards and two touchdowns so far this season.
Yes, the Raiders are coming off two losses in a row, and the Gruden resignation has certainly put the organization into the middle of turmoil. A player like Waller can tilt the field in their direction no matter the outside noise, though. He's a game-changer and the type of player the Raiders can lean on as they look to move on into a brighter future.
Without Gruden, Las Vegas is going to be just fine.
Stats courtesy of Pro Football Reference
RELATED: Urban Meyer's Florida Gator Predecessor Steve Spurrier Weighs in on the Scandal: 'Hands on Shoulders is My Philosophy'