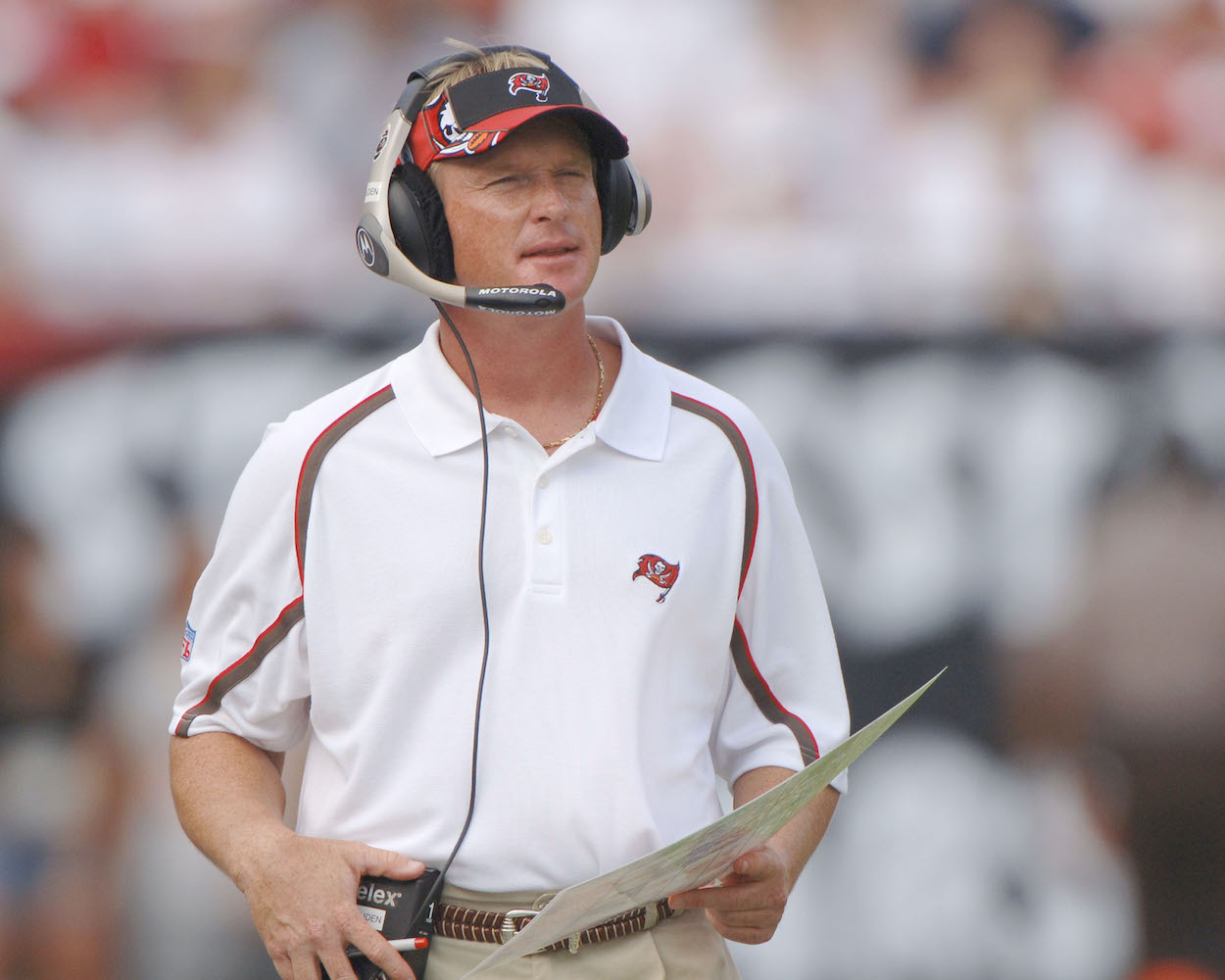 Jon Gruden Once Rudely Interrupted His Backup Quarterback's Honeymoon to Get Him Back on the Practice Field: 'Are You Canoeing Back From Italy?'
Jon Gruden loves football so much that he interrupted Chris Simms' honeymoon to get him back on the practice field.
Jon Gruden loves football more than maybe anything else in the entire world. It pains him every moment he's not drawing up a game plan, directing a hard-hitting practice, or celebrating a go-ahead touchdown late in a game.
Back when Gruden was with the Tampa Bay Buccaneers, the fierce head coach blew up Chris Simms' voicemail during his honeymoon and pressured him to cut his vacation in Italy short to rejoin the team. And the best part? The next season was still six months away.
Jon Gruden drafted Chris Simms in 2003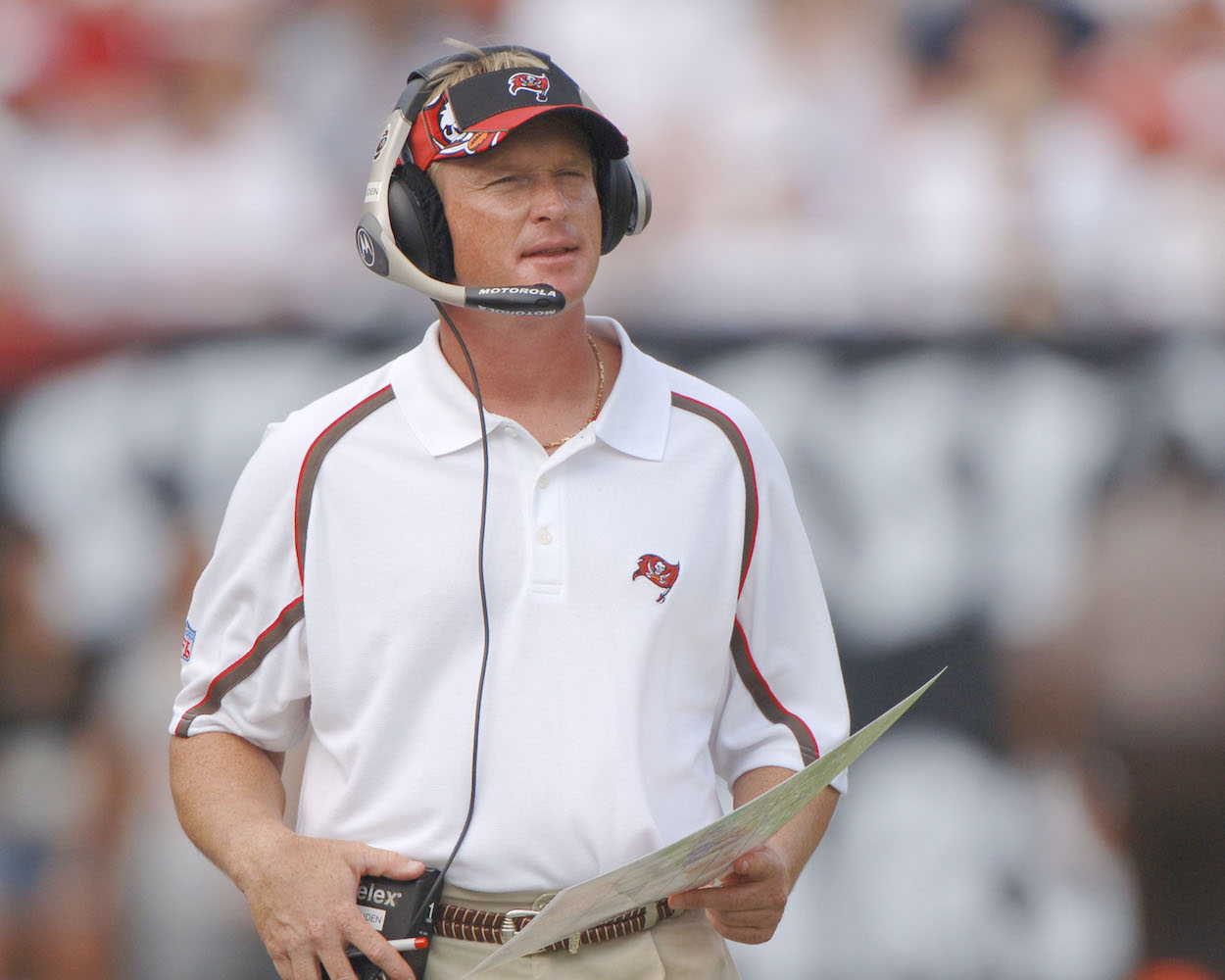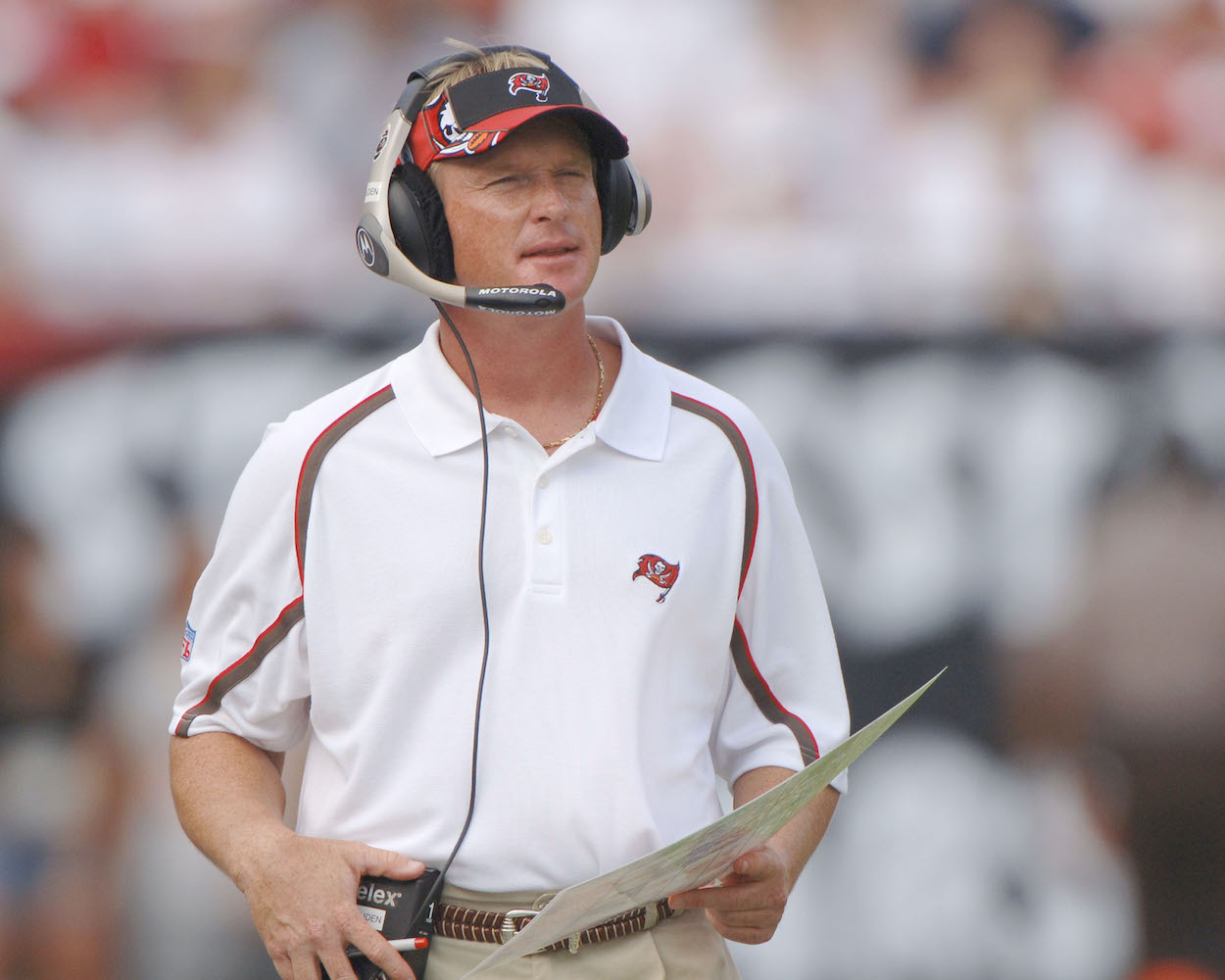 Gruden has coached a plethora of quarterbacks throughout his lengthy career as an NFL head coach. One of those quarterbacks was Chris Simms, a third-round draft pick by Gruden's Buccaneers in the 2003 draft and a backup for much of his seven years in the league.
Simms sat the bench for his entire rookie year in Tampa Bay, and he started just two games for the team in 2004. He completed only 57.5% of his passes and threw three interceptions to just one touchdown in his debut season, but Gruden still saw a bright future ahead for the young QB out of the University of Texas.
So ahead of Simms' third season with the Bucs, Gruden wanted his backup QB to be as prepared as humanly possible in the event that he had to take over as the starter.
Jon Gruden pressured Chris Simms to cut his honeymoon short during the 2005 offseason
Heading into his third season in the NFL, Simms occupied the No. 2 spot on Tampa Bay's QB depth chart behind Brian Griese and in front of Luke McCown. He figured he would have a quiet offseason as the backup quarterback, so he scheduled his honeymoon with his wife for March of 2005.
Gruden initially signed off on the vacation, but he started to miss Simms almost immediately after he left. Simms told the hilarious story on the Dan Patrick Show in 2019.
"I'm in Italy. I'm not the starter in Tampa, but certainly I think he sees potential in me to be the starter," Simms began.
"We haven't started OTAs yet. But back in that time, Gruden loved to go out and we would have walkthroughs. He'd make people in the building wear jerseys to simulate the defense and he'd draw up the cards so we could get the new guys up to speed with the offense. Some of the older quarterbacks at that time were not there or around. So I take my vacation, of course, asked for his blessing. 'Hey, I'm going to go on a honeymoon with my wife, just two weeks and I'll be back.'
"I would say about day eight, one day I see I've got a few voicemails on my phone. Let me check my voicemails. I have four or five, and two of them are Gruden, like, the same day. 'Hey man, what are you doing? Hope the honeymoon's going good. Look forward to when you're back.' And then literally he must have left a message two hours later going like, 'Hey man, when are you coming back?' Next day I wake up [and there's another message]. 'I mean, what are we doing? Are you canoeing back from Italy?' And he just went on and on.
I cut my honeymoon short because I was feeling the pressure. I really was. My wife could see that it was starting to bother me and I knew I had the chance to be the starter. I was like, 'You know what? The weather's not that great right now, honey. Let's get out of here and go back home.'

Chris Simms
So that's exactly what he did.
Simms led the Buccaneers to the playoffs the same season
Gruden's coaching tactics in 2005 may sound absurd, but they might've just saved the season for his Buccaneers.
After starting the year as a backup, Simms jumped into the starting job once Griese went down with an injury early in the season. He went on to start 10 games and help the Bucs to an 11-5 record and a playoff berth. Simms struggled in a 17-10 loss to the Washington Redskins in the NFC Wild Card round, but leading Tampa Bay to the postseason after starting the year on the bench was impressive enough.
And he might've never been fully prepared for the opportunity if Gruden hadn't rudely interrupted his romantic honeymoon.
All stats courtesy of Pro Football Reference.
Like Sportscasting on Facebook. Follow us on Twitter @sportscasting19.