Jon Gruden and Wife Cindy Have Been Married for More Than 30 Years
Las Vegas Raiders former Las Vegas Raiders head coach Jon Gruden has been around for a while and has seen a thing or two. He and his wife of 30 years Cindy have weathered the challenges of coaching all while raising a family. Because Gruden isn't much into sharing details about his life, his fans have been left wanting more information about him, especially in light of recent events regarding some distasteful emails that have resurfaced. Let's take a look at Jon Gruden's wife and family.
Jon Gruden has been married to his wife for 30 years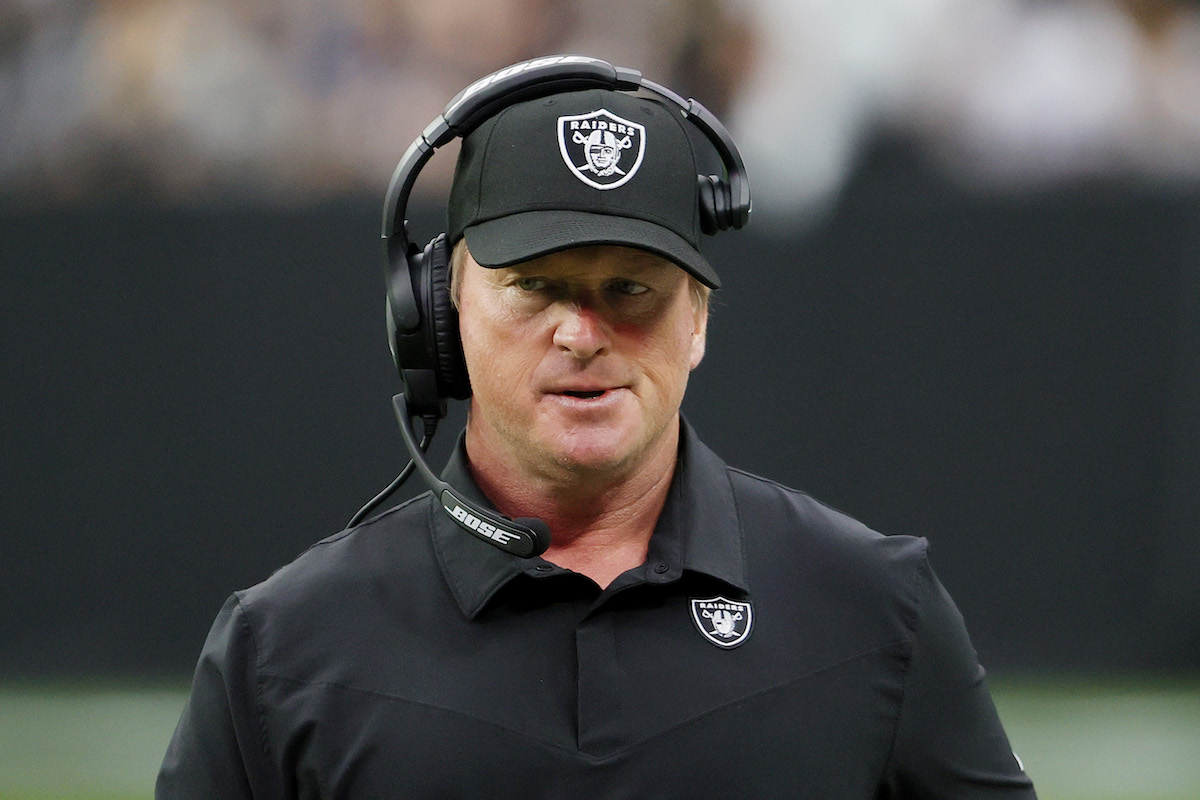 Jon and Cindy met while attending the University of Tennessee in Knoxville. Cindy was a member of the cheerleading squad and Jon was a graduate assistant for the Volunteers football team. They tied the knot in July of 1991.
Cindy took a job after college with the National Cheerleader Association, teaching college and high school students. Along with her various charity work, Cindy teaches at UT Knoxville. As a surprise, Jon dropped in unannounced on one of Cindy's classes that she teaches online, to the delight of her students.
Jon and Cindy share three children
The couple has three children, Michael Gruden, Jayson Gruden, and Deuce Gruden. Their oldest son, Deuce, worked as an assistant coach for the Oakland Raiders and he was also on the strength and conditioning staff on the Washington Redskins when Jon's brother, Jay Gruden, was the head coach.
Jayson went with a different sport than his father. He made his debut in Muay Thai Fighting in 2018 and continues to compete. Michael has just graduated from college and not much more is known about him.
Cindy's name was used as an audible
The pandemic has affected the way we do almost everything, and football is no exception. This was very clear when Derek Carr called an audible during a game against the Carolina Panthers. Due to social distancing measures, fans have not been able to fill the seats in stadiums. The lack of fans in attendance at Bank of America Stadium, and the lack of cheers that could normally be heard during the game to drown out audibles allowed television viewers to hear clearly as Carr yelled out "Cindy Gruden! Tiger Woods!" before a play in the first quarter of the game.
According to Fan Buzz, Gruden joked, "Unfortunately for me, I could never hear him until yesterday. So I don't know what he's been up to at the line of scrimmage, but he better keep my wife out of it from now on." He also noted that he was just as surprised as everyone else that her name was chosen as an audible.
The Grudens have weathered some bad publicity as of late due to some emails that have come to light recently. The emails contained misogynistic and homophobic language causing an outcry from the fans and the public. Gruden has recently resigned from coaching the Raiders, even though he still had seven years left on his contract.
In a statement released on Twitter, Gruden stated, "I have resigned as Head Coach of the Las Vegas Raiders. I love the Raiders and do not want to be a distraction. Thank you to all the players, coaches, staff, and fans of Raider Nation. I'm sorry, I never meant to hurt anyone."
Through everything, the Grudens have managed to keep their family intact and together. It's unclear what the future holds for Gruden and his family, but they will no doubt navigate these unknown waters together, as they have been doing for the last 30 years.
RELATED: Ex-Raiders HC Jack Del Rio Rips Apart Jon Gruden After Disturbing Emails: 'I Don't Have Much Respect For Him'