Jon Jones Sends Out a Stern Message About Khabib Nurmagomedov
One of the greatest MMA fighters to ever compete in the UFC is calling it quits. Khabib Nurmagomedov recently announced his retirement after defeating Justin Gaethje in the main event at UFC 254. Since his career has officially come to an end, many people are claiming that he is the MMA's GOAT. Well, another UFC fighter has something to say about that — Jon Jones. In fact, Jones recently sent out a stern message to Nurmagomedov's fans.
Khabib Nurmagomedov is retiring after a legendary MMA career
RELATED: Khabib Nurmagomedov and Uriah Hall's 'Traumatic' Seizures May Reveal Dangers of Cutting Weight in the UFC
The most recent win in the Octagon for Khabib Nurmagomedov did not just unify the UFC lightweight title, but it was also an emotional one for the MMA legend. According to ESPN, it was his first fight since his father and head coach, Abdulmanap Nurmagomedov, died in July due to COVID-19 complications.
He ultimately said that his mother didn't want him to compete without his father, so he said this would be his last fight.
"I promised her this was gonna be my last fight," Nurmagomedov said, according to ESPN. "If I give my word, I have to follow this."
At UFC 254, Nurmagomedov submitted Justin Gaethje, a great fighter in his own right, via triangle choke at one minute and 34 seconds of the second round.
Nurmagomedov finishes his career with a 29-0 record, and he has only lost two rounds in his career. One to Conor McGregor, and one at UFC 254 to Justin Gaethje, per ESPN. His most recent win tied him with BJ Penn and Benson Henderson with most title defenses in UFC lightweight history with three. He is also only the second fighter in UFC history to start his UFC career with 13 straight wins as he is 13-0 in the UFC.
So, is Nurmagomedov the GOAT? ESPN's Brett Okamoto believes so, as he brought up his wins over McGregor, Gaethje, and Dustin Poirier
"You said something before, that Nurmagomedov's run of submitting and dominating Conor McGregor, Dustin Poirier, and Justin Gaethje in the manner in which he did might be the best three-fight stretch ever," Okamoto said to ESPN's Marc Raimondi, per ESPN. "I'll go one step further: It is the greatest three-fight stretch ever. And just because Nurmagomedov is deciding to walk away at the top, in his prime, when he could do more, I won't let that be the reason I don't call this guy what he is — and that's the greatest to ever do it."
Jon Jones has a stern message for Khabib Nurmagomedov's fans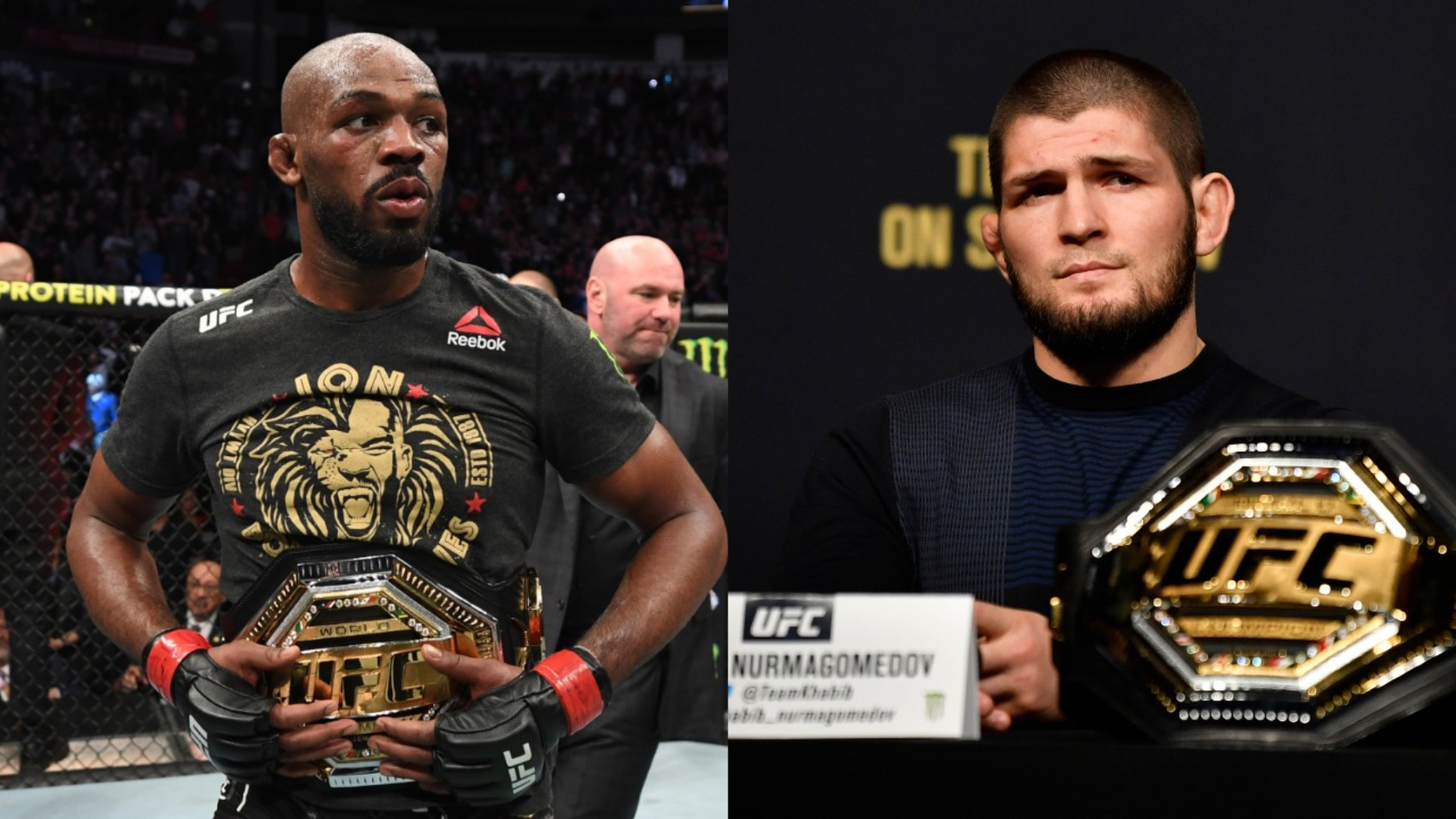 RELATED: What Is UFC Fighter Justin Gaethje's Net Worth?
Many people are saying that Nurmagomedov is the GOAT, and for good reason. However, Jon Jones has something to say about that.
"I'm talking to all you Khabib fans out there," Jones said on Instagram, according to CBS Sports. "Fifteen world titles to your guy's four and you are really talking about who is the best fighter ever? You guys are joking, right? Fifteen to four? Are you guys kidding me?"
He continued: "The only person that could possibly come back and challenge my record and what I have done in the UFC is possibly Georges St-Pierre. He would have to come back and win two championship fights to tie me."
Jones also plans to just build on his resume as he is still fighting.
"And I'm not even retired yet. I'm 33 years old. I have a whole other chapter to go through," Jones said, per CBS Sports. "You guys are nuts. I love you guys so much and hope you guys all have a great day. Fifteen world championships to four. And if all you guys are going with he's more dominant argument, the guy just recently started fighting elite-level competition. Could you imagine me against the No. 10 ranked guy?"
Is Jon Jones the GOAT?
RELATED: UFC Champion Khabib Nurmagomedov Just Sent a Message to His 22 Million Instagram Followers
Jones certainly has a reason to feel disrespected. He is one of the greatest to ever do it as well.
Jones is 26-1, and his one loss was a controversial disqualification. He also has the most title fight wins in UFC history with 14, but he counts the 2017 fight against Daniel Cormier as his 15th title fight win since his victory got changed to a no-contest after he failed a drug test
ESPN's Marc Raimondi gave his argument for Jones.
"Nurmagomedov has four UFC title fight victories. Jones has 14 at light heavyweight," Raimondi said, according to ESPN. "Nurmagomedov has three UFC title defenses. Jones has 11. Jones, outside-the-cage issues aside, was the light heavyweight champion without losing the belt in the Octagon for nearly a decade."
He also said this: "To me, if we're talking about the GOAT, it begins and ends with longevity and an accumulation of quality victories over the top fighters in your division."
This debate is certainly interesting. Jon Jones is not going to go down in this GOAT debate without a fight, either.
Like Sportscasting on Facebook. Follow us on Twitter @sportscasting19.