Jonas Valanciunas Demands Respect as a Criminally Underrated NBA Big Man After Joining Stephen Curry in an Exclusive Club
New Orleans Pelicans center Jonas Valanciunas never seems to get the respect he deserves as one of the better big men in the NBA. He sought to change that with a massive performance on Monday against the Los Angeles Clippers.
Valanciunas had his way with LA, dominating the glass and scoring from everywhere on the floor. When all was said and done, he found himself joining Stephen Curry as one of just two members in an exclusive club.
Much of the focus in New Orleans still centers around Zion Williamson's recovery from offseason foot surgery. However, Pelicans fans should appreciate having a criminally underrated talent like Valanciunas on the roster.
Jonas Valanciunas accomplished something only Stephen Curry has done this season
Wins have come few and far between for the Pelicans this season, but Jonas Valanciunas immediately ensured New Orleans would come away victorious against the Clippers.
The 29-year-old asserted himself right from the start of the contest. He scored 13 points in the first quarter as the Pels raced out to a 15-point lead. Valanciunas took things up a notch in the second period, scoring 16 points on 6-of-7 shooting, including a perfect 4-of-4 from beyond the arc. He finished the first half with 29 points on 7-of-7 shooting from deep.
The second half merely served as an encore. Valanciunas scored 10 points and had 39 for the game. He also grabbed nine rebounds in the final two quarters, vaulting himself into Stephen Curry territory.
Valanciunas became the only other player besides Steph to have 35 points, 10 rebounds, and seven 3-pointers in a single game this season. According to NBA Twitter, he is the fourth player in NBA history with 35-plus points, 15-plus rebounds, and seven-plus triples in a single game.
The performance deservedly garnered attention from the masses. But Valanciunas has demanded more respect for some time now.
Valanciunas is one of the more underrated centers in the NBA
Although the Pelicans have struggled, Valanciunas is excelling in his first season in New Orleans.
The Pelicans acquired Valanciunas from the Memphis Grizzlies in the offseason. Through 23 games, Valanciunas is averaging 19.3 points, 12.4 rebounds, and 2.4 assists. He is shooting an NBA-best 51.7% from 3-point range on 2.5 attempts per game. Those are stellar numbers, and they're a reflection of the value Valanciunas has provided for some time now.
The No. 5 pick in the 2011 NBA Draft missed out on an NBA championship with the Toronto Raptors after being included in the Marc Gasol trade. But he's only elevated his play since then. In the last two-plus seasons, Valanciunas is averaging 16.4 points and 11.9 rebounds. He is shooting 57.4% from the field with a 62.7% true shooting mark.
Advanced numbers also point to Valanciunas' quality. He has a +14 net rating in that span to go with a 23.3 player efficiency rating (23.3).
Valanciunas does not have the star power of some other bigs in the NBA. But he is a productive stretch-5 who controls the boards and can score at all three levels. He also figures to play a role in the Pels' immediate future.
Will Valanciunas be a building block or trade asset for New Orleans?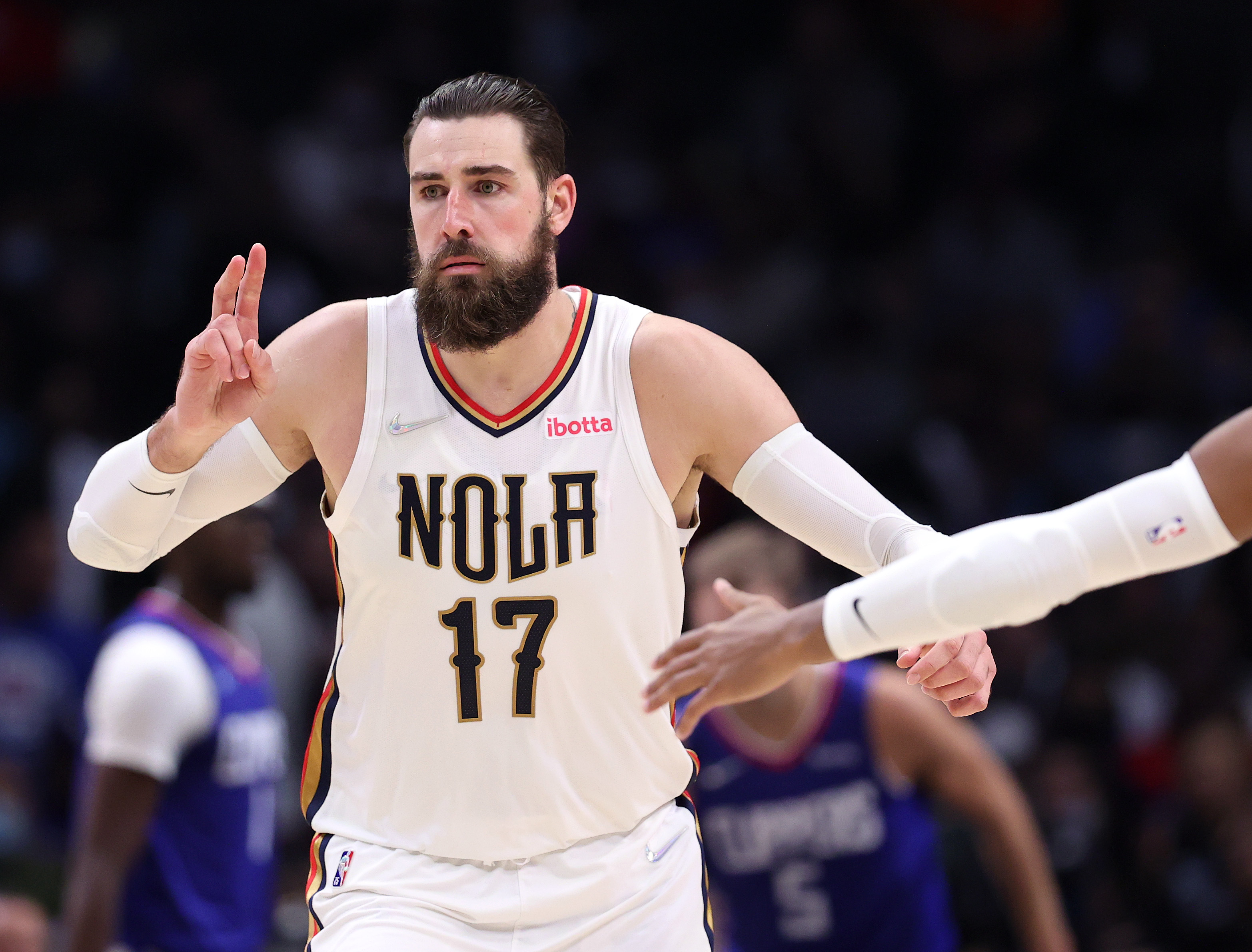 Zion Williamson and Brandon Ingram are the franchise cornerstones in New Orleans. Still, Valanciunas can play a role in the rebuilding process.
The Pelicans signed Valanciunas to a two-year, $30 million extension in October, keeping him under contract through the 2023-24 season. New Orleans won't know what it really has until Williamson returns. In the meantime, however, Valanciunas gives the Pels a legitimate interior force who can (eventually) contribute to winning.
Perhaps the Lithuanian big man can help steer a struggling Pelicans franchise in the right direction. He showed his import as part of a Grizzlies team that made the playoffs last season.
If nothing else, Valanciunas can provide immense trade value. He will make $14.7 million next season and just over $15.4 million in 2023-24, which is team-friendly enough so as to make him a desirable asset for any number of interested suitors.
Regardless, Valanciunas continues to command more respect from the masses.
Stats courtesy of Basketball Reference. Contract information courtesy of Spotrac.