Jonathan Kuminga's and Moses Moody's Summer League Performances Are Good Signs for the Golden State Warriors
The Golden State Warriors' Jonathan Kuminga and fellow lottery pick Moses Moody both played well during the NBA summer league. Kuminga came into the NBA draft with flashes of immense potential and NBA-ready physical traits. Moody's draft profile concentrated more on his developing skillset after a one-and-done season at Arkansas. Kuminga has superstar upside, while Moody is the more NBA-ready prospect with his three-and-D potential.
Golden State needs both rookies to play well. The Warriors could use two athletic role players to fill in as part of a rotation that was short on talent last season and had to be carried by Steph Curry. On the other hand, if both play well, it gives general manager Bob Myers more ammunition to use in a trade for another superstar to go alongside Curry, Draymond Green, and a returning Klay Thompson.
Jonathan Kuminga and Moses Moody showed promise in their NBA summer league debuts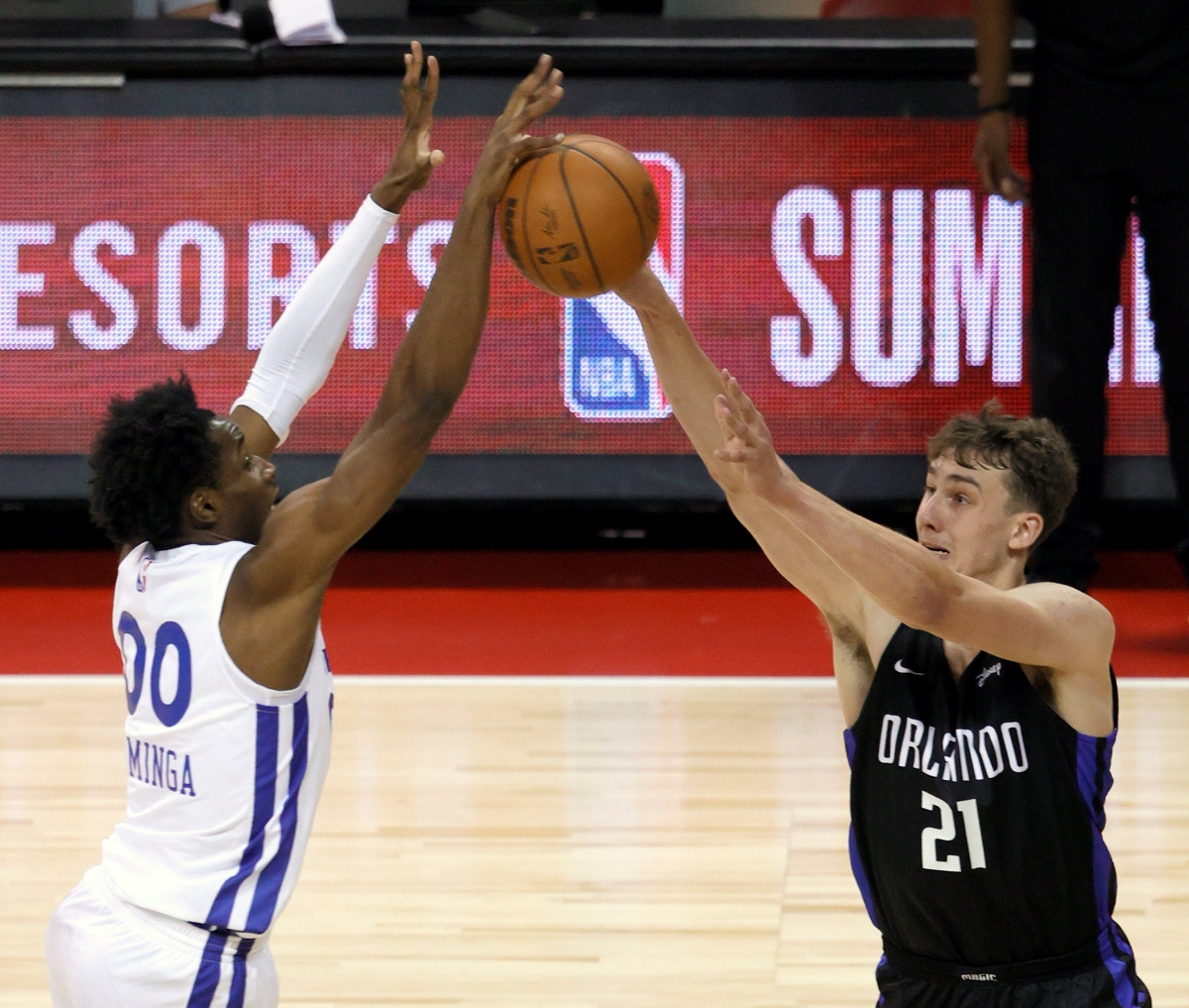 Neither rookie's statistical performances jumped off the page, but both showed up to the Las Vegas Summer League as advertised. After playing one season in the G League, the 18-year-old Kuminga enters the NBA with mouthwatering raw abilities. He averaged 17.3 points per game and 6.3 rebounds in Vegas. The 6-foot-8, 220-pound forward flashed his athleticism on several occasions and used that ability to affect the game on the defensive end, racking up 1.5 steals and nearly a block a game. He also found a way to harness those traits into aggressive drives to the hoop, getting to the line almost eight times a game. He also showed improvements in his decision-making, only turning the ball over 2.8 times per contest, which was around the summer league average.
However, his inconsistent shooting came with him to Vegas as well as Kuminga shot just 37.3% from the floor and 27.8% from three.
Moody also showed the traits that made him the No. 14 overall pick in this year's draft. After one inconsistent season at Arkansas, the 6-5, 19-year-old wing averaged 16.3 points per game on 42.9% shooting and 37% from deep on nearly seven attempts per game. When the regular season starts, Moody will find himself in the Warriors' rotation if he can use his strength and length on the defensive end of the floor while hitting open threes on offense. He showed both those abilities during summer league play.
The Warriors need both rookies to step up and find a role in the team's rotation
Golden State was far too dependent on Curry last year. The former MVP was fifth in the NBA in usage rate and led his team in minutes played during the regular season. Curry will turn 34 this year. Green, who played the third-most minutes for the Warriors in 2020-21, will turn 32. Head coach Steve Kerr gets Klay Thompson back this year, but the 6-7 guard hasn't played since June of 2019 when he tore his Achilles.
The rest of the Warriors' rotation consisted mostly of Andrew Wiggins, Kelly Oubre Jr, James Wiseman, Juan Toscano-Anderson, Kent Bazemore, Jordan Poole, and Kevon Looney. Oubre is now in Charlotte, and Bazemore plays for the Lakers. Toscano-Anderson and Wiggins are the two best wings left in Golden State, not counting Thompson, who will need some time to work his way back into NBA shape.
The franchise is still hoping for another few title runs while Curry, Green, and Thompson are around. The rest of the Warriors' roster wasn't good enough to do that last year, so Curry and Co. will be counting on their rookies to play rotation minutes.
If Kuminga and Moody play well, it also gives Golden State a better shot at acquiring a superstar
The juiciest superstar trade rumors of this offseason have surrounded Damian Lillard and Bradley Beal. Things can always change depending on how the season starts, but neither has yet to publicly ask out of Portland or Washington, respectively. It's not out of the realm of possibility for a player we haven't thought of yet to decide he wants to be traded to a contender, either. The Warriors have one of the best trade packages available if they decide to make a move.
Wiseman was the No. 2 pick in the 2020 draft and showed promise at the start of last season. Kuminga is a developmental project to be sure, but an enticing one. Moody has already shown flashes of his three-and-D potential in summer league, and he's only 19. A package centered around three lottery picks with untapped potential is an alluring one.
Whether it's as needed rotation players or as trade bait, the Warriors need Kuminga and Moody to play well. So far, at least during summer league, they have.
All statistics courtesy of NBA.com.