Jonathan Taylor Could Turn Into Every NFL Team's Worst Nightmare if His Head Coach's Recent Comments Prove to Be True: 'I'd Like It to Build'
His previous opponents are probably still having nightmares, while the teams yet to face him are likely losing sleep. Indianapolis Colts running back Jonathan Taylor has proven he's a dream NFL running back, and every defense in the league is trying to find a way to stop him.
But despite the fact he's already tied for the league lead in rushing yards, it appears Taylor could be aiming for much more. And if his head coach's comments prove to be true, the nightmares will just keep on coming for NFL teams.
Jonathan Taylor has become an absolute star for the Colts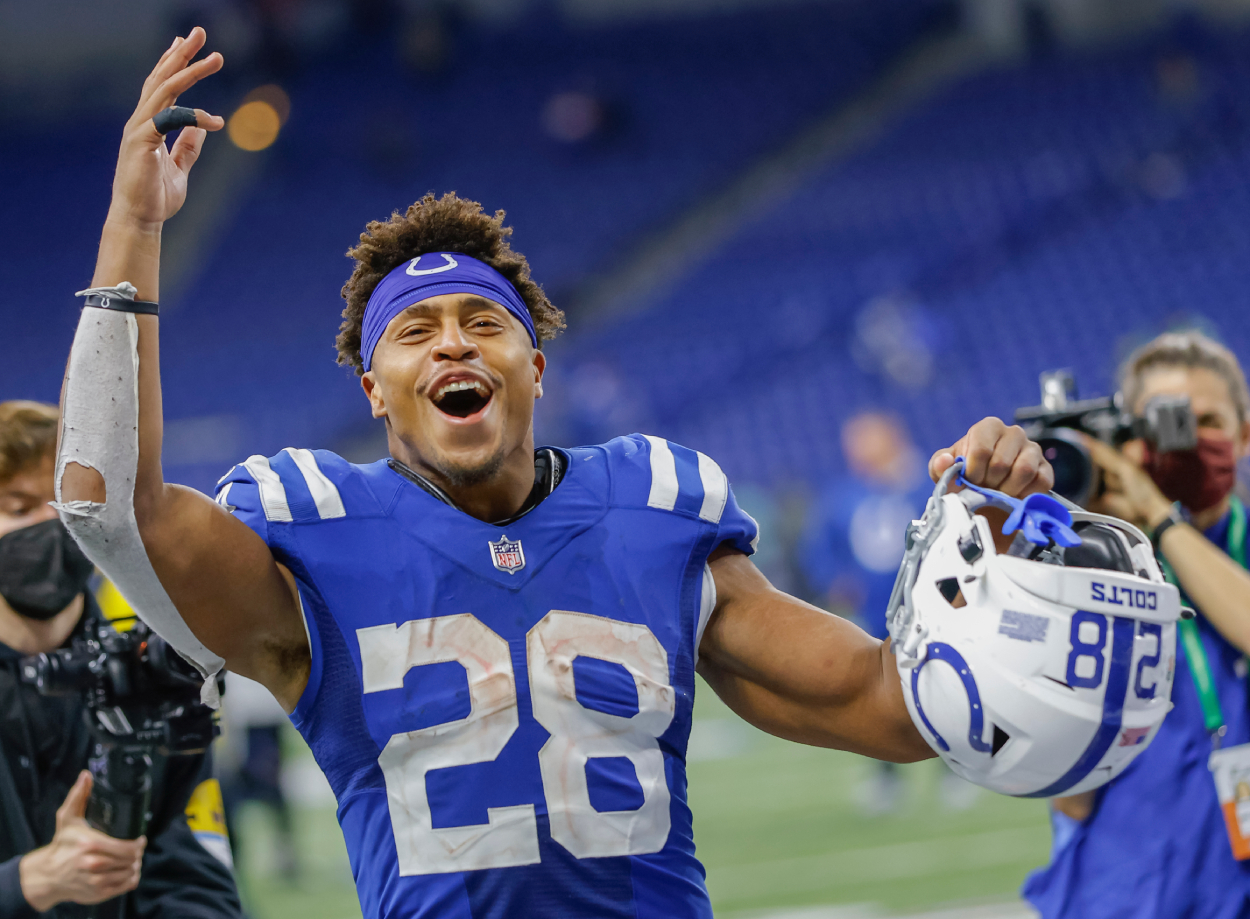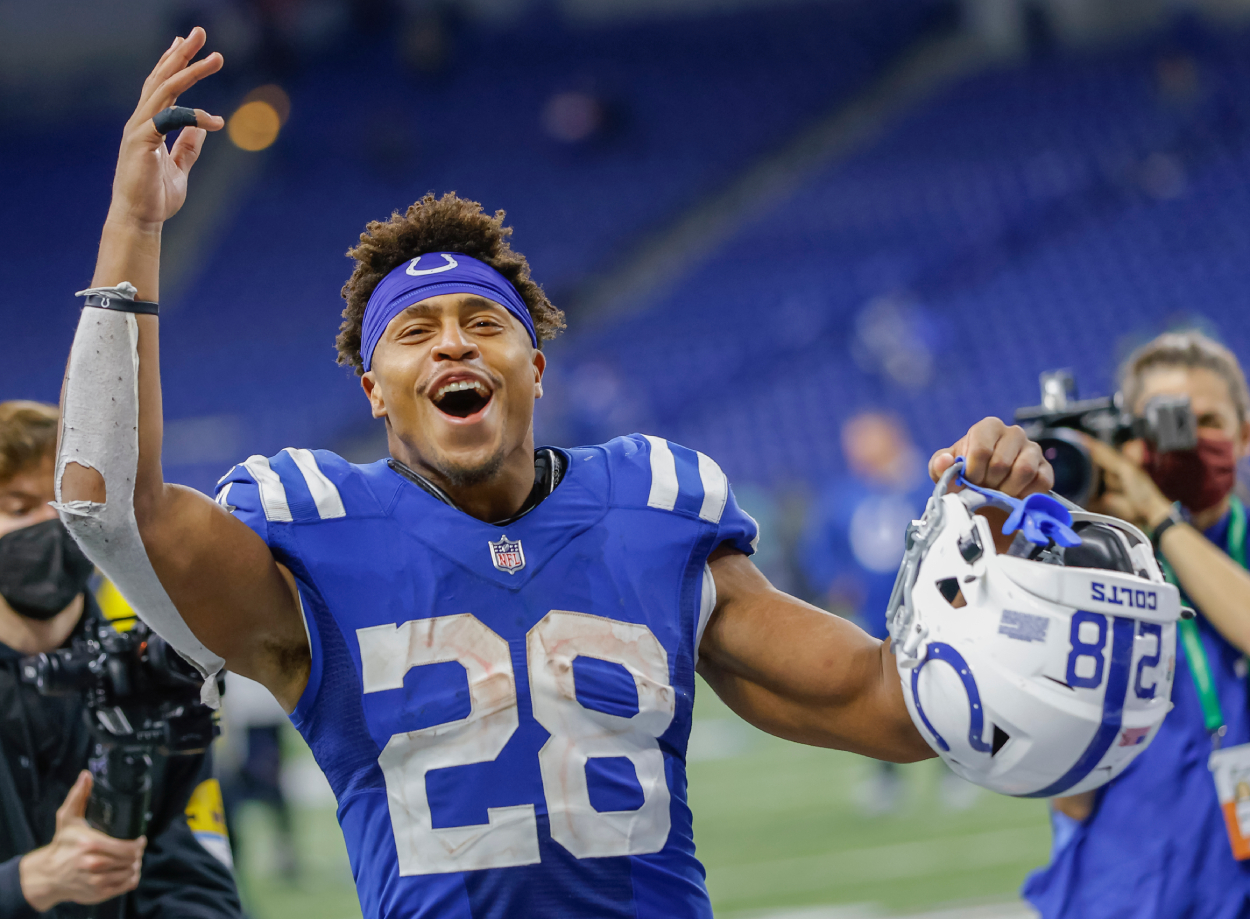 In case you live under a rock, Taylor's success didn't just start recently. He was one of the best players in the country during his college career at Wisconsin.
The star running back gained 1,977 rushing yards in 2017 before running for over 2,000 in both 2018 and 2019. He ended up scoring over 50 total touchdowns in his college career before later entering the NFL draft in 2020.
Somehow, though, teams overlooked the two-time Doak Walker Award winner, and he fell to the Colts in the second round. But that led to a massive rookie campaign for him in Indy.
While playing on a playoff team led by Philip Rivers, Taylor ran for 1,169 yards and 11 touchdowns in his first NFL season with the Colts. He only gained 428 rushing yards on 3.79 yards per carry through his first nine games, but picked up 741 on 6.23 per carry in his final six.
So far this season, Taylor has been even better.
He and the unfortunately injured Derrick Henry are currently tied for the league lead in rushing yards with 937 through 10 weeks. He also leads the NFL in yards from scrimmage with 1,240.
To put it simply: Taylor has been a man on a mission ever since the middle of last season, and he's proving to be one of the best players in the NFL.
Frank Reich wants to give him more touches
The last thing opponents want is for Taylor to get the ball in his hands more often, but it appears that could soon be the case.
"Jonathan Taylor is just, he's an amazing player and person. Right now, the workload that he's getting, we don't feel like he's overworked," Colts head coach Frank Reich said during a recent SiriusXM NFL Radio appearance. "In fact, a lot of people [are] telling me I should give it to him even more than we are. We give it to him somewhere around 18 to 20 times a game as far as carries, and then try to target him in the passing game a good bit, too. I'd like it to build; I'd actually like it to increase. The guy, even when he has had a couple really long runs … most backs would be kind of putting their hand up to come on out, and he just didn't miss a beat (after a recent 83-yard run). In fact, we called three more running plays to him right after that."
Taylor also shares carries in the backfield with Nyheim Hines and a little bit with Marlon Mack, but it appears the Colts could give him the ball even more in the near future.
If they do, he could become every NFL team's worst nightmare.
Jonathan Taylor could become every NFL team's worst nightmare
As mentioned earlier, the last thing teams want is for Taylor to get the ball even more than he does. Despite leading the league in rushing, he's only third in attempts with 161. Before his injury, Derrick Henry carried it 58 more times than Taylor has so far. Najee Harris and Joe Mixon have both also run the ball 150-plus times and neither of them are even to 650 rushing yards yet.
Taylor is also second among running backs in yards per attempt with a 5.8 average, which only trails Nick Chubb, who averages 6.0 yards per carry (Lamar Jackson also averages 6.0 yards per attempt, but the fact he plays quarterback makes things a little different). Taylor has one of the highest yards-per-reception rates among running backs as well.
So, essentially, if the Colts give Taylor the ball more and more (on the ground or through the air), he's just going to keep carving teams up and making things a lot harder for opposing defenses.
It will be a long day for whatever team is playing the Colts each week.
All in all, Jonathan Taylor has developed into one of the NFL's best players, and he has a chance to become even better if Reich's comments become true. He's the type of running back all Colts fans have dreamed about.
Stats courtesy of Sports Reference and Pro Football Reference