Jonathan Taylor Gives Humbling Response Amid NFL MVP Conversations After Colts Defeat Patriots: 'It's Just a Blessing'
Indianapolis Colts quarterback Carson Wentz threw for 57 yards with a touchdown and an interception against the New England Patriots. This doesn't sound like a good ending for the Colts, right? Well, think again. Thanks to Jonathan Taylor, the Colts defeated the Patriots and proceeded to shake up the AFC standings even more with the victory. At the same time, Taylor's name keeps popping up in the NFL MVP conversations.
After the massive victory over Bill Belichick's squad, Taylor gave a humbling response as his name bounced around the MVP conversations.
Jonathan Taylor puts the Colts on his back against the Patriots
Coming into this game, the Patriots had rattled off seven straight victories. But, that streak ended as New England fell out of the top spot in the AFC and the Colts found themselves right in the thick of the playoff picture in the topsy turvy conference.
It was all thanks to Taylor, too. The former Wisconsin Badgers star shined again, finishing with 170 yards and a score on 29 carries — including the nail-in-the-coffin 67-yard run at the end of the fourth quarter.
The Patriots made things interesting with 17 points in the fourth quarter, but Taylor's long run sealed the deal and gave New England a loss for the first time since October 17.
Taylor's usage is absurd, and stacking his numbers next to Wentz makes it even more impressive. The Colts quarterback attempted just 12 passes all game. Taylor rushed 29 times, and the Patriots' defense eventually gave up the big run they were hoping to avoid.
The Colts RB gets honest as his name continues to swirl around the NFL MVP conversation
Taylor is on another level this season. On Saturday, he became the Colts' franchise record holder for rushing scores and shot himself to the top of the NFL for rushing yards this season.
Through 14 games, Taylor has 1,518 yards with 17 scores — six more touchdowns than in 15 games in his rookie year. Those are undoubtedly MVP-worthy numbers, especially for a running back.
After the stunning victory, Taylor gave a perfect answer regarding his MVP possibilities (h/t Michael Baca of NFL.com).
"It's just a blessing that people feel as though my name should be in that conversation. The only thing that's on my mind is to continuously be available for my team each and every single week. Because it's going to take our best every week in order to win these games."

Jonathan Taylor on MVP discussions
Taylor left the field to "MVP" chants — and rightfully so. But, even with his eye-popping numbers, he isn't worried about that and called it a "blessing."
The young running back is precisely the kind of players teams dream of — humble, electric, dynamic, and a team-first guy. As long as they keep winning, Taylor will be happy, although the MVP trophy has to be floating around his mind at least a little bit.
Darius Leonard talks up Taylor and gives his stance on the NFL MVP discussions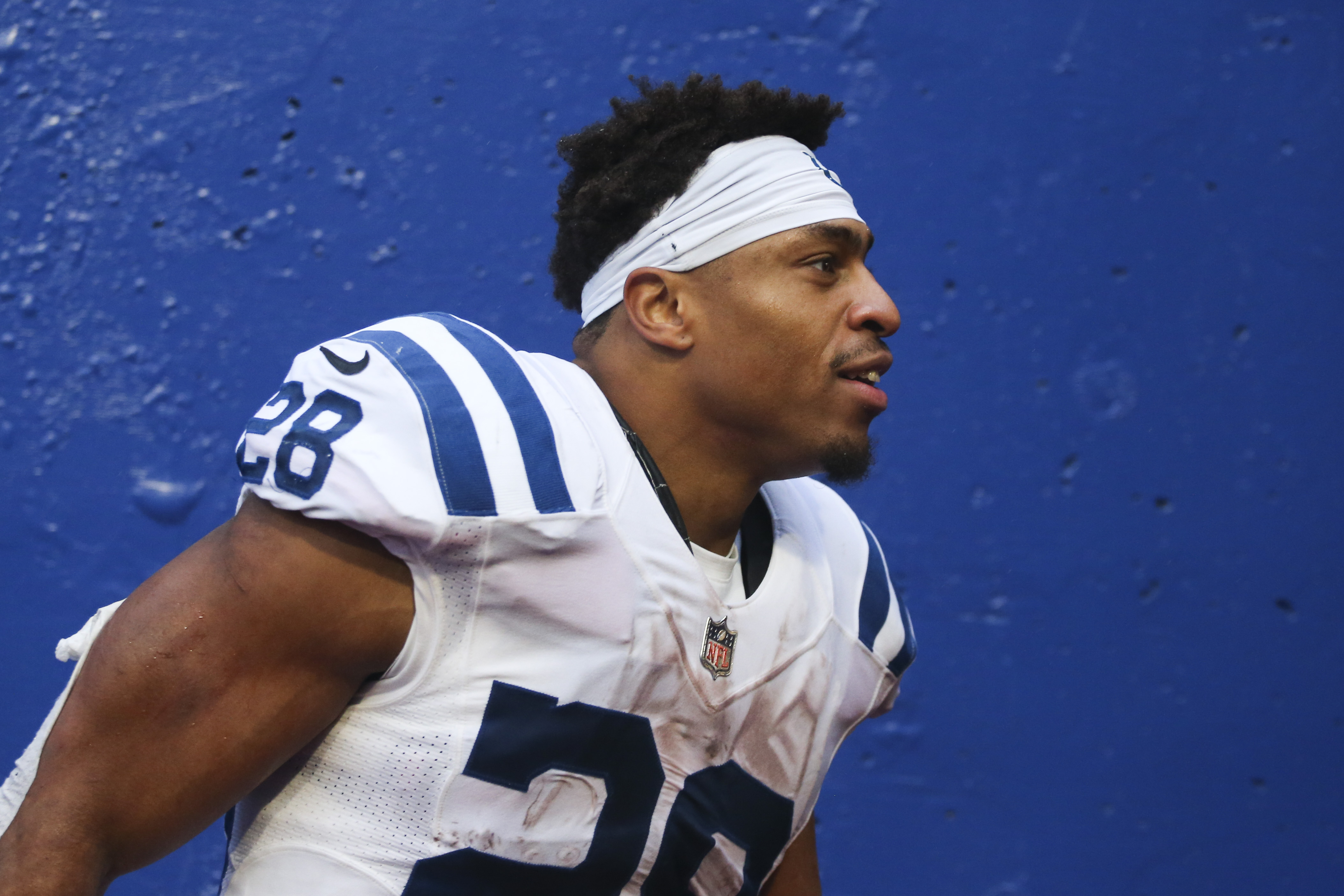 It has been quite some time since a non-QB won the MVP award in the NFL. Even with Derrick Henry's unreal stats from the 2020 campaign, the Tennessee Titans star missed the award.
Sure, that doesn't help Taylor's case too much, but his teammate, Darius Leonard, voiced his support of Taylor.
Leonard has a point. Taylor has eight games with 100 or more rushing yards, 11 straight games with a score, and four games with multiple scores in a terrific offensive showing.
More importantly, the Colts keep winning games and are fighting for a playoff spot, thanks mainly to Taylor. These next few weeks will be telling of how the NFL MVP conversation shakes out, but Taylor's name will be bouncing around — especially if he continues at this torrid pace.
Stats Courtesy of Pro Football Reference