Jonathan Taylor Has Chance to Outshine Tom Brady in Race for NFL MVP
Jonathan Taylor was spectacular for the Indianapolis Colts in their 41-15 win over the Buffalo Bills. He'll have yet another chance to impress this weekend when Tom Brady and the Tampa Bay Buccaneers come into town.
It's a big spot for both Taylor and the Colts. Winners of three in a row, Indy plays hosts to the defending Super Bowl champs and one of the better overall teams in the league. It's a chance for the Colts to prove that they can make some noise in the race for the playoffs. It's also a chance for Taylor to cement his MVP star power.
Indianapolis Colts running back Jonathan Taylor has been red hot
Taylor's game against the Bills is the standout, but he's been hot over the past few weeks. In general, he's been a superstar for Indianapolis this season.
That's not to take any shine off his performance against the Bills because it was spectacular. Leading the Colts to a 41-15 win, Taylor rushed 32 times for 185 yards and four touchdowns. He also caught three passes for 19 yards and a score through the air.
He was just the 18th player in NFL history to score five touchdowns in a game.
"He's sending a message to the league," said his backfield-mate, Nyheim Hines, via ESPN. "It's been amazing watching him play. Great to watch him finish runs and make people miss. He's a complete back. If there's any skill position [for MVP], Jonathan Taylor needs to be in it."
The win over Buffalo was the third-straight game that saw Taylor rush for over 100 yards. It was also the second time he'd rushed for over 150 yards in the past three games.
Jonathan Taylor is reaching Adrian Peterson-levels of stardom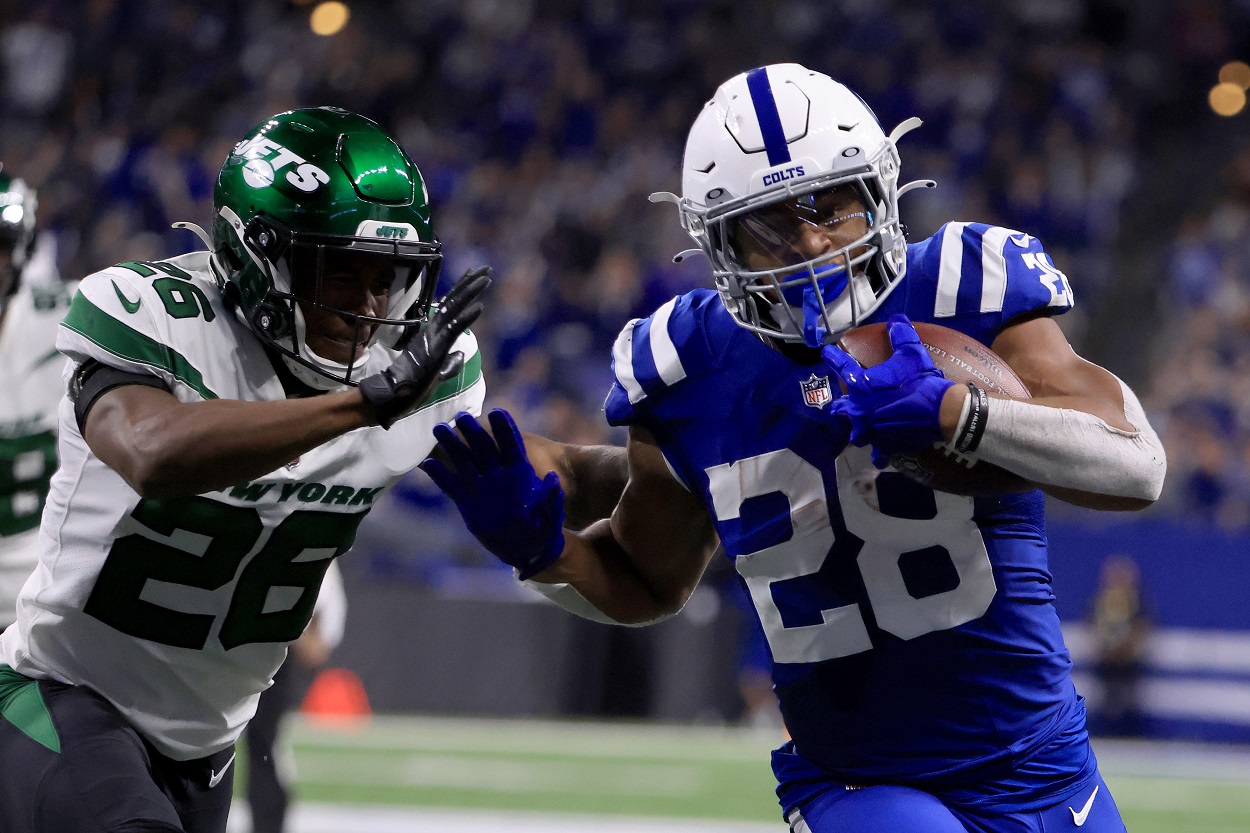 Hines mentioned that Taylor needs to be in the running for MVP. That's an award that fairly or not often-times goes to quarterbacks, but that's not always the case. Sure, it has been for the past eight seasons, but Taylor has a beacon to follow in fellow running back Adrian Peterson.
Peterson has bounced around the league for the past few seasons as a veteran running back, which makes it easy to forget that he was one of the most dominant running backs of all time during his heyday with the Minnesota Vikings.
Peterson was so good in 2012 that he was awarded the NFL's MVP award, making him the last non-quarterback to win the prestigious honor. He was also the first non-quarterback to win the prize since LaDainian Tomlinson won the award in 2006.
Peterson was incredible that season, rushing 348 times for 2,097 yards and 12 rushing touchdowns. He averaged 131.1 yards per game, which is more than some teams average as a whole per game.
Through 11 games, Taylor has rushed 193 times for 1,122 yards and 13 touchdowns. He's also caught 32 passes for 322 yards and two touchdowns as a receiver.
Taylor should undoubtedly be considered a contender in a season where no quarterback has taken the frontrunner spot for MVP.
Jonathan Taylor can outshine Tom Brady this Sunday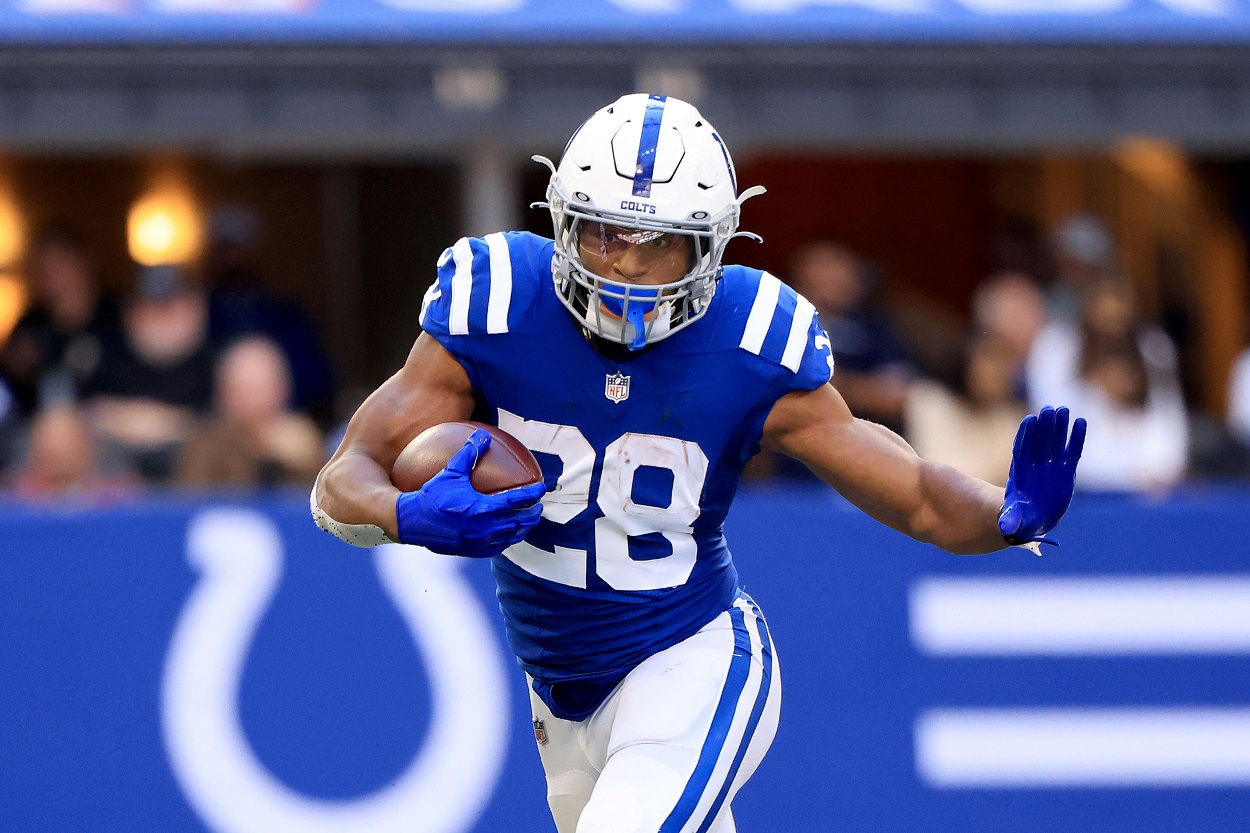 Brady is the GOAT; there's no doubting that. His seven Super Bowl rings overshadow everything else on the field, but right now, nobody is playing hotter than Taylor.
The Buccaneers are coming off a 30-10 win over the New York Giants, but beating that ragtag organization is hardly anything to write home about right now. Brady wasn't even all that efficient in the game. He did complete 30-of-46 passes for 307 yards and a touchdown, but he also threw an interception and finished with a quarterback rating of 65.5.
Before that win, Tampa had lost two in a row, including a loss to the lowly Washington Football Team. Brady threw four interceptions during that stretch, two in each loss.
That's not to say Brady won't catch fire and go on to win MVP the rest of the way because that's always possible with "Tom Terrific." That's also not counting out players like Aaron Rodgers, Patrick Mahomes, or Matthew Stafford, who each have a chance as well.
Tampa gives up just 78.4 yards per game on the ground, so Taylor might be facing his stiffest competition yet. Still, right here right now, Taylor is playing like the MVP of the NFL, and even Brady can't outshine him heading into this contest.
If the Colts walk away with another win and Taylor goes off against the Buccaneers' defense? That would put Taylor in a prime position to become the first non-quarterback MVP of the league since Peterson.
Stats courtesy of ESPN and Pro Football Reference.