Jonathan Taylor Continues Making the Kansas City Chiefs and Detroit Lions Look Completely Foolish With His Latest Historic Performance for the Colts
One man set the sports world on fire with his recent performance during Week 11 of the 2021 NFL season: Indianapolis Colts running back Jonathan Taylor.
Taylor not only gave a plethora of fantasy football owners easy wins, but he led his Indy team to a shocking 41-15 win over the Buffalo Bills. His performance also likely gave a couple of other franchises, the Kansas City Chiefs and Detroit Lions, a brutal reminder of their gigantic past mistakes.
Jonathan Taylor has had an MVP-caliber season with the Indianapolis Colts
After a nice rookie season that saw him gain 1,169 rushing yards, Jonathan Taylor has put on an absolute show so far during his second year with the Colts.
Through his first 11 games, Taylor leads the NFL in rushing yards with 1,122, rushing touchdowns with 13, and yards from scrimmage with 1,444.
On Sunday against the Bills, Taylor ran it 32 times for 185 yards, and he scored five touchdowns (four rushing and one receiving). He became the 18th player to score five touchdowns in a game in NFL history and the first to do it while wearing a Colts jersey. The Wisconsin product also tied an NFL record by recording 100 scrimmage yards and a rushing touchdown in his eighth straight game.
Taylor's play has been truly remarkable. It even has some people saying he should be in the NFL MVP conversation. Only one running back (Adrian Peterson) has won the award since 2007 and only three have won it since 2001 (Peterson, LaDainian Tomlinson, and Shaun Alexander), so that would be a huge accomplishment in itself.
But the most shocking thing about his 2021 campaign so far is that Taylor was only a second-round pick in the 2020 NFL Draft, and he was the third running back chosen.
Which running backs went off the board before him? Clyde Edwards-Helaire of the Chiefs and D'Andre Swift of the Lions.
JT has made the Chiefs and Lions look completely foolish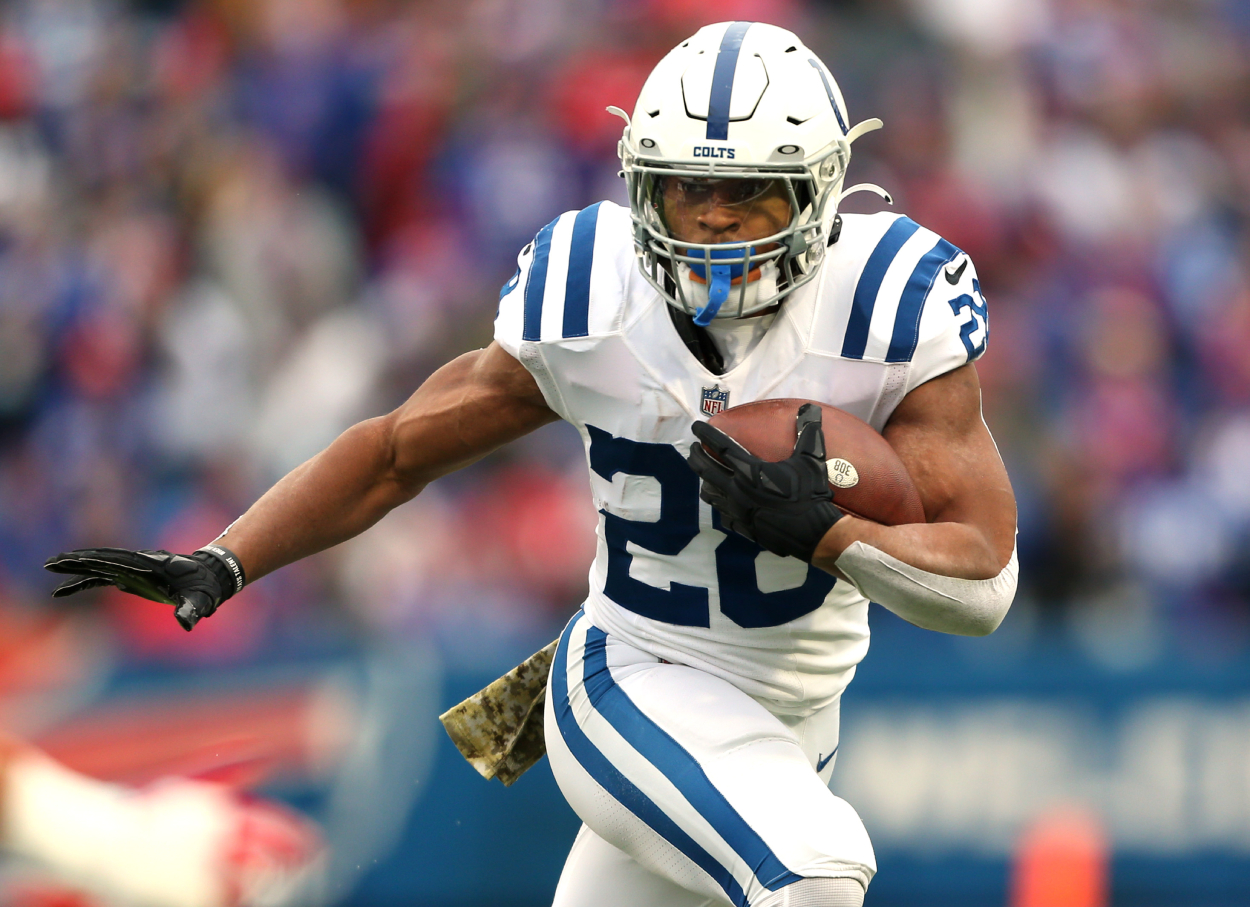 For some odd reason, Taylor fell to the second round of the 2020 draft. He ran for 2,000-plus yards in two of his three seasons at Wisconsin and gained 1,977 in the other. So, it's pretty confusing why he slid so far. But teams strangely decided to pass on him and some of them made pretty questionable selections in the process.
Included in those teams are the Chiefs and Lions, who both picked other running backs.
The Chiefs had the last pick of the first round, and they selected Edwards-Helaire out of LSU. Edwards-Helaire had a decent rookie season with 803 rushing yards, but he has only played in six games so far in 2021 and has 367 yards on the ground. Of course, he gets fewer opportunities since he plays on a team with Patrick Mahomes, but he still only averages 4.5 yards per carry in 19 career games, compared to Taylor's 5.4 average.
The Lions, on the other hand, selected Swift with the third pick of the second round out of Georgia, and he hasn't done anything remotely close to what Taylor has done so far. Swift ran for 521 yards in 13 games in his first season before running for 555 yards through 10 games so far this year. He has also only averaged 4.3 yards per attempt in 23 career games, but he has been a nice weapon in the passing attack, catching 99 passes for 777 yards through his first two seasons.
Again, though, neither Swift nor Edwards-Helaire have compared to Taylor. They are nowhere near the MVP conversation, and they can't carry their teams on their backs like JT has with the Colts at times. Had the Chiefs selected Taylor, their offense would be even more unstoppable than it already has been. Had the Lions drafted him, they maybe wouldn't be winless so far this season.
Can Jonathan Taylor win MVP?
The fact Taylor has led the Colts from 1-4 to 6-5 and just on the outside of the playoffs is remarkable. They went from having no hope to having a significant amount of it.
But it will still be hard for him to win MVP.
As alluded to earlier, MVP has essentially become the best quarterback award. While a non-QB has won the AP Offensive Player of the Year award in three of the last four seasons, the MVP has still somehow gone to a gunslinger every year.
This season, Taylor is competing with the likes of Tom Brady, Kyler Murray, Dak Prescott, Lamar Jackson, Josh Allen, and Aaron Rodgers. But with Murray missing the last three games, Jackson not playing in Week 11, and Prescott and Allen both playing poorly in their most recent outings, a door has opened for Taylor to be considered more seriously.
All in all, Taylor may win MVP; he may not. But either way, he has made the Chiefs and Lions look completely foolish.
Stats courtesy of Pro Football Reference