Jordan Howard Returning to the Eagles Could Spell Major Trouble for a Hobbled Miles Sanders
Much to the appeasement of Philadelphia Eagles (and fantasy football) fans everywhere; the Eagles finally got the ball to their top running back consistently during Week 13. Miles Sanders racked up a career-high 120 rushing yards on 24 attempts. He also chipped in an additional 22 receiving yards on three catches.
It was by far the best Sanders has looked this season under the guidance of first-year head coach Nick Sirianni, snapping a streak of games that saw the former Penn State back rarely touch the football.
Are the Eagles coming back around on Miles Sanders?
Under former HC Doug Pederson, specifically in 2019, Sanders was viewed as the future of the Eagles' running back position. By the end of the year, Sanders was used as a go-to runner and receiver, finishing his rookie season with an eye-popping 1,327 scrimmage yards. Without Sanders, the Eagles likely would have missed out on the playoffs in 2019.
The following season in 2020 was a bit of a disaster for Sanders. His total scrimmage yards dropped by close to 300, and he began displaying serious drop and fumble issues. Granted, 2020 was a messy year for everyone involved in Philadelphia. However, it definitely cast doubt on Sanders' ability to be a franchise back.
Through the first half of 2021, the Eagles were seemingly doing their best to stay away from handing Sanders the ball too much. He received 10-plus carries just four times through his first nine games and missed further time due to injury. In his absence, practice squad call-up Jordan Howard began establishing himself as a formidable replacement.
However, all that lost momentum seemingly evaporated against the New York Jets in Week 13. With Howard sidelined due to a knee injury, Sanders exploded back onto the scene against a bad New York run defense. It's been some time since he flashed such potential, but Sanders certainly looked the part of a No. 1 running back.
Jordan Howard is set to return in Week 15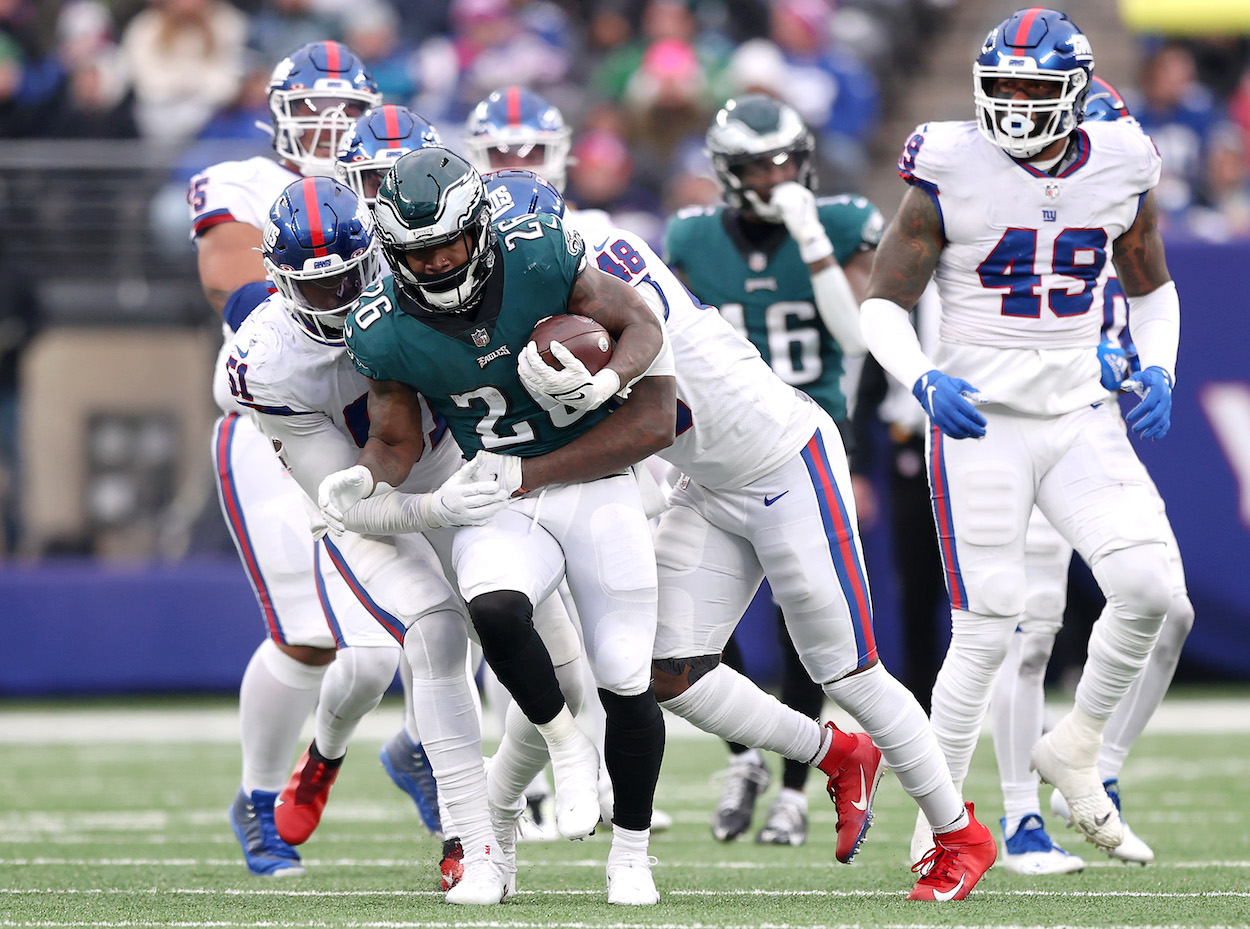 Of course, despite his massive performance against the Jets, the worrisome news for Sanders is that Howard is set to return from the injured reserve after the Eagles' bye week.
Sanders is presumably thrilled that his teammate is healthy again. However, it means a reduction in touches is almost guaranteed. Nick Sirianni has shown a fondness for Howard since he officially signed to the active roster, giving him 51 carries in just four games.
Howard hasn't wasted this newfound opportunity either. He racked up 274 yards and three touchdowns before heading to IR with a sprained knee.
Can the Eagles finally find a good balance in their run game?
Assuming Jalen Hurts returns to the starting lineup against the Washington Football Team in Week 15, the Eagles' run game is overcrowded as is.
Backups Boston Scott and Kenneth Gainwell both have a rightful claim to some carries as well. Getting everyone the football will be a challenge.
Maybe Sanders and the Eagles have turned a corner, and he's set to act as the feature back for the remainder of the season. However, there's a half-decent chance Howard will enter the lineup and steal a significant amount of his carries moving forward.
Penn State fans and fantasy football owners won't like this, but it's the strategy the Eagles have proven they like to run.
Sanders is also currently nursing an ankle injury — just more reason for the Eagles to bench him in favor of Howard against Washington.
All stats courtesy of Pro Football Reference.