Jordan Love and His Bank Account Made NFL History Long Before He Became Aaron Rodgers' Realistic Replacement
When all is said and done, Green Bay Packers quarterback Jordan Love's biggest accomplishment in the NFL may have nothing to do with touchdowns or playoff games.
Obviously, that's not what Packers fans want to hear right now. They want an assurance that Love, a first-round selection in 2020, will perform at a high level if he replaces Aaron Rodgers as the team's starting quarterback this season. But long before he prepared to throw his first NFL pass, Love helped set an incredible precedent for the next generation of players.
Jordan Love made history when he signed his rookie contract in 2020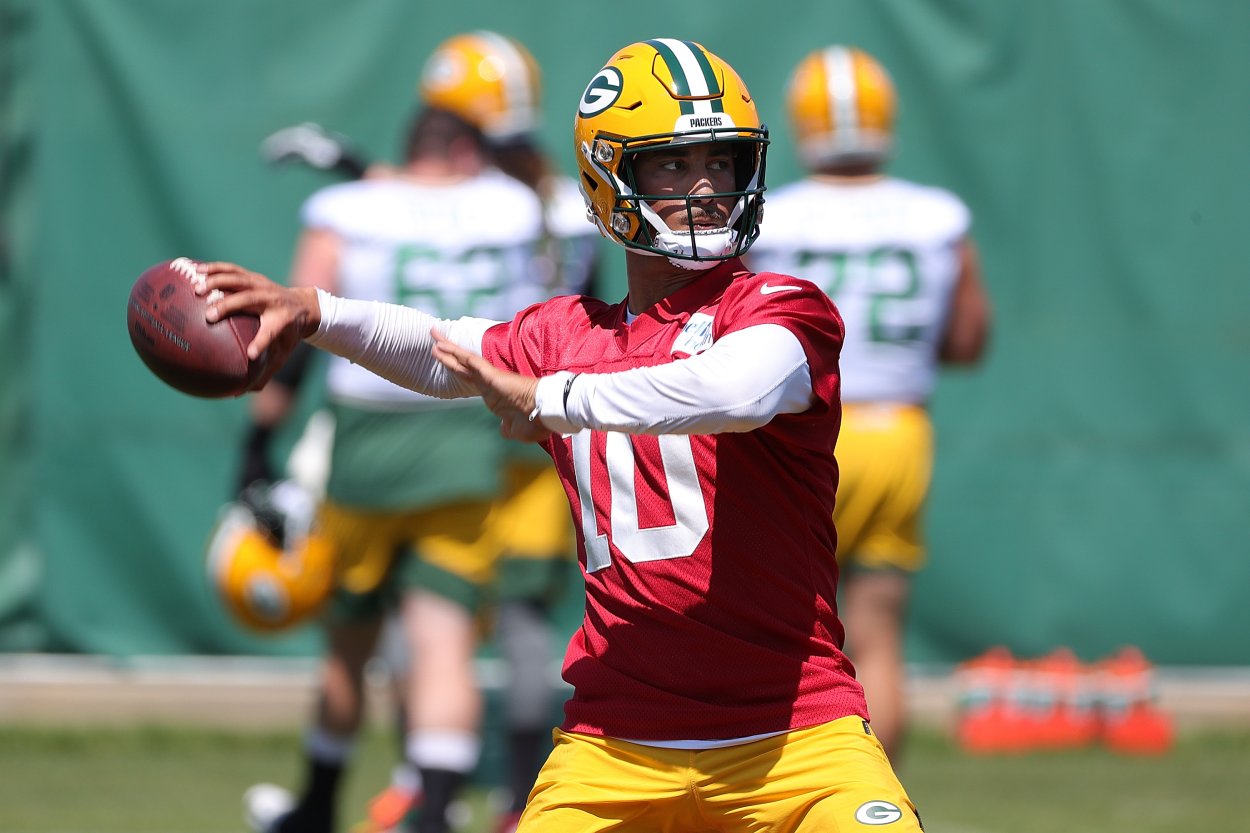 Let's go back to the summer of 2011 for a brief second, a time when Love was only 12 years old. As part of the NFL's new collective bargaining agreement, teams could no longer sign first-round picks to massive contracts. Instead, every pick had a predetermined, slotted salary.
Flash forward to the summer of 2020. The 21-year-old Love went 26th overall in the 2021 NFL Draft and was about to sign his rookie contract. Although players who go that late still get a four-year contract with a fifth-year option, the deal usually isn't fully guaranteed or anywhere close.
That's where Love and his agent, David Dunn, come in. Dunn, who also represents Rodgers, negotiated a fully-guaranteed contract for the Packers' first-round pick in 2020.
According to CBS Sports, Love became the first player taken 26th overall to receive a fully-guaranteed contract. It might not sound like the most impressive accomplishment at first glance, but you can't fault an NFL player for trying to get as much money as he possibly can.
Love and Dunn have already set an important precedent
Players and their agents are always monitoring the market. If Quarterback A signs a contract that pays him $30 million per season, Quarterback B and his agent will demand $32 million per year.
Thanks to Love, a similar approach happened after the 2020 NFL Draft. Although the contracts were slotted, players and their agents followed in Dunn's footsteps and sought to earn as much guaranteed money as possible.
According to NFL Network's Ian Rapoport, all seven of the first-round picks who went after Love in 2020 signed contracts with "significantly more guaranteed money." Each of the seven inked deals where at least 90% of the money is guaranteed.
Dunn and Love have set an important precedent going forward. Players and their agents are rightfully chasing the guaranteed money, and they have more ammunition to do so. If Love got a fully-guaranteed contract at 26th overall, why shouldn't another agent's client?
Greg Newsome, the 26th overall pick in the 2021 NFL Draft, might argue Love's strategy already worked. The rookie cornerback signed a four-year, $12.75 million fully guaranteed contract with the Cleveland Browns. He also received a $6.63 million signing bonus.
Bills rookie defensive end Gregory Rousseau, the 30th overall pick in the 2021 NFL Draft, is another excellent example. The former Miami Hurricanes pass-rusher signed a four-year contract worth $11.6 million with $11.37 million in guaranteed money.
Love could very well have an opportunity to soon prove he's worth every cent
At this point, the only solution to the Packers' quarterback saga could be a meteor hitting Earth … and even then, the survivors may sit around the fire discussing if the Packers should have traded Rodgers.
Without the meteor, we'll have to listen to Stephen A. Smith and other pundits recap the Packers' situation on a daily basis. As of publication, Rodgers hadn't revealed if he'd report to training camp or remain away from the team. Elsewhere, the Packers had not announced they are open to trading the reigning NFL MVP.
If Rodgers isn't the Packers' starting quarterback this fall, one should expect Love to replace him at the helm. The second-year signal-caller would have no shortage of opportunities to prove that, yes, he's worth all of the guaranteed money the Packers paid him.
For all of our sakes and sanity, let's hope there's an answer soon. At least Love's bank account is likely looking healthy and happy right now, even amid the ongoing drama.
Like Sportscasting on Facebook. Follow us on Twitter @sportscasting19.