Jordan Love has Three Games to Prove He's the Future in Green Bay
Jordan Love is officially on the clock.
Green Bay Packers' Head Coach Matt LaFleur announced that Aaron Rodgers wouldn't play during this year's NFL preseason. As a three-time MVP, he wasn't expected to. But now the offense is officially Love's hands.
The second-year pro will see most of the first-team reps in the Packers' exhibition games, but there's more on the line than just his development. With the uncertainty surrounding Rodgers' future in Green Bay, a strong preseason would go a long way toward assuaging any concerns the franchise might have about its future when Rodgers moves on.
Jordan Love needs to prove he's Green Bay's future when Aaron Rodgers leaves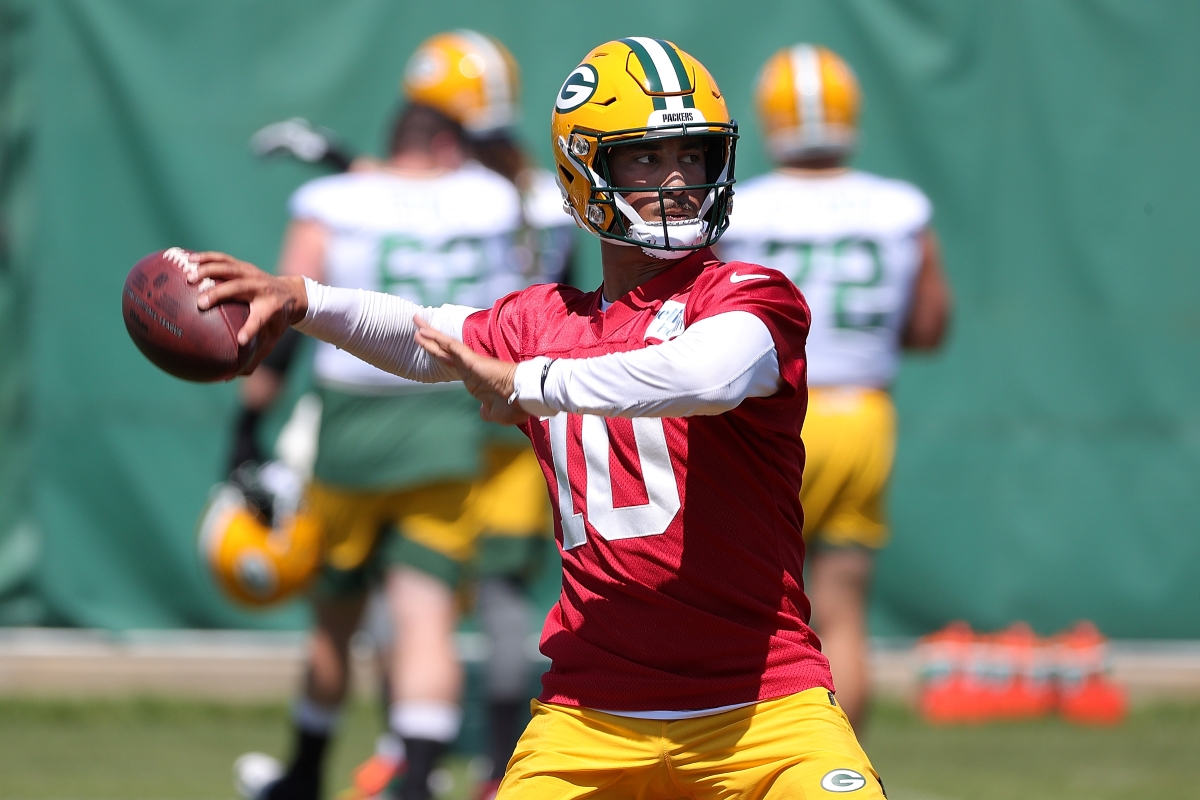 Rodgers is going to move on from the Packers at some point. The bread crumbs from this offseason point to that happening sooner rather than later. But regardless, Love needs to show Green Bay he's its next franchise quarterback.
The 6-foot-4, 219-pound QB has yet to play in an NFL game. With the coronavirus (COVID-19) pandemic affecting last year's crop of rookies, he was forced into a shortened offseason. He didn't have a full training camp and couldn't play in any preseason games at all. This year, though, Rodgers was absent from OTAs, and Love took all the first-team reps. Now he'll have opportunities to work with the starters in live action against opposing defenses.
Fair or unfair, this is the Utah State product's best chance to show he's ready.
Jordan Love's offseason results to this point have been a mixed bag
The gifted quarterback has shown off the physical traits that made him a first-round draft pick during training camp. At times, Love has made his strong arm and athleticism evident. He's also proven to the coaching staff that he's made strides mentally as well, according to Packers.com:
"We installed our offense and kind of threw everything at him. He's a guy who, again, hasn't had the experience as some others. We've got to get him multiple looks at many different plays and really find out what he does best.

(We're) just trying to get a feel for how much he can really handle, and I think he's done a great job of being intentional about his work, how he goes out to practice every day and I think it's paying off for him. I think he's made some progress."

Green Bay Packers' Head Coach Matt LaFleur on Jordan Love's offseason
But Love has also been inaccurate on some throws and has been continually inconsistent. That's not unexpected for a young quarterback who's basically in his first offseason program, but it speaks to the questions that surrounded Love going into the 2020 draft and is at least somewhat concerning.
Jordan Love's preseason play will be crucial to showing Green Bay he's its next franchise quarterback
His play during three exhibition games won't prove whether or not he's the franchise's long-term answer at the position. He also has at least one more season to learn behind Rodgers and improve both physically and mentally, and become more consistent. Three games against vanilla defenses won't be the end-all-be-all for Green Bay's decision-makers.
But an exceptionally good or abysmal preseason performance will see Love's trajectory head in one direction or another. For both his sake and the organization's, he needs to start showing he can be the future, and he has three games in which to do it.