Jordan Love Can Prove the Packers Right by Dealing Unexpected Blows to a Foolish Aaron Rodgers and Struggling Patrick Mahomes
The Green Bay Packers are entering the Jordan Love era as starting quarterback a bit sooner than expected. 
Week 9's clash between the Packers and Kansas City Chiefs was previously billed as a marquee matchup between Aaron Rodgers and Patrick Mahomes. Jokingly referred to as the State Farm Bowl because of each player's prominent role in commercials for the insurance company, this was supposed to give us a matchup between two of the best quarterbacks in the league, if not all-time.
Expectations are shifting dramatically with the news that Rodgers has tested positive for COVID-19. Not only will he miss this matchup, but he's in jeopardy of missing Green Bay's Week 10 clash with the Seattle Seahawks due to his unvaccinated status.
It's time for Love to step in and step up.
Jordan Love will be the starter for the Green Bay Packers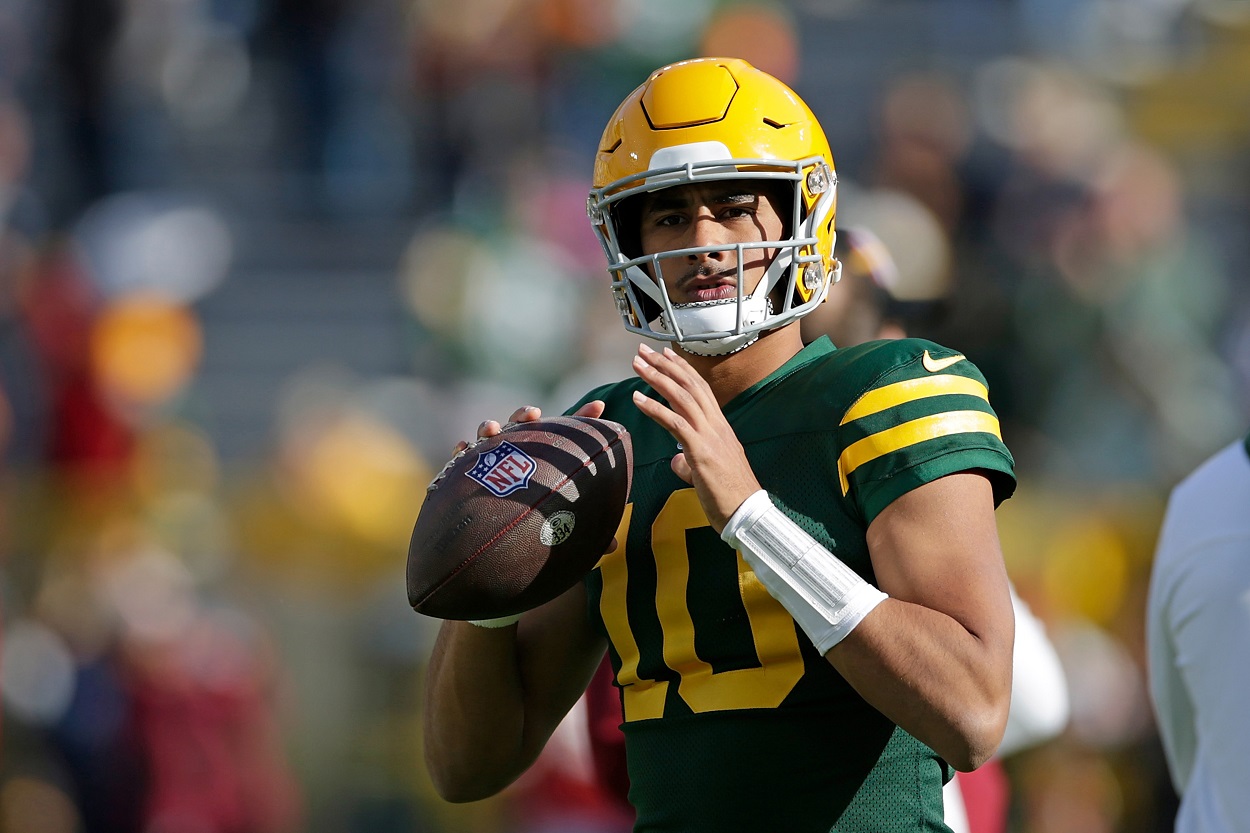 While the loss of Rodgers in this matchup may seem to swing things heavily in Kansas City's favor, this does also provide an intriguing point-of-entry for Love.
Green Bay drafted him No. 26 overall in the 2020 draft for a reason. General manager Brian Gutekunst saw him as the heir apparent to Rodgers.
Love now has the opportunity to prove his doubters wrong and make Rodgers look rather foolish in the meantime. A strong game against Kansas City would also go a long way toward validating Green Bay's front office.
Really, the only valid criticism of Love at this point in terms of his ability to be a starting quarterback in the NFL is that he's just such an unknown. He was drafted in the midsts of the height of the coronavirus. He wasn't active for any of the Packers' games in 2020 and saw his first real NFL action in the 2021 preseason.
Even Love's preseason was truncated, though. He did get all of the first-team reps during the offseason while Rodgers had his existential crisis with the team, but the 23-year old from Utah State only played in two of the three preseason games due to a shoulder injury. 
He ended the preseason going 24-of-35 for 271 yards, one touchdown, and one interception.
At this point, he's even an unknown to his head coach.
"Well, we'll find out, right?" Packers coach Matt LaFleur told ESPN when asked if Love is ready to start. 
Aaron Rodgers made a selfish decision that has hurt the Packers
One of the unforeseen adverse side effects of the coronavirus era is that it has pitted people against each other. The vaccinated and unvaccinated seem to be at odds constantly, though the NFL's workaround to that seems to have been pretty effective so far. The league has not mandated a coronavirus vaccine for its players, but it has made safety protocols rather complex for players who have chosen to remain unvaccinated.
The drama surrounding Rodgers has nothing to do with his vaccination status or the fact that he tested positive. What has some feathers ruffled is that he seemingly tried to be misleading when discussing his vaccination status. When asked if he was vaccinated back in August, his answer was, "Yeah, I've been immunized."
According to Ian Rapaport, it turns out that the quarterback received a homeopathic treatment that was designed to raise his antibody levels. He asked the NFL to review his status, and upon review, he was still deemed to be unvaccinated. The team and the league knew this, and Rodgers has been following the protocols required of unvaccinated players.
None of that is an issue because, ultimately, that was all a personal choice by Rodgers. The problem for the Packers is that even though Rodgers made a personal choice, it was also a very selfish one.
He's the starting quarterback—the leader of the team. He's the main reason the Packers are considered a Super Bowl contender, and frankly, the main reason Green Bay has remained relevant in the post-Brett Favre era. 
In a sense, Rodgers is the Packers, but in another very real sense, he's not. He's a superstar, but he's not above the team. He's part of the team, and 52 other players rely on him to do his job on a weekly basis.
The problem is not that he's unvaccinated. The real issue is that as a team leader, he chose the route that wasn't the best for his team. Had he been truly vaccinated, he still could have caught the coronavirus and still tested positive, but he wouldn't have to sit out the minimum of 10 days. He would only have had to test negative twice, 24-hours apart, and be asymptomatic. 
Had Rodgers been vaccinated, there would have been a path for him to play against the Chiefs. By making the decision he did, he's not only made it harder for him to see the field, but he's ultimately letting down his teammates and the fans. 
Rodgers comes across as an intelligent person, but he ultimately made a foolish decision.
Sometimes, you have to do what's best for the greater good, especially when you're an organization or team leader. Rodgers decided to take his own path, and his selfishness will hurt the team for at least one game. 
This is Love's opportunity to shake things up in Green Bay and prove the Packers right for drafting him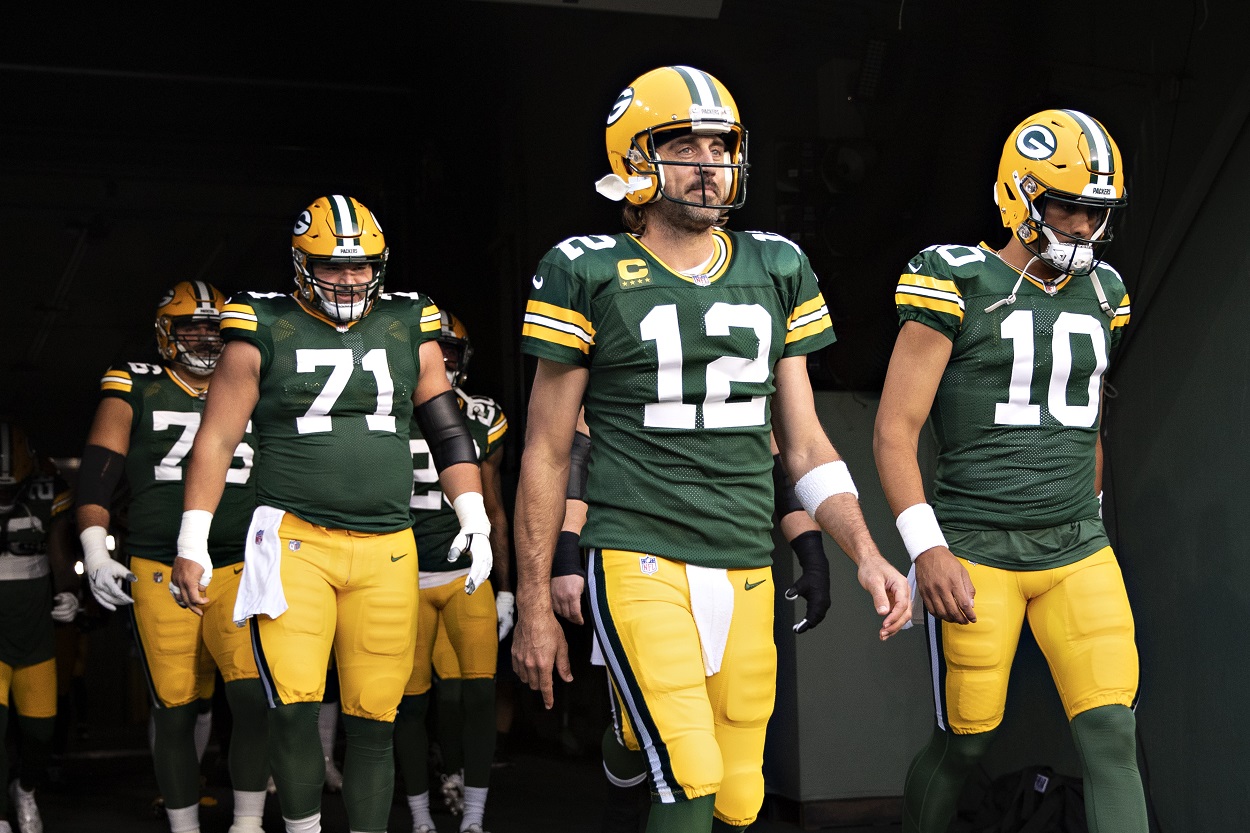 Green Bay is in the midst of a 7-1 season, and the team is on a seven-game win streak. The Packers are arguably the hottest team in the league coming off their win over the previously undefeated Arizona Cardinals on Thursday Night Football. They stood a great chance of getting another win this weekend against a struggling Kansas City team.
With Rodgers out, the Packers' win streak is undoubtedly in question. At the very least, an easy win is out of the question.
To be fair to Love, though, this is still a game he can win. 
Kansas City's defense is giving up 27.5 points per game, and a shockingly stout Packers defense gives up only 20.9. Mahomes, who has thrown 10 interceptions this season, has been struggling as of late and the Chiefs' offense is uncharacteristically average. Something isn't quite right in Kansas City, which kind of makes this the perfect opportunity for a quarterback getting his first NFL start.
Love will need to control the football and trust LaFleur's offensive scheme to do its thing. Running the ball will be paramount, and the Packers have Aaron Jones and A.J. Dillon, who can do just that. LaFleur is going to ask Love to control the football and help the offense control the clock. The Packers need to keep Mahomes on the sideline as much as possible and capitalize on long drives when they do have the football.
At the very least, Love needs to be a game manager.
If he can prove to be more than that, though, an interesting conversation will have to happen in Green Bay.
Drafting Love was never the issue for Green Bay. Things got tricky because of when the Packers drafted him. You don't take a quarterback in the first round just to sit him for the duration of his rookie contract. Green Bay drafted Love to replace Rodgers, plain and simple, and Rodgers' realization of that led to all the drama of this offseason. 
Love is supposed to be the future at quarterback. That probably hasn't changed, even though Rodgers has said he's invested and happy this season.
Winning has cured many ills between the Packers and their star quarterback in 2021, but just because things seem good right now, that doesn't mean there isn't still a long-term issue. The Packers didn't go all-in on Rodgers and trade Love, so both of their futures are still very much up in the air.
Presumably, Love is still the quarterback Gutekunst wants to see leading the team in the future. Presumably, Rodgers still doesn't like that fact.
Gutekunst has taken a ton of heat for his pick of Love, but the young quarterback can make his general manager look like an absolute genius by going out against the Chiefs and showing out. If Love plays well and shows why he was drafted as a first-round quarterback, moving on from Rodgers after this season all of a sudden looks a lot more feasible for the Packers. Gutekunst also looks a lot smarter.
There's a lot on the line this weekend in Kansas City. The future of the Green Bay Packers hangs in the balance.
Stats courtesy of ESPN and Pro Football Reference.
RELATED: It's Time To Show Some Respect to the Green Bay Packers' Most Important Offensive Weapon…and It's Not Aaron Rodgers