Jordan Love Is Quickly Letting His Golden Opportunity Slip Through His Hands
The bad news began for Green Bay Packers quarterback Jordan Love when Aaron Rodgers reported to training camp. Things have only managed to get worse from there.
Love, the Packers' first-round pick in 2020, is currently battling a right shoulder injury. Although the ailment may be minor now, it could create a domino effect of results that won't bode well for the second-year quarterback's development and future in Green Bay.
Jordan Love is dealing with a right shoulder injury
Following Rodgers' decision to report to camp, Love rightfully adopted a "control what I can control" mentality. The Utah State product showed up at training camp, took his backup reps, and waited for the preseason games to begin.
Love looked sharp in the Packers' preseason opener against the Houston Texans, completing 12 of 17 passes for 122 yards across the first half. He completed all six of his passes for 89 yards and a touchdown on a scoring drive which spanned the end of the first quarter and early into the second quarter.
Unfortunately for Love, his night didn't end as planned. Although the Packers hoped to give him three quarters worth of work, he suffered a shoulder injury on a strip-sack late in the first half. He left the game and did not return to action.
As of publication, Love remained unlikely to play in the Packers' Aug. 20 preseason showdown with Zach Wilson and the New York Jets. If Love can't go, the Packers would likely start Kurt Benkert, a former undrafted rookie who spent the last three seasons with the Atlanta Falcons.
Love needed as many preseason reps as he could have had
In theory, there are far worse issues for quarterbacks to have than a possibly minor shoulder injury during the preseason. The most important thing is that Love is ready to go in Week 1, even if his duties that day are nothing more than holding a clipboard and watching Rodgers, the reigning NFL MVP, sling touchdowns with ease against the New Orleans Saints.
However, Love needed every possible rep this preseason regardless of whether or not he started. The Packers effectively redshirted him last year, and Tim Boyle served as Rodgers' backup. Boyle, who played in 11 games last year but did not throw a pass, is now on the Detroit Lions.
Love last played in a football game at the 2020 Senior Bowl. With respect to that event, he hasn't participated in a meaningful game since a 51-41 loss to Kent State in the 2019 Frisco Bowl on Dec. 20, 2019.
If Love can't play against the Jets, that's valuable reps down the drain. And yes, there is such a thing as meaningful snaps in the preseason. Love cannot only practice against the Packers' defense for two years outside of coming into games and kneeling the ball or handing off in a blowout.
Love needs to get healthy and be ready to go in Week 1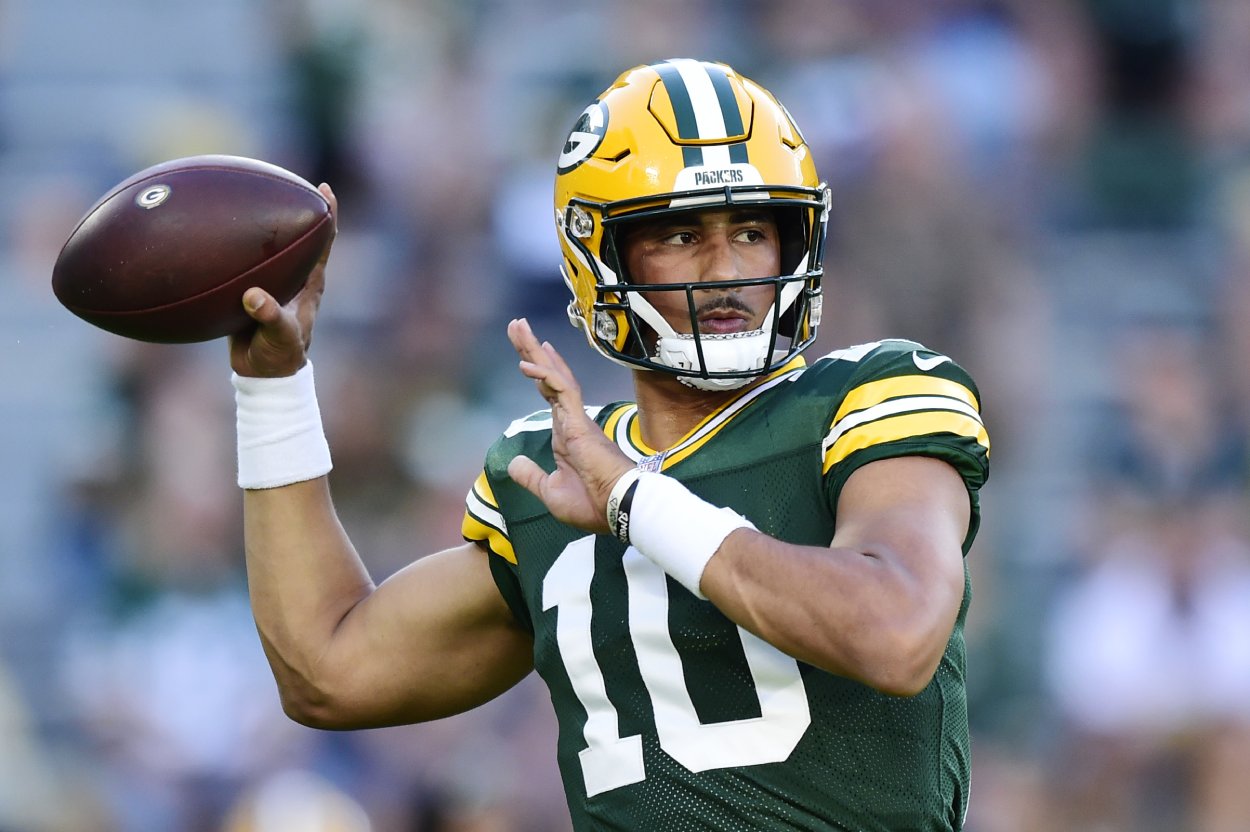 The worst thing that Love can do right now is trying to rush back from the injury. Yes, he's missing out on important snaps, but it's better to miss a single preseason game than aggravate the injury and need to go on injured reserve.
As of now, there still exists a chance that Love will take over the Packers' starting job in 2022. He only turns 23 in November and has up to three years remaining on his rookie deal if the Packers pick up his fifth-year option in 2022.
Missing time in the regular season because Love fought to get ready for a third preseason game isn't worth it. The second-year quarterback needs to prove to the Packers that the starting job should go to him when Rodgers eventually leaves, which could be as soon as next spring. Why should the team trade for Deshaun Watson or draft someone when they may already have their next franchise quarterback on the roster?
Love is hurting right now, but things will get better if he just takes things one day at a time. However, if he opts to try being heroic, he may just be sitting behind Watson next year after all.
Like Sportscasting on Facebook. Follow us on Twitter @sportscasting19.
RELATED: Aaron Rodgers Praises Jordan Love and Proves He Might Be the Right Mentor After All