Esteemed Quarterback Coach Jordan Palmer Already Made A Dangerously Bold Projection About the 2022 NFL Draft's No. 1 Pick
It's never too early to discuss the 2022 NFL draft, and from a certain point of view, Auburn quarterback Bo Nix already heard his name called.
Joe Burrow and Zach Wilson, among others, can attest to how difficult it is to make extremely early predictions about which quarterbacks will be selected in the first round. Both skyrocketed up draft boards and became top-2 selections with a brilliant final collegiate season. So maybe Jordan Palmer, the former NFL quarterback-turned-private coach, is correct in his bold projection about Nix and the 2022 NFL draft.
Jordan Palmer believes Bo Nix will be the 2022 NFL draft's first pick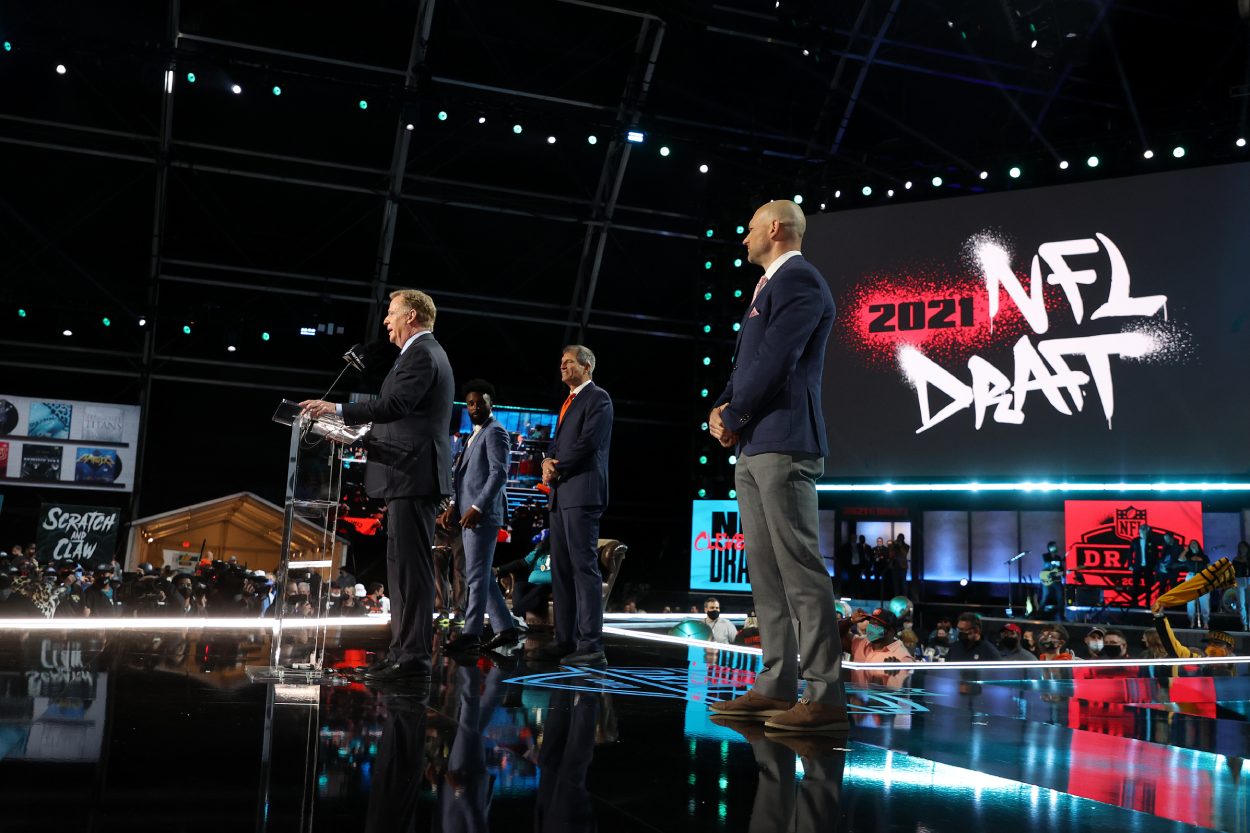 Jordan Palmer has had high hopes about Bo Nix and the 2022 NFL draft.
In a 2020 interview with ESPN, Palmer said he believed Nix would be the first overall pick in 2022. The Auburn quarterback had just completed his first collegiate season, one which naturally brought its share of highs and lows. He would need to wait at least two more seasons before he could forego his eligibility and pursue an NFL career.
So what had Palmer, a veteran quarterback who now works as a private coach, so optimistic about Nix's NFL future?
"There are the two things I look at — confidence and maturity — before arm talent, before size, before any of that. … [Nix is] more confident and mature than most of the guys I've ever been around."

Jordan Palmer
Palmer mentioned Nix's size, and it is important to note that Auburn lists him at 6 feet 3 inches and 214 pounds. The confidence and maturity are traits that a quarterback coach would see up close.
Nix has had an inconsistent career at Auburn
When Palmer made those comments to ESPN, he did so only months after Nix completed his true freshman season at Auburn.
In 13 games during the 2019 season, the former top recruit completed 57.6% of his passes for 2,542 yards, 16 touchdowns, and six interceptions. He also ran for seven touchdowns on 3.2 yards per carry. Nix won SEC Freshman of the Year honors.
Auburn limped to a 6-5 record amid the coronavirus pandemic in 2020. Nix completed 59.9% of his passes for 2,415 yards, 12 touchdowns, and seven interceptions in 11 games. He totaled seven rushing touchdowns for the second straight season.
Who else could be the first overall pick in the 2022 NFL draft?
Nix hasn't been a trendy pick to be selected early in the 2022 NFL draft, but perhaps Palmer will be correct all along.
Immediately after the 2021 NFL draft ended, three popular names emerged to be the first quarterback selected in 2022. Oklahoma's Spencer Rattler, a former reality TV star who rose to prominence on Netflix's QB1: Beyond the Lights, leads the pack.
North Carolina's Sam Howell torched defenses in his first two seasons and could follow in Mitchell Trubisky's footsteps. Then, there is Malik Willis, the dual-threat quarterback from Liberty and a former Auburn signal-caller. 
Palmer wants to believe that teams will care more about Nix's traits than his size or numbers, which is a fair perspective to have. However, there is a great deal of competition ahead of Auburn's quarterback, and there is also no guarantee that Nix doesn't return to college in 2022.
When the time comes, will Nix be ranked alongside, or even ahead of, those three quarterbacks? Palmer spoke the idea into existence, and only time will tell if he truly foresaw the prophecy. 
Like Sportscasting on Facebook. Follow us on Twitter @sportscasting19.