Jorge Masvidal Learned to Fight on the Streets of Miami: 'I Don't Know How Many Heads I Cracked'
Many fighters have been fighting for a long time, legally or otherwise. This is also true for Jorge Masvidal, who grew up on the mean streets of Miami. Let's look at Masvidal's early life and how it made him become the fighter he is today.
Jorge Masvidal's violent childhood
RELATED: UFC Legend Matt Hughes Lucky to Be Alive Three Years After Defying Death in Train Accident
Many people didn't have a great experience at school, but Masvidal, who grew up in a poor neighborhood in Miami, had a nearly fatal one. According to EssentiallySports, Masvidal was riding his bike with a friend not far from his elementary school one day. Then, when he got off his bike to greet other kids, an older one walked up to him, grabbed him by his shirt, and then took out a knife.
Masvidal said that he freaked out, pushed the kid away, and then ran as fast as he could. While this was a harrowing story, it does have a happier ending. About a year later, one of Masvidal's friends got into an altercation. Masvidal helped out his friend by confronting the other kid. As it turns out, it was the same kid who had pulled a knife on him.
When Masvidal realized this, he said that, for 30 seconds, he just "went to town with this kid." Of course, the teachers broke the fight up not long afterward, but this kind of stuff wasn't uncommon in his childhood. Like Insider wrote, in reference to his childhood fights, Masvidal once said that, "I don't know how many heads I cracked."
Masvidal starts to take fighting more seriously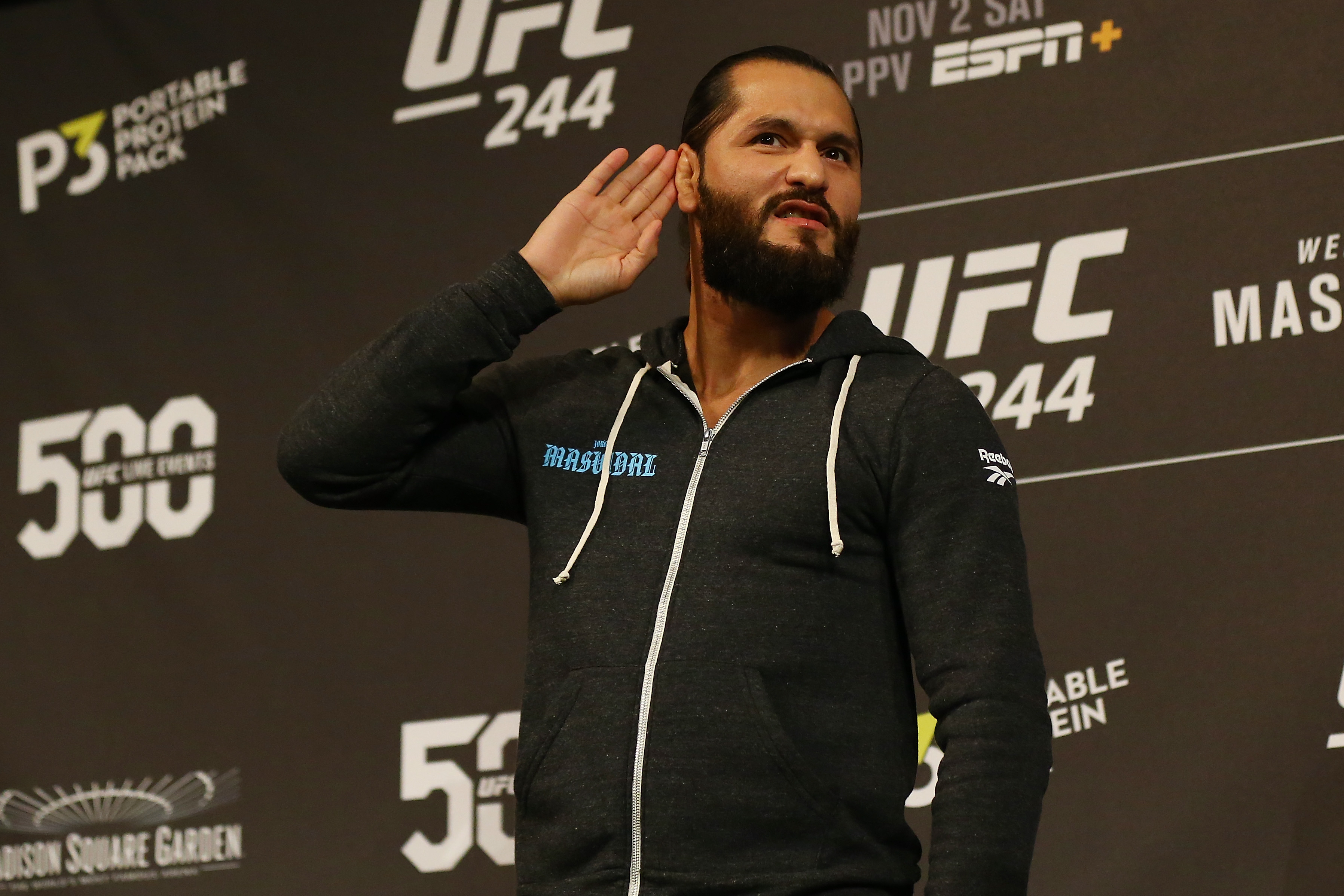 RELATED: Jessica Eye Fended off Death and Her Father to Get to Where She Is Today
Street fights can help develop some skills, but there's a limit to their usefulness. So Masvidal started training at gyms to work on his technique. That said, this happened to be one of the best decisions that he'd make.
With a stroke of luck, it turned out that Kimbo Slice also trained at the same gym. Slice scouted Masvidal out and paid him to take part in a few backyard brawls. While these fights were still amateur, they at least got him paid.
Still, Masvidal knew he wanted to fight; he also didn't want to do it in people's backyards. He wanted to become a pro boxer or a pro wrestler. But when Masvidal discovered MMA, he realized he could pursue both disciplines as a pro. 
How Jorge Masvidal worked his way into the UFC
He started fighting professionally in 2003. After getting a few wins, Scott Coker signed him with Strikeforce. For his first fight with Strikeforce, he got a chance to fight in Hugh Hefner's backyard, according to Insider. Strikeforce was new at the time, and Coker thought that fighting at Hefner's Playboy Mansion would be a good way to gain some publicity for MMA.
This was a good call, as MMA's popularity has only been growing since then. Masvidal continued fighting professionally in Strikeforce as well as in other MMA organizations, but, in 2013, the UFC bought Strikeforce and its roster of fighters. This purchase gave the UFC a lot of well-known fighters, including the likes of Ronda Rousey, Daniel Cormier, and Alistair Overeem.
While Rousey became the dominant women's bantamweight champ, for years, Masvidal seemed like a nobody. He'd win a few fights, but then lose a few fights. That was at least until 2017, when Masvidal knocked Donald Cerrone out. From then on, the UFC and its fans took notice of him. And of course, since then, Masvidal has had some great fights, including a record-breaking 5-second knockout of Ben Askren.