Why Jose Fernandez's Case for NL Cy Young Is Not Sentimental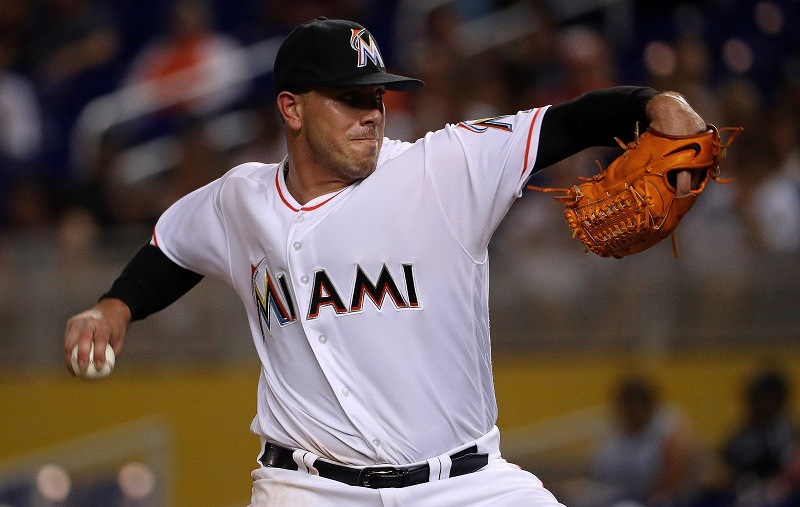 The day Marlins star Jose Fernandez died in a boating accident near Miami Beach, the 24-year-old right-hander led Major League Baseball pitchers with 6.2 wins against replacement (WAR), per Fangraphs. Among qualified pitchers, he struck out batters at a higher rate than anyone else and had the best FIP. In other words, the Marlins ace had a bona fide NL Cy Young case when he passed away. Fernandez deserves the award based on several key stats, and it has nothing to do with sentimentality.
Jose Fernandez for NL Cy Young
Start with his 2.29 FIP, which represents what the pitcher did independent of the fielders behind him. Those who strike out batters at a high frequency (in this case, 12.48/9 IP) and prevent home runs and walks get the lowest FIP. Fangraphs uses this number to calculate WAR — hence Fernandez's place atop the leaderboard on September 25. He achieved these sparkling numbers over 29 starts and 182.1 innings, which were limited due to his Tommy John surgery a few years back.
We should give the numbers some perspective. Compared to other candidates for the award, Fernandez was more than two strikeouts better per 9 IP than Madison Bumgarner (10.09 K/9) and almost one-and-a-half better than Max Scherzer (11.06 K/9). His FIP was nearly a run better than that of Scherzer (3.15), Bumgarner (3.27), and Kyle Hendricks (3.26). Only Noah Syndergaard (0.56 HR/9) and Johnny Cueto (0.63 HR/9) allowed home runs at a lower rate than Fernandez (0.64 HR/9).
You like clutch stats? Against division opponents who could hurt his team's chances at an NL East title, Fernandez went 6-1 with a 2.08 ERA, including a perfect 4-0 with a 1.33 ERA against Washington. With Miami's playoff chances disappearing, he tossed eight shutout innings (12 SO) against the Nationals on September 20.
The thin argument against Fernandez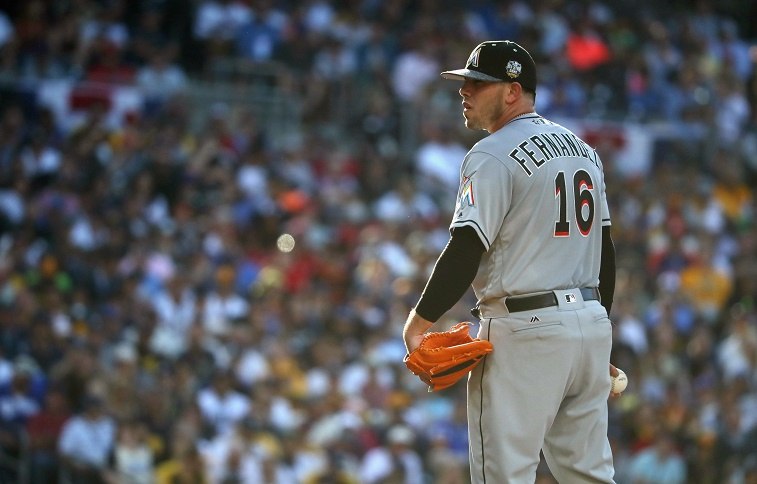 There are always old-school arguments against potential winners that pretend to ignore advanced stats. Advocates of Jon Lester for NL Cy Young cite his 19-4 record and 2.28 ERA (3.34 FIP). Clearly, these voters did not check the box for Zack Greinke (19-3, 1.66 ERA, 2.76 FIP) last season. They voted for Jake Arrieta (22-6, 1.77 ERA, 2.35 FIP) despite the lesser winning percentage and higher ERA. (If strikeouts were a factor, Clayton Kershaw's 301 blew away the pack, as did his fWAR.)
As far as strikeouts go, only Scherzer (267) whiffed more batters than Jose Fernandez did (253), though the Nats ace did not have an innings limit. So we might as well tackle the innings now. Both Bumgarner (219.1) and Scherzer (217.1) top Fernandez in that department. Chris Cwik pointed out on Big League Stew that the second qualifier in the MVP vote points to the number of games played. Thus, Fernandez's case would take a hit.
This argument dissolves in a number of ways. First, merely mention the case for Zach Britton, the Orioles closer with 64.1 IP under his belt. Or point to the Cy Young awards handed out to relievers Eric Gagne (77 G, 82.1 IP) in 2003 and Rollie Fingers in 1981 (47 G, 78.0 IP). Then cite the Cy Young and MVP closer Dennis Eckersley (69 G, 80.0 IP), who won in 1992. This factor makes little difference in the NL Cy Young race. Value matters more.
Scherzer and Bumgarner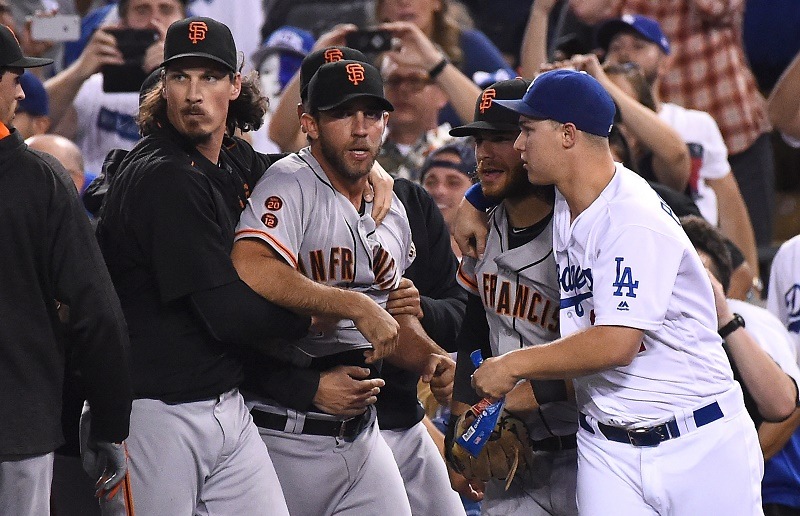 While we're on the subject of value and time spent on the field, we recall the Cy Young and MVP awards Clayton Kershaw took home for his superb 2014 season. He didn't even throw 200 innings that season. What he did do  — including lead the league in FIP and strikeouts per nine innings — was dominate the field when he pitched, despite missing some time for injury.
We aren't trying to use Kershaw's exquisite 2014 season to make Jose Fernandez's case for NL Cy Young in 2016. Our only point here is there are no hard and fast rules for voting on these awards. A published guideline says amount of games played is essential for MVP, then a starting pitcher who appeared 27 times goes and wins it. Or a reliever gets into the conversation. Or the best player in baseball gets ignored because his team's general manager didn't build a playoff team around him.
No pitcher ran away with the NL Cy Young award this season. If Kershaw had stayed marginally healthy for five or six more starts, he would have won it easily. However, you can poke holes in the cases for Scherzer and Bumgarner concerning FIP and home runs allowed. Bumgarner's record against the Dodgers (0-2, 3.91 ERA in four starts) might come into play as well, as could Scherzer's 10(!) starts against the "ball clubs" fielded by Philly and Atlanta this season. He went 7-0 with a 2.87 ERA against them.
Lester and Hendricks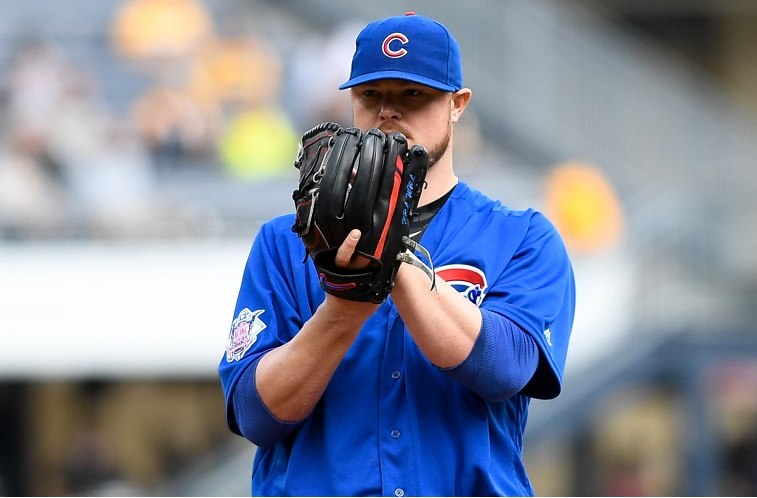 Arguing against the Cubs' Lester or Hendricks involves bringing up Chicago's superior team defense and prolific offense. Wins are a product of your team scoring runs at the right time, and Jose Fernandez had four no-decisions in which he gave up 1 ER or fewer. This is why Cy Young voters abandoned record as a key pitching stat when they gave Felix Hernandez the award with a 13-12 record in 2012. So Lester's record offers little in the way of an argument.
Hendricks actually has fewer innings (179.0) than Fernandez, so there's no advantage there. Lester will likely be considered the better candidate because of his record and ERA. But the lefty's 197.2 IP through 31 starts is weak given the impressive innings totals of Bumgarner and Scherzer.
These arguments are not meant to diminish the achievements of the above pitchers. Should Scherzer or Syndergaard finish the season with an extraordinary game to separate themselves from the pack, either would deserve the award. But Fernandez already posted the stats to win. He was one of our favorite players because he had fun, but that has nothing to do with it. He was the most dominant pitcher in the National League this season.
Follow Eric on Twitter @EricSchaalNY
Statistics courtesy of Fangraphs and Baseball-Reference.