Josh Allen Can Become a Franchise Quarterback if the Bills Make This Simple Change
Josh Allen is silently having a very good season for the Buffalo Bills in a season that is dominated by the emergence of Lamar Jackson. He might only be in his second year, but Allen has improved over his rookie struggles and the Bills are better because of it. While he is not yet a superstar like Jackson, Allen could take another leap if the Bills decide to go all-in on his strengths.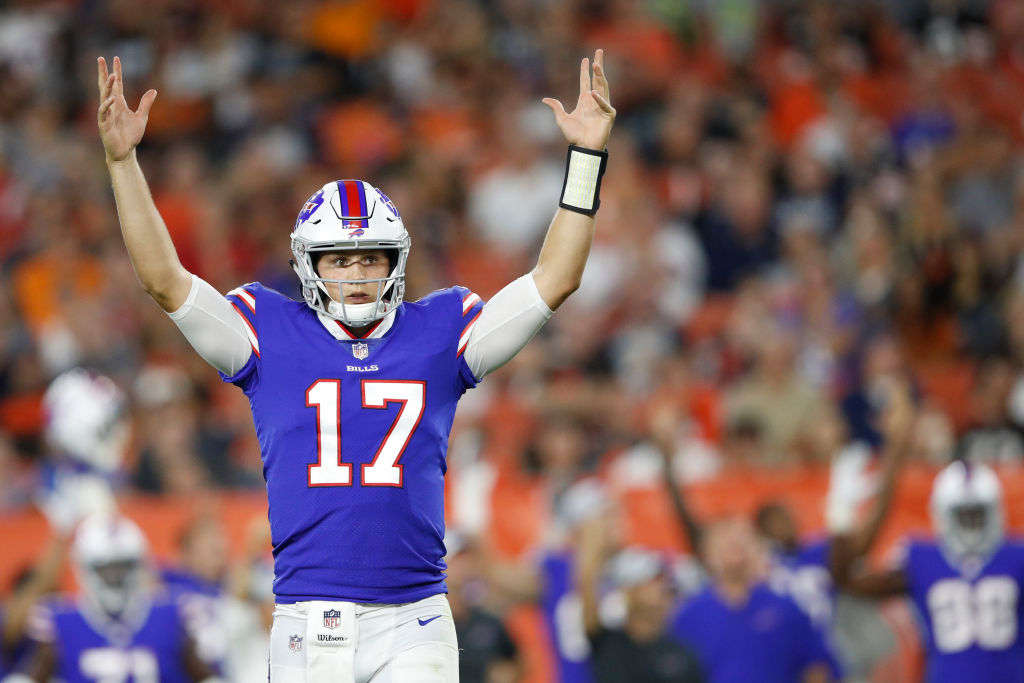 Rise of Josh Allen 
Allen first made headlines in college at Wyoming. After playing at Reedley College, a junior college as a freshman and red-shirting after only two games as a sophomore, Allen had a breakout season in 2016.
During that season, Allen showed that he had a good arm, throwing for a 56% completion rate and 3,203 yards en-route to 28 touchdowns and 15 interceptions. He also showed decent foot speed for a quarterback, rushing for 523 yards and seven touchdowns. 
In his final year, Allen had a great, albeit more economical season, throwing for 1,812 yards, 16 touchdowns, and six interceptions. Despite a slight regression in his throwing, the NFL saw potential in Allen, and he went seventh overall to the Buffalo Bills in the 2018 Draft. He began the season backing up Nathan Peterman, but it did not take long to become the starter.
Although he missed some of his rookie season with an injury, Allen showed some promise along with his struggles. His throwing wasn't great, with him completing only 52% of his passes. He threw for 10 touchdowns but threw for 12 interceptions as well.
Allen did have a great season running the ball, however, getting 631 rushing yards on the season and eight touchdowns. Heading into his sophomore campaign, many believed he still could be great despite some kinks. 
The 2019 season so far
Josh Allen was named a team captain going into the 2019 season. He worked hard on adjusting his arm strength to the NFL game in the offseason and it showed when it was time to play some more football.
Through 12 games, the Buffalo Bills have a 9-3 record and Allen's improvement plays a major role in this. Most recently, Allen shined in a shocking upset of the Cowboys.
Allen has already scored more touchdowns with 15 and cut down on the interceptions with only eight. To date, he has thrown for 2,591 yards, more than he did last year in 12 games. Allen is being more sporadic with his rushing game, but he is still using it to his advantage, scoring eight rushing touchdowns. 
This double-threat makes him an exciting prospect, and with the Bills winning it shows that Allen could be the quarterback of the future. For this to happen, however, both Allen and Bills will have to work toward it. 
Josh Allen: franchise quarterback or project?
With the wins stacking up for the Bills, it does not mean that everything is perfect. Josh Allen still has some major holes in his game for a quarterback, including an arm that isn't on par with most of the star quarterbacks. Allen, however, does have a unique set of skills that help make his intrigue at the position outweigh any concerns. 
Allen is 6'5 and built like an NBA player. This is why he can get by with athleticism when his arm isn't working. The Bills should look over at Lamar Jackson and Greg Roman if they want to get the best out of Allen.
Allen is not the same quarterback as Jackson, but he could be a star if the Bills cater to his strengths and hide his weaknesses. The Bills could definitely do a better job of tailoring the offense around him, getting him on the move more and trying to open up easier throws. If the offense continues to adapt to his strengths, the NFL could be in big trouble.
Allen has a ways to go if he wants to be among the best quarterbacks in the league. However, with a unique skill set and an early showing that he can adjust his game and build off of his mistakes. He has shown a great eye for the game and a willingness to take risks when necessary. All he needs now is an offense worthy of his skills and a continued commitment to expanding his game