Josh Allen Defeats Aaron Rodgers, Matt Ryan, Matthew Stafford, and Patrick Mahomes With This NFL Record
His career is still young, but Josh Allen has already proved he has what it takes to play at a high level. The quarterback turned a once-moribund franchise, the Buffalo Bills, into one of the most legitimate title contenders in both the AFC and NFL as a whole. Coming out of college, critics questioned Allen's accuracy, but he's improved this weakness considerably to pair with his cannon of an arm. 
Allen has a long way to go before he's considered one of the all-time greats. There is one record the 26-year-old currently holds, however, that puts him in the upper echelon of passers in at least one category. 
Let's take a closer look at the record Allen holds over some other great quarterbacks, including Aaron Rodgers, Matt Ryan, Matt Stafford, and Patrick Mahomes.
What record does Josh Allen hold over Aaron Rodgers, Matt Ryan, Matt Stafford, and Patrick Mahomes?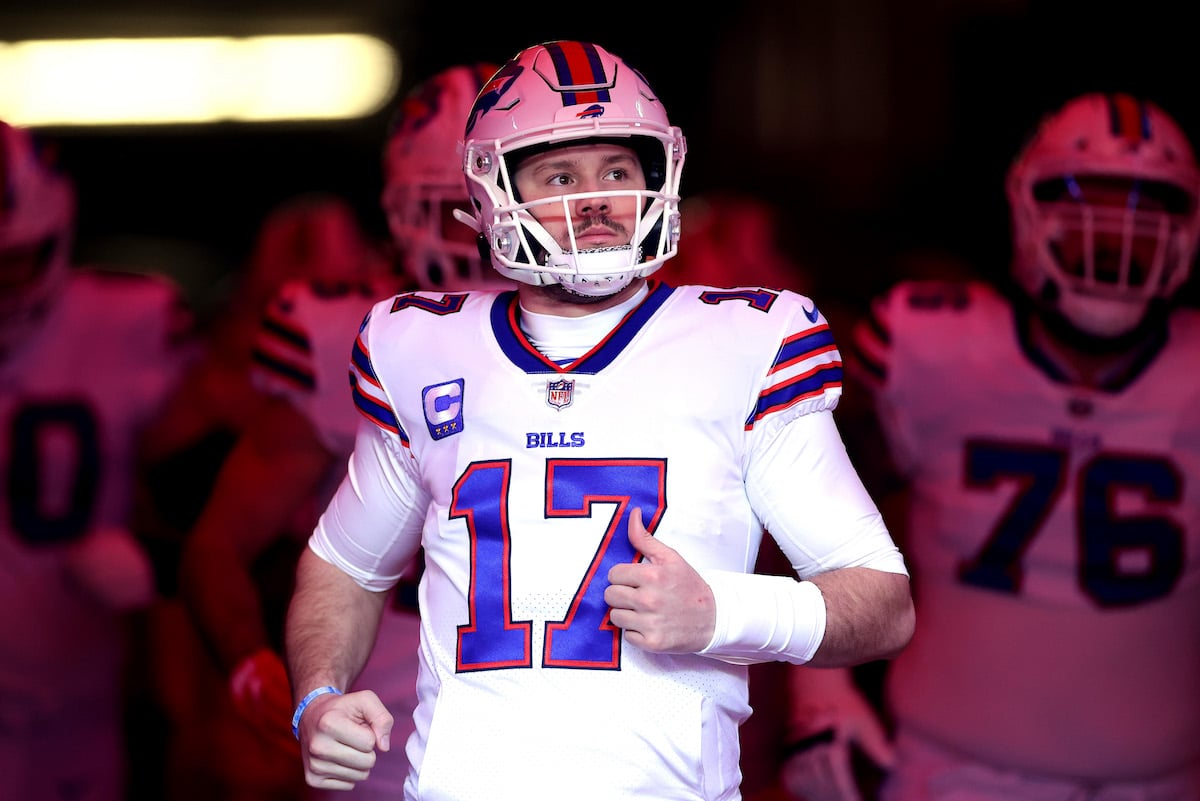 While it's true Allen hasn't played a long time just yet, he's made a considerable impact during his short time in the NFL. He's also made quite a splash in the playoffs — so much so that he's the all-time leader in one important category: playoff passer rating. 
According to Pro Football Reference, Allen's playoff passer rating is tops all-time. That puts him ahead of some incredible QBs, including Mahomes, Rodgers, Ryan, and Stafford. 
These are some of Allen's most talented contemporaries. Rodgers, Stafford, and Mahomes have all won a Super Bowl. Ryan has been to one. They're all accomplished passers who have experienced great playoff performances. Notably, Allen has yet to win a Super Bowl. But he's getting closer and clearly has great playoff games in the few appearances he's made so far. 
Josh Allen's playoff passer rating so far
Allen's passer rating is a whopping 106.6. According to Pro Football Reference, he's met the minimum threshold to qualify as an all-time leader in a passing category, which is to record 150 playoff passing attempts.
Here's the tricky part about Allen's record: It won't likely stand for long. For one thing, a QB's passer rating can fluctuate even when they play well. There's no reason to think Allen won't continue to play at a high level for the Bills. He's ever-improving and surrounded by weapons. But it wouldn't be shocking for his passer rating to dip somewhat in the future. It's almost guaranteed. 
That said, Allen can at the very least enjoy his run as the all-time "greatest" playoff passer until the next offseason. He's ahead of some legendary QBs. 
Legendary quarterbacks on the list of the highest playoff passer ratings
Here's the full top 10 for playoff passers with ratings included: 
Josh Allen: 106.6
Patrick Mahomes: 104.8
Bart Starr: 104.8
Kurt Warner: 102.8
Matt Ryan: 100.8
Aaron Rodgers: 100.1
Matthew Stafford: 99.0
Nick Foles: 98.8
Alex Smith: 97.4
Drew Brees: 97.1
To put how impressive Allen's feat is in perspective, consider the following: 
This list included two Hall of Famers (Starr and Warner), two surefire future Hall of Famers (Rodgers and Brees), and several who could potentially reach Canton after having long, stellar careers (Mahomes, Stafford, and Ryan). 
11th on the list? One of the greatest QBs of all time: Joe Montana. 
Foles, probably the least accomplished QB on the list, has been solid in the playoffs. He led the Philadelphia Eagles to a Super Bowl victory. 
Allen is ahead of one of his biggest rivals and chief competitors in Mahomes. 
All in all, Allen's record may not last forever. But he holds the title now, and it's evidence of just how far he's come since his days as a strong-armed, inaccurate passer at Wyoming. 
RELATED: The Match VI: Who Has the Highest Net Worth Between Tom Brady, Aaron Rodgers, Patrick Mahomes, and Josh Allen?