Josh Allen Failed at the Very Thing the Buffalo Bills Drafted Him to Do
It was a cold, windy night in Buffalo. Josh Allen, all 6-foot-5, 237 pounds of him, was literally in his element. The Buffalo Bills couldn't have asked for a better fit to lead them against the New England Patriots.
Just 10 measly points later, the Bills found themselves on the losing end of a 14-10 contest and yet another masterful coaching performance from Bill Belichick.
Allen, who the Bills drafted for just this moment, had failed.
The Buffalo Bills were dominated by the New England Patriots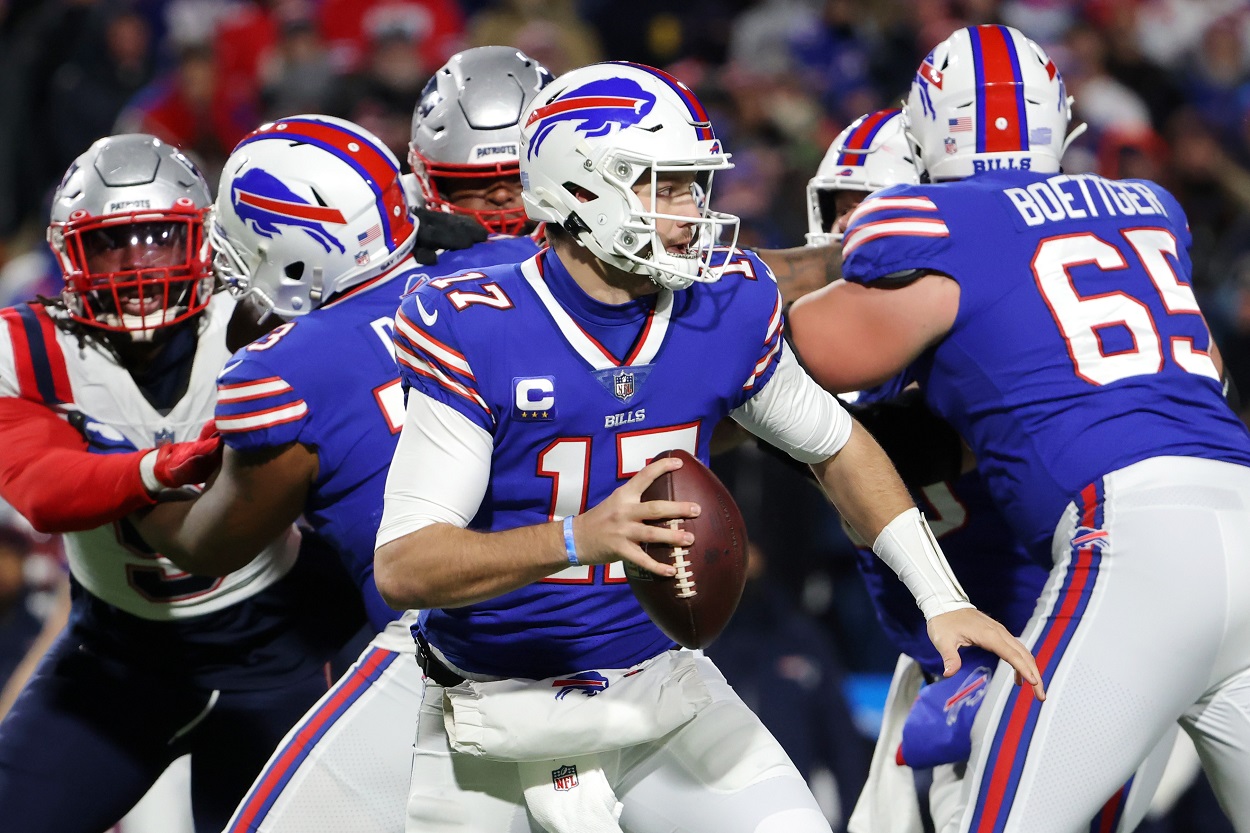 Allen's 14-yard touchdown pass to Gabriel Davis was the highlight of the game for Buffalo, and that came in the first quarter. Other than that, the Bills offense was largely ineffective against the Patriots. Yes, much of that had to do with the weather, as neither team was an offensive juggernaut, but the Patriots came in with a plan and stuck to it.
New England didn't have any excuses about the elements. To be fair to Buffalo, even Allen admitted that the weather wasn't the factor it was made out to be.
"It wasn't too bad," he said after the game, per the team website. "[It may have affected] a couple of throws, [but] you've got to play in the conditions here."
New England was the physically dominant team on both sides of the ball. No, it wasn't pretty, but it did force the Bills into playing inefficient football.
"We've got to play better; that's no secret,' Allen said. "We've got to start winning games to accomplish what we want to accomplish. Everything is in front of us. We kind of get to control our own destiny. We've got to find a way to start winning games here toward the end and start stacking them together."
Josh Allen and the Bills were highly inefficient
Allen was 15-of-30 for 145 yards and the aforementioned touchdown. He was sacked twice and finished with a QBR of 20.4.
The Bills went just 4-of-13 on third down and 0-of-1 on fourth. The one fourth-down play was on 4th-and-14 from the New England 18-yard line with two minutes to go and the Bills down, 14-10. That play resulted in a game-ending pass-breakup on an excellent play from Myles Bryant.
The Bills were 1-of-4 in the red zone. They had opportunities but just couldn't capitalize.
'Didn't play good enough," Allen said of the red zone struggles. "I take that very personally. I've got to play better and be better for this team."
New England clearly felt that running the ball was the way to getting a win, and Belichick, as usual, was right on with his assessment. The Patriots threw the ball only three times the whole game and racked up 222 yards as a team on the ground.
Buffalo, playing under the same circumstances, rushed for just 99 yards as a team. Allen led the way with six carries for 39 yards but considering the fact that his size and running ability gave the Bills a huge advantage, his ability to rush the football was largely wasted.
Allen and the Bills failed a huge test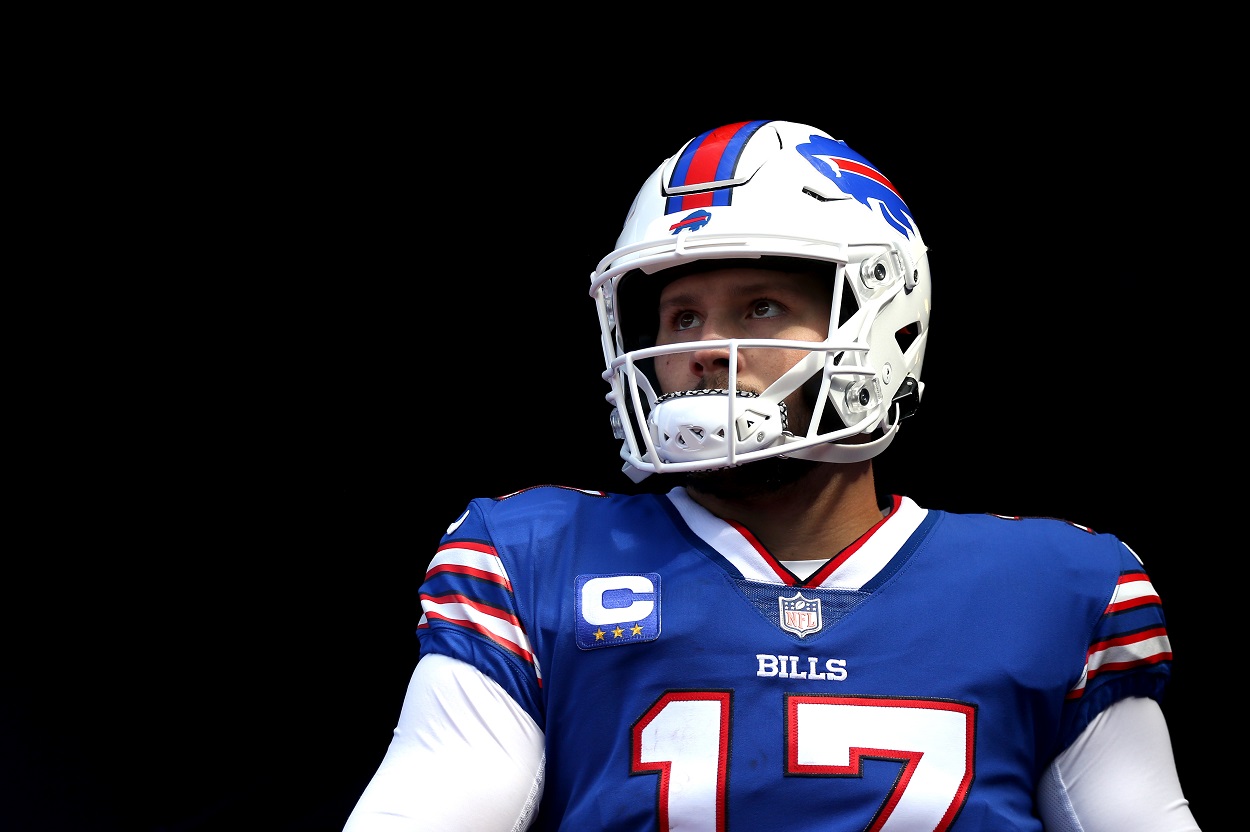 It was a big spot with both divisional and playoff implications on the line, and Allen and the Bills failed.
This was precisely the type of game the Bills drafted Allen for. He's a big-bodied quarterback with a cannon for an arm. He's meant to play in inclement weather. He's basically expected to, considering he calls Buffalo his hometown. He played college football at Wyoming, for Pete's sake.
This was a game that Allen was meant to dominate. At times thought of as an MVP candidate, this was a game in which Allen had a chance to make a statement.
Knocking off Belichick and the Patriots in front of a frenzied home crowd in the type of weather Buffalo football has become known for would have been a major moment for Allen. Instead, it was another missed opportunity for a quarterback and team that has gone 3-4 in its past seven games and looks far from the Super Bowl team they were once thought to be.
No matter if Orchard Park features snowstorms or sunny skies, Allen needs to win these types of games for the Bills to be taken seriously as a contender.
Stats courtesy of ESPN and Pro Football Reference.