Josh Allen Got Help From Tony Romo and Aaron Rodgers This Offseason
Entering the 2020 NFL season, most analysts expected to see growth from the Bills. But nobody expected them to have such a strong start. Through 11 games, the Buffalo Bills have an 8-3 record — the best in the AFC East. If they can sustain their strong play and keep that division lead, they might even break the Patriots' decade-long streak.
While the Bills have improved in many areas, the single biggest factor is quarterback Josh Allen. After a rocky first two seasons in the league, Allen has made a significant leap thanks to the help he got from two legends, Tony Romo and Aaron Rodgers. Let's look at Allen's improvement this season and the roles Romo and Rodgers played.
Allen's NFL career so far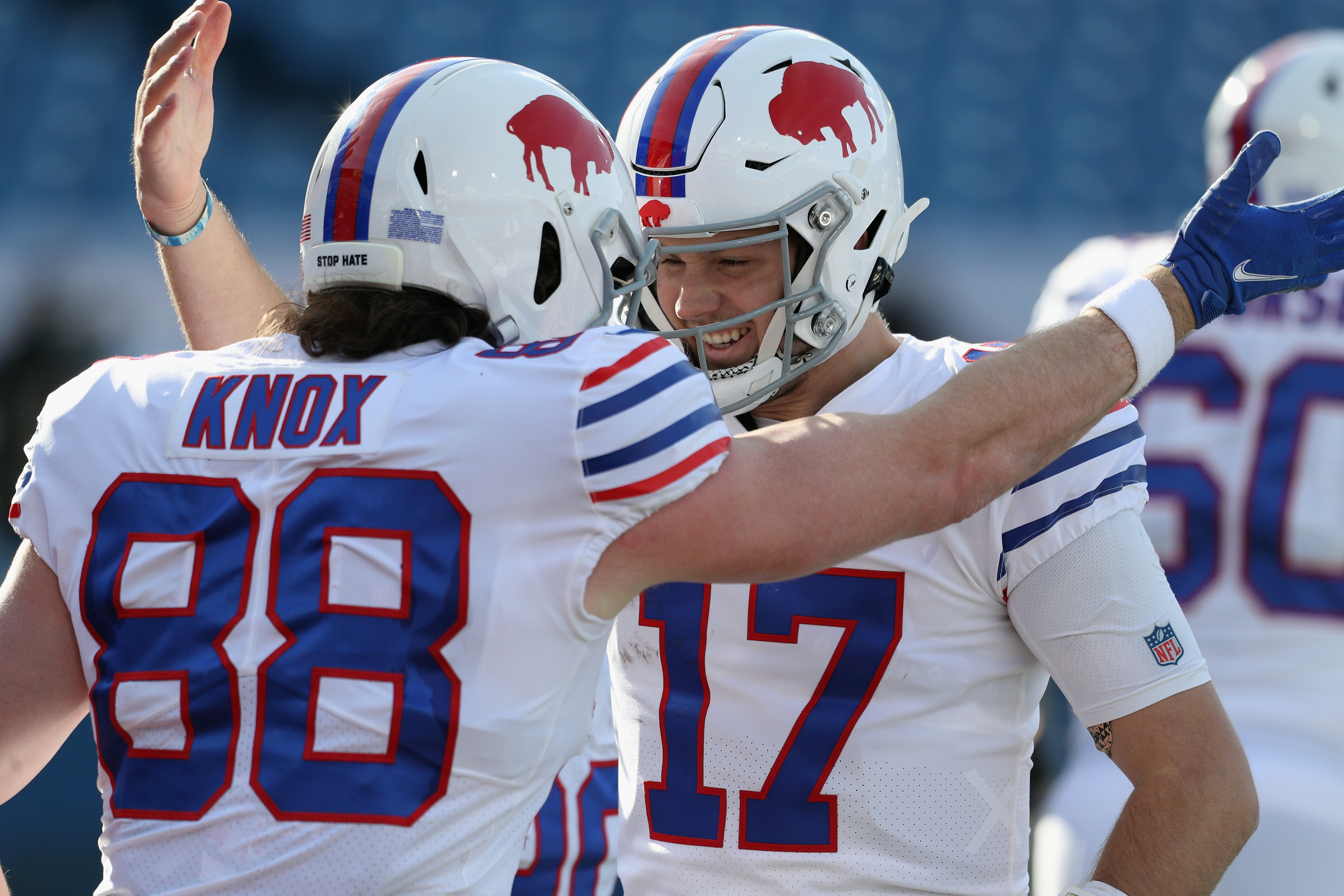 The Bills selected Allen with the seventh pick of the 2018 NFL Draft, after trading up from the 12th pick with the Tampa Bay Buccaneers. As a rookie, Allen led the Bills to a 5-6 record in the 11 games he started. His play was rocky, to put it mildly. He connected on just 52.8% of his passes, with 169 total completions for 2,074 yards.
Even more troubling than his poor pass efficiency was his tendency to throw the ball into opponent's hands. Allen threw more interceptions (12) than he did touchdowns (10). His play improved marginally in his second year, when he started all 16 games. He managed to get his completion rate up to 58.8%, connecting on 271 attempts for 3,089 yards.
He also cut down his interceptions to just 9, while throwing 20 touchdowns. Yet Allen was sacked 38 times and finished the season with a quarterback rating of just 47.9 — down nearly two points from his rookie season. A big factor there was Allen's atrocious performance on passes over 20 feet, only 31% of which were deemed accurate, reports CBS Sports.
A huge turnaround in 2020
From basically the start of the 2020 season, something changed for Allen in a big way. First of all, he had vastly improved accuracy on his problematic long passes, with a 77.8% accuracy rating in the first two games. That trend has apparently held true on other passes. Allen's completion rate through 11 games is exactly 10 points better than it was last season, at 68.8%.
Allen has already connected on almost as many passes — and thrown for almost as many yards — as he did last year. And, with 22 touchdowns so far, he's already exceeded his number from last year. Not surprisingly, his touchdown percentage has ballooned from 4.3% to 5.7%. His current quarterback rating of 75.5 (nearly 30 points better than last year) is sixth-best in the entire league, reports ESPN.
Josh Allen's offseason help from Tony Romo and Aaron Rodgers
Allen came into this season at something of a crossroads. Many former quarterbacks in his position never managed to live up to expectations, and either flunked out of the league, or ended up settling for modest backup careers. Allen was determined not to let that happen, and he deserves a massive amount of credit for putting in the work necessary to make such a drastic improvement in his game.
Throughout the upheaval of the coronavirus pandemic, Allen doubled down on his training regime. He started by calling up retired Dallas Cowboys quarterback Tony Romo, who he asked for advice about his throwing motion. It's unclear exactly what Romo told him, but if Allen's huge improvement in accuracy is any indicator, the advice really paid off.
Allen also doubled down on studying footage of some the great quarterbacks in history. In particular, he immersed himself in video of Green Bay Packers quarterback Aaron Rodgers, who Allen has referred to as "one of the most talented guys to ever play the position, if not the most talented." To judge by the results, Allen's offseason has drastically changed his football prospects moving forward.