Josh Allen Deserves to Be Paid Like a Superstar but Will Likely Have to Wait Until Next Offseason
When the Buffalo Bills first drafted Josh Allen seventh overall back in 2018, the organization's dream was to land itself a proper franchise quarterback for the first time in almost three decades, dating back to when Jim Kelly was the starter during the 1990s. Prior to the arrival of Allen, the Bills had been experimenting with the likes of Ryan Fitzpatrick, Tyrod Taylor, and even EJ Manuel at QB — less than ideal!
Fast forward to 2021 and the Josh Allen pick has quite debatably gone better than even general manager Brandon Beane could have imagined. Allen is coming off a 37-touchdown, 4,554-yard season and has firmly entrenched himself as a consistent MVP candidate moving forward.
If the Buffalo Bills want to keep Josh Allen around for the long term, they'll have to pay up
While the Bills' front office is likely still patting itself on the back in regards to how well the Allen selection turned out (it looks even better now when you consider someone like Sam Darnold went before Allen in the draft), the time to pay up for Allen's services has arrived. Such a decision should be a no-brainer for the Buffalo brass, especially when you consider just how starved the organization has been for quarterback talent over the past 20-plus years.
However, negotiations have already hit a bit of an early roadblock.
According to ESPN, Beane has revealed that the Bills are currently planning to "table" contract extension talks with Allen should an agreement not be arrived at prior to Week 1 of the 2021 season.
That puts a rather stressful timeline on both Allen (plus his agent) and the Bills' front office as training camp is already well underway. The Bills' first preseason game is less than two weeks away, which only serves as another distraction when attempting to negotiate a massive contract extension with a franchise quarterback.
A contract extension between Allen and the Bills is unlikely to be finalized prior to Week 1
While this may all sound relatively scary if you're a Bills fan, the good news is that Buffalo has already picked up Allen's fifth-year option for next season, and early signs indicate that the former University of Wyoming shot-caller has no intentions of leaving the team that drafted him anytime soon.
According to NFL Network's Kim Jones, both Allen and the Bills are operating under the mindset that a multi-year extension will be agreed upon at some point over the next year-plus.
Extension talks likely to be pushed off to next offseason, which will only raise Josh Allen's asking price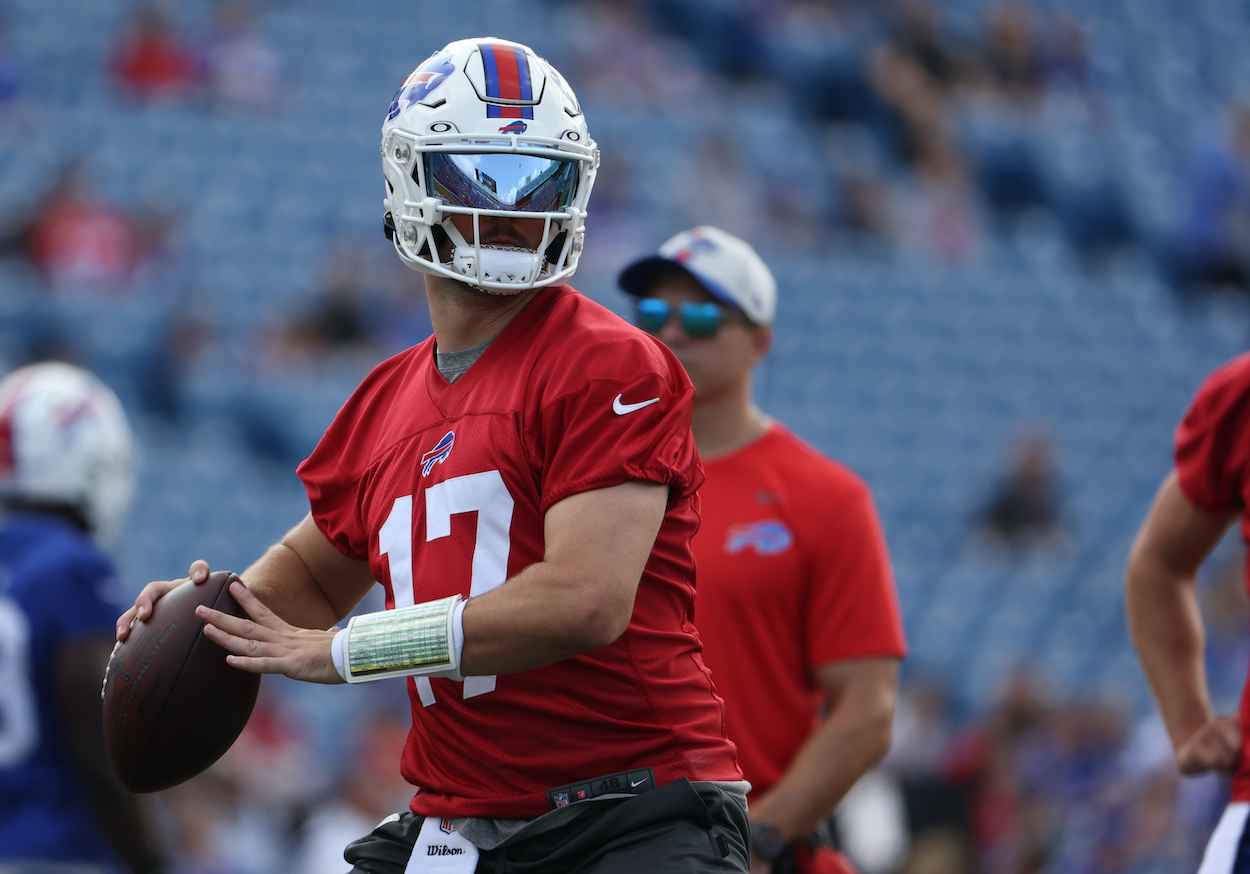 The only major con to pushing these negotiations to next offseason is that the price will only continue to rise for Buffalo.
Allen is coming off a career year in 2020 and is looking to firmly entrench himself as one of the NFL's best alongside the likes of Patrick Mahomes, Aaron Rodgers, and Tom Brady. Mahomes was handed an extension worth over half a billion dollars last summer, which is probably not a number the Bills want to even get close to when it comes to extending their own franchise arm.
Tabling contract extensions until next summer would remove any potential distractions for the upcoming season. The Bills were inches away from a Super Bowl appearance in 2020 and were aggressive this past offseason when it came to improving their roster for what projects to be another deep playoff run in 2021.
If Allen is able to repeat his MVP-like campaign from last year and potentially lead the BIlls to thier first Super Bowl appearance since 2021, then you'd be looking at a situation in which he and his agent would understandably be demanding record-setting money. The Bills would probably still opt to pay up, but it's a situation most GMs tend to prefer avoiding in today's salary-cap era.
Barring a last-minute extension, the Bills and Allen are set to play a bit of a waiting game moving forward
In the meantime, it sounds like everyone is content to play the waiting game.
We'll have to wait and see how 2021 plays out for Allen and the BIlls, as well as if someone else around the league (Baker Mayfield anyone?) gets their own contract extension. Such a move could put pressure on the Bills to get something done sooner rather than later.
If things really get messy around Buffalo, you'd be looking at a situation in 2023 where Josh Allen is able to hit the open market as a free agent, which would obviously be a complete disaster for the entire Bills franchise. Avoiding such an outcome is surely high on Beane's priority list at the moment.