Josh Allen's Reported Contract Desire Should Be Music to Bills Mafia's Ears
The Buffalo Bills have finally found their franchise guy; Josh Allen proved last year that he has a chance to become a legendary quarterback and can lead the team to a significant amount of success for years to come. However, just like every other QB on their rookie deal, Allen must get paid eventually, and if he continues to play at the same level he did in 2020, Allen will receive big-time money. His reported contract desire, though, should be music to Bills Mafia's ears.
Josh Allen has two more years on his Bills contract
In May, the Bills exercised the fifth-year option on Allen's rookie deal, meaning he's now under contract with the team for 2021 and 2022. According to Spotrac, Allen will make $3.5 million this season and $23 million in 2022.
He certainly deserved the fifth year after leading the Bills to the playoffs in each of the last two seasons and then the AFC Championship Game in 2020. Allen also became one of the top quarterbacks in the NFL in 2020. He earned Pro Bowl honors after recording 4,544 yards, 37 touchdowns, and only 10 interceptions.
However, all that success means Allen will also get a massive deal sometime in the near future. Patrick Mahomes makes the most cash per year on average of all the quarterbacks in the NFL at $45 million per season. Dak Prescott is right behind him at $40 million, followed by Deshaun Watson ($39 million), Russell Wilson ($35 million), and Jared Goff and Aaron Rodgers ($33.5 million). 
Given that Allen played at the same level as most of those QBs last season, though, and at a higher level than Goff, he should certainly be able to get a deal within the $30 million–$40 million per year range.
His reported contract desire would help the Bills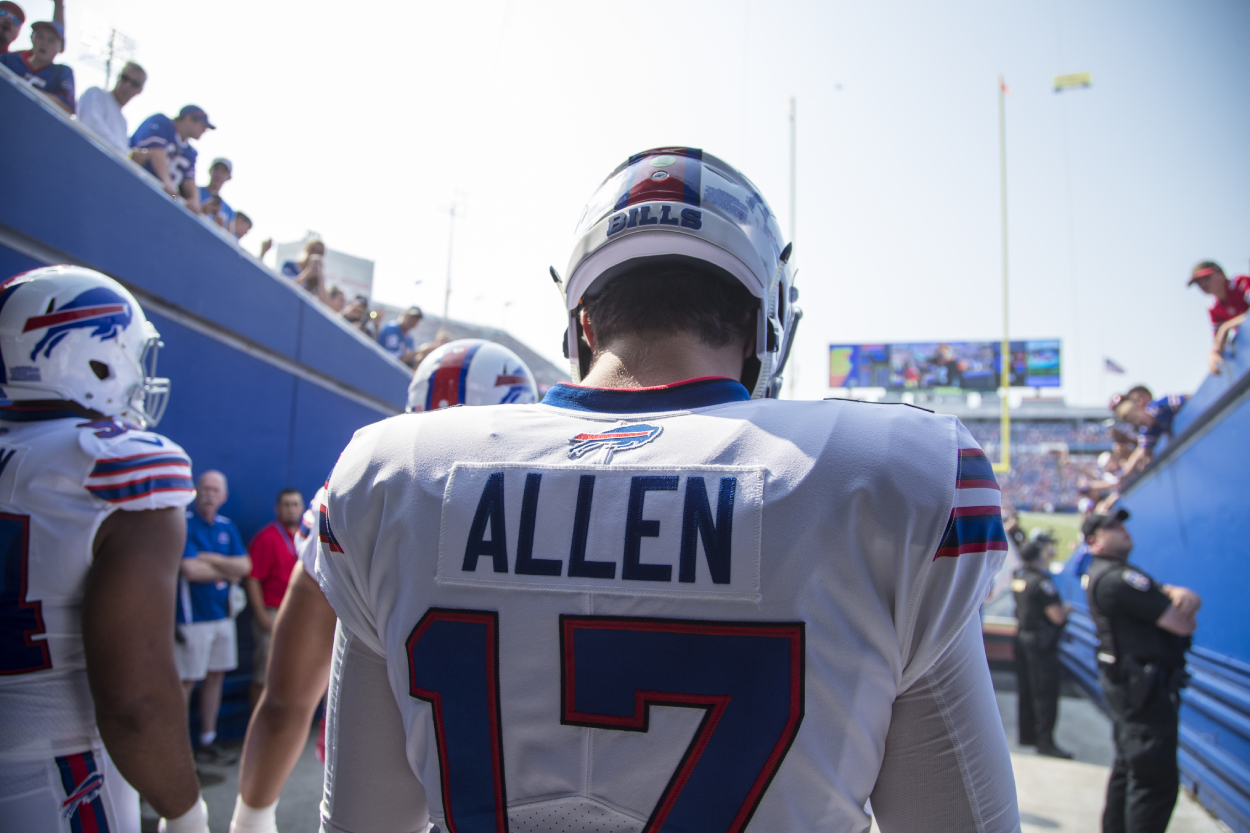 If one thing is clear, it's that Allen will get paid big money at some point. However, when he does, it has been reported that he will probably want to help the Bills a bit.
"I'm told that Allen loves being in Buffalo enough where he's willing to structure things, ya know, that helps the team a little bit," ESPN's Jeremy Fowler recently said on SportsCenter, per Bleacher Report. "Certainly, he's not going to take a discount by any stretch—he's a top-five quarterback. But he wants them to stay competitive in future years with him in the fold."
So, by the looks of these reports, Allen essentially wants to make sure his contract doesn't put the Bills in a bind financially, which, as Bleacher Report pointed out, the Bills could follow the Kansas City Chiefs' blueprint with this. Mahomes makes more money than anyone in NFL history, but he and the Chiefs made his contract a team-friendly structure to allow KC to address roster holes when needed.
Whatever the Bills decide to do, it appears Allen wants them to stay competitive even when his rookie contract is over.
Josh Allen probably doesn't want to repeat the same rookie contract mistakes of other QBs
Allen could easily become a QB that takes his team to conference championships and contends for Super Bowls while on his cheap rookie deal but then fails to truly contend after getting paid. However, it appears that he has learned from the mistakes of other QBs.
Of course, there are other factors at play in both of these situations, but Russell Wilson was on a four-year, $2.9 million deal when playing on his rookie contract with the Seattle Seahawks. He then took Seattle to two Super Bowls in his second and third seasons and won one in his second year. However, after signing Wilson to an $87.6 million deal in 2015, the Seahawks have not made it past the divisional round once. They have also lost in the wild-card round in two of the last three seasons.
Jared Goff, on the other hand, led the Los Angeles Rams to the Super Bowl during the 2018 season while playing on his four-year, $27.9 million rookie deal. After signing him to an extension in 2019 and paying him over $25 million per year in both 2019 and 2020, though, the Rams missed the playoffs two seasons ago. They then lost in the divisional round last year before trading Goff this offseason.
Allen appears to be much more talented than Goff, and the Seahawks had other issues after losing the Legion of Boom, but it seems the Bills star has learned from the mistakes of others and wants to have success in Buffalo for a long time.
Bills Mafia should be thrilled.
Stats courtesy of Pro Football Reference; Contract numbers courtesy of Spotrac
RELATED: Joe Burrow's Recent Comments Should Be Worrisome for the Rest of the AFC North