Josh Allen Is Sadistically Torturing the Miami Dolphins in a Way That Jim Kelly Never Did
Buffalo Bills quarterback Josh Allen has turned the Miami Dolphins into his punching bag, and his knuckles are getting somewhat bloody at this point.
Since entering the league in 2018, Allen hasn't had any significant problems against his AFC East division rivals. In fact, things have reached the point where the Bills are accomplishing feats that legendary quarterback Jim Kelly never even came close to matching.
Josh Allen is making life extremely difficult for the Miami Dolphins
Even if Allen did the bare minimum in Week 2, the Bills likely would have left Hard Rock Stadium victorious. His two touchdown passes only made the 35-0 final even gaudier.
Unfortunately for the Dolphins fans trying to move on from last season, it's time to dig up the 2020 finale from the buried part of their psyche. Buffalo routed their division rivals, 56-26, and ended Miami's Wild Card hopes in the process.
As NBC Sports' Peter King pointed out, the Bills have outscored the Dolphins 91-26 over the last eight quarters. To give you an idea of how badly Buffalo is beating up on Miami, the Bills never even totaled 80 points across a two-game stretch against their rivals during the Jim Kelly era, which ranged from 1986-96.
In January 1991, Kelly threw three touchdowns in a 44-34 victory over the Dolphins in that year's AFC Divisional Round. When the teams rematched several months later to open the 1991 regular season, the Bills' star quarterback totaled 381 yards and two touchdowns in a 35-31 victory, giving the Bills 79 points across two games.
If you don't want to count the postseason, Buffalo's highest two-game output against the Dolphins during the Kelly era was 76 points during the 1991 season. Allen wasn't born until 1996, for the record.
The Bills have taken another step in becoming the next version of the New England Patriots
Every perennial powerhouse needs a punching bag in its division. Just ask former New England Patriots quarterback Tom Brady, who went 32-3 against the Bills from 2001-09.
The Bills drafted Allen seventh overall in 2018. After losing his initial start against the Dolphins in October 2018, he's won the last six, almost all of them in convincing fashion. Buffalo has outscored Miami 232-112 in those outings and won every matchup at Hard Rock Stadium.
Allen has thrown 17 touchdowns against only three interceptions in that span. The 6-foot-5 physical threat has also rushed for three touchdowns, but none since November 2019.
Dolphins fans can chalk part of Allen's success to him arriving in the last year of the Adam Gase era and then starting twice against a rebuilding franchise in 2019. Even with that disclaimer, we can all agree that allowing 91 points in two games against a divisional rival is inexcusable.
October's rematch could feature two teams on much different paths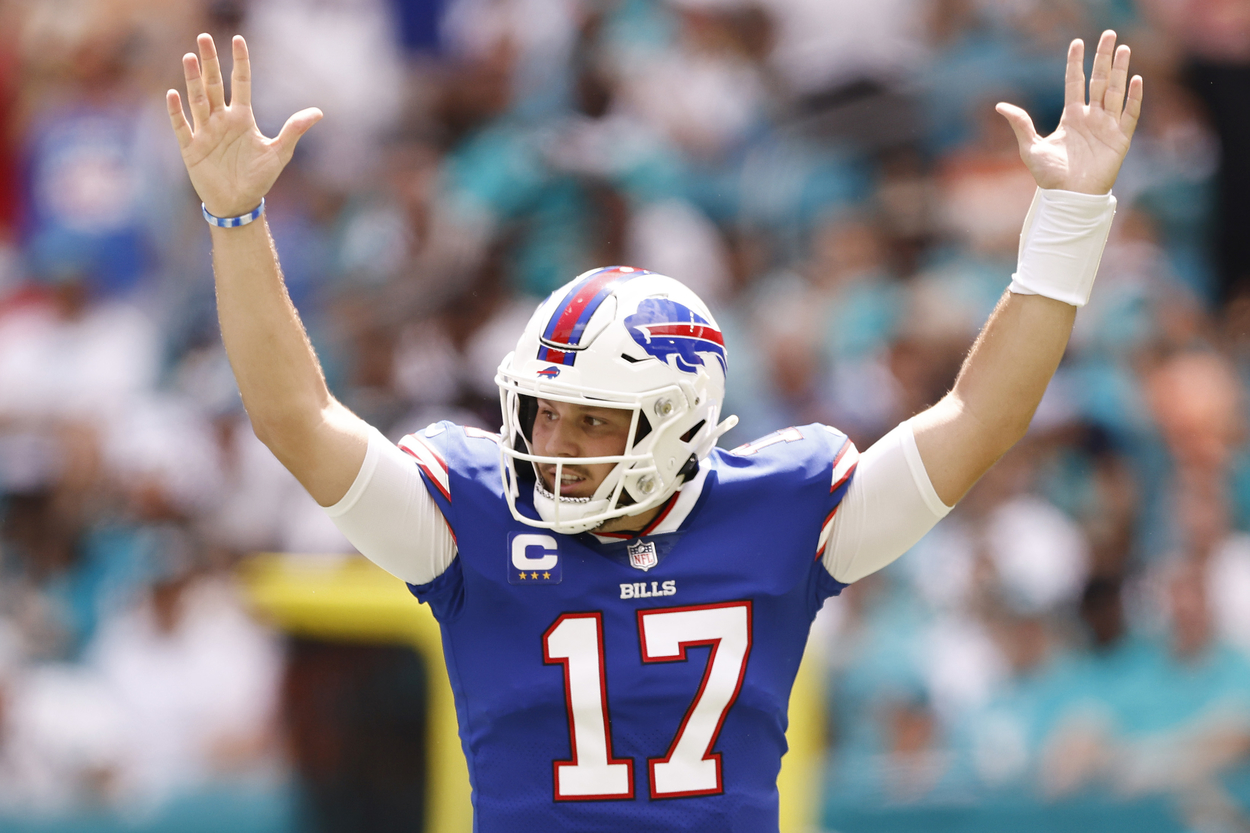 The Bills and Dolphins each ended Week 2 at 1-1, which allowed for a three-way share of first place in the AFC East. Mac Jones and the Patriots still exist, you know.
When these two teams rematch in Week 8, they could be on far different paths. Buffalo remains the AFC East favorite and has winnable games coming up against Houston and Washington. The Dolphins, which are already struggling to protect quarterback Tua Tagovailoa, face the undefeated Las Vegas Raiders and Tampa Bay Buccaneers over the next three weeks.
Anything can change within six weeks. For all we know, that Week 8 matchup could become a nationally-televised showdown on Sunday Night Football. Maybe these are the teams that will finish first and second in the AFC East.
Well, Dolphins fans may not want to get their hopes up about winning a division title this year. Allen and the Bills still stand in Miami's way, and they're already wrapping their firsts in preparation.
Like Sportscasting on Facebook. Follow us on Twitter @sportscasting19.
RELATED: Mike Florio Believes Josh Allen Has Created the New Path to Success for the Next Crop of Young Quarterbacks