In Josh Giddey, the Oklahoma City Thunder Have a Key Piece to Their Rebuild
Josh Giddey now has two things in common with reigning NBA Rookie of the Year LaMelo Ball. The Oklahoma City Thunder rookie broke Ball's less-than-year-old record, becoming the youngest player in NBA history to record a triple-double. Giddey turned the trick in the Thunder's 95–86 loss to the Dallas Mavericks on Jan. 2.
Giddey is roughly eight months younger than Ball was when he messed around and got a triple-double for the Charlotte Hornets on Jan. 9, 2021. But the similarities don't end with teenage statistical exploits. Giddey traveled a similar path to Ball en route to the NBA. It just received much less hype in the U.S. media.
Josh Giddey is a product of Australia's 'Next Stars' program
Before the Oklahoma City Thunder took Josh Giddey with the sixth overall pick in the 2021 NBA Draft, the point-forward spent last season undertaking some on-the-job training for pro basketball in Australia's National Basketball League.
The NBL launched its "Next Stars" program in 2018, two years after Terrence Ferguson opted to skip college in the U.S. to play for the NBL's Adelaide 36ers. The most famous program graduate is Ball, who played for the Illawarra Hawks in 2019–20 before entering the draft. RJ Hampton of the Orlando Magic also interned in the NBL with the New Orleans Breakers.
The difference is that Giddey is Australian. He didn't need to go down under because he was already there. He averaged 10.9 points, 7.5 assists, and 7.4 rebounds in 28 games for Adelaide last season. It was a terrific first impression as a pro, notably leading the NBL in assists.
The 6-foot-8 guard came to the Thunder with a solid floor game. His shooting is a work in progress. He's started all 31 games he's played and averages 11.0 points, 7.3 boards, and 6.4 dimes in 30.2 minutes per game.
Against Dallas, he finished with 17 points, 14 assists, and 13 rebounds while also plucking four steals. According to NBA.com, that got him the distinction as the youngest player with a triple-double.
The short-handed Thunder played without starters Darius Bazley, Jeremiah Robinson-Earl, and leading scorer Shai Gilgeous-Alexander. All were in health and safety protocols. Additionally, Lu Dort sat out with a sore knee.
Giddey stepped up admirably in the loss and has shown he's part of the big picture in OKC.
Giddey is a foundational piece for the Oklahoma City Thunder
When Gilgeous-Alexander signed a max extension with the Oklahoma City Thunder in August, it was clear he's the star at the heart of general manager Sam Presti's rebuilding plan.
This is Presti's second rebuild of the franchise. The last one yielded Kevin Durant, Russell Westbrook, and James Harden from consecutive drafts, establishing the Thunder as a Western Conference contender from 2011–16.
Gilgeous-Alexander came from the Paul George trade in the summer of 2019, along with a raft of first-round picks. Dort, undrafted out of Arizona State in 2019, erupted last season and continues to develop. He's averaging 16.3 points a game as a 6-foot-3 wing.
What Giddey brings to the Thunder is a secondary ballhandler/playmaker who allows Gilgeous-Alexander to do damage off the ball. Oklahoma City is a long way from contending. But at 13–23, the Thunder are just two games out of the final play-in spot in the mild, mild West.
Josh Giddey is far from a finished product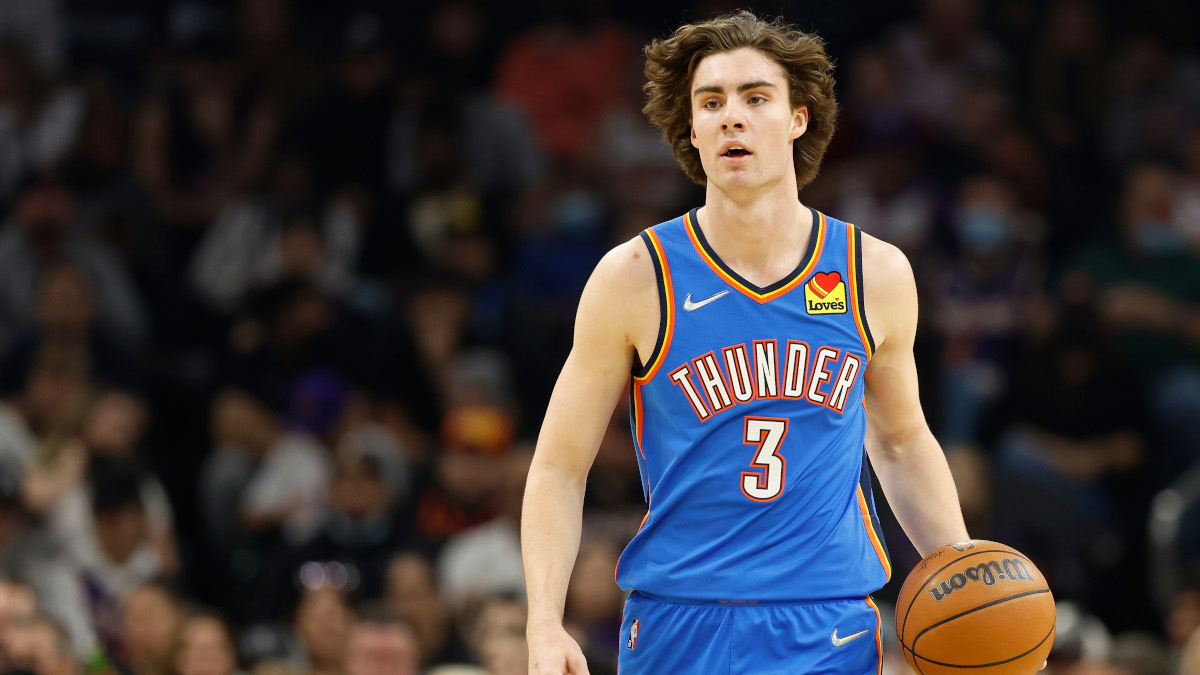 Josh Giddey's eventual ceiling as an NBA player will depend on his growth as a shooter. He's making 45.0% of his 2-point attempts this season, but a dismal 26.1% on 3.7 3-point tries a game. Given Giddey shot only 29.3% from deep for Adelaide last season, he's got a lot of work ahead of him.
The game against the Mavericks was Giddey's first after missing three games in the protocols. He had an even more odd statistical accomplishment in a win over the New Orleans Pelicans on Dec. 26.
Giddey posted a double-double in that game with 10 rebounds and 10 assists. However, he didn't score in the game. He was the first player since Norm Van Lier of the Cincinnati Royals in 1971 to record a scoreless double-double.
While his poor shooting numbers cause some concern, it's far from time to press the panic button on Giddey. Jason Kidd shot only 41.5% in his first three seasons from the 2-point range and 32.3% from the great beyond. He later developed into an adequate jump shooter. Fans of a certain age will remember Kidd's derisive nickname "Ason" because he had no J.
We're not to the point of referring to the Thunder rookie as "Osh." At least not yet. As a rookie, he's two years younger than Kidd, and shooting coaches make a living fixing poor form. Look at the development of Lonzo Ball for evidence of this.
Triple-doubles aren't indicative of greatness. But Giddey makes a lot of intelligent plays that can make the team better. The next step is coupling that with an ability to keep defenses honest. Then the Oklahoma City Thunder have a dynamite backcourt with Gilgeous-Alexander and Josh Giddey as a one-two punch.
Statistics courtesy of Basketball Reference and NBA.com.
Like Sportscasting on Facebook. Follow us on Twitter @sportscasting19.