Josh Hart and Herbert Jones Lend Necessary Promise to a Forgettable Pelicans Season
The New Pelicans got off on the wrong foot without Zion Williamson in the rotation. But they have since found their stride, to a lesser extent at least, going a respectable 9-9 since the start of December. Josh Hart and rookie big man Herbert Jones deserve tons of credit for the turnaround.
Hart is quietly establishing himself as one of the most versatile two-way players in the NBA. Jones, a second-round pick, already looks like one of the best defensive players in the sport. Both men offer glimmers of hope in a somewhat gloomy season.
Josh Hart and Herbert Jones inject some life into the Pelicans
The Pelicans looked dormant early in the season. Josh Hart and Herbert Jones have since provided the team with energy, sparking some winning in the process.
Hart is averaging 13.2 points and making over 60% of his twos, showing a knack for finishing at and around the rim and hunting driving lanes with consistency. Additionally, the 26-year-old is also averaging 7.4 rebounds and 4.4 assists, which speaks to his effort and ability to impact the game in several ways. That also includes positional versatility.
With decent size and a physical mindset, Hart can (and does) play an undersized 4-man. This poses challenges for opponents, mainly because of his marked improvements as a playmaker who break defenders down off the dribble. The Pelicans are getting him more involved, as his usage rate has climbed in each of the last three months.
Jones also gives rival teams headaches, though he mostly does so on the other end. The former Alabama star is averaging 1.4 steals and 1.0 blocks. He's one of just 12 players (min. 25 games played) to average at least a full steal and block this season.
Jones has tremendous length, which allows him to get a hand in to disrupt straight-line drives and play passing lanes. He has the athleticism to guard some of the best wings while still making things tough on opposing bigs. New Orleans allows 5.1 fewer points per 100 possessions on the floor.
Just a few weeks ago, it appeared as though the Pelicans might have to consider starting over and trading a star-caliber player such as Brandon Ingram. But Hart and Jones have developed into potential cornerstones, altering the organization's future trajectory.
Hart and Jones give New Orleans more hope for the future
Before the 2021-22 season began, it looked as though Williamson and Ingram were the only true cornerstone players in New Orleans. But Hart and Jones deserve some inclusion in that conversation.
Hart's offensive growth gives the Pelicans multiple guys capable of being point forwards. His arrow should continue to point up if he can make gains as a 3-point shooter.
Jones is only averaging 8.7 points, but the numbers hardly tell the story. He's a terrific off-ball cutter in the half court while still having the skill set to handle the ball and look for his own opportunities in transition. Jones is also making 37.3% of his 3-pointers. He's only taking 1.6 per game, but it's an encouraging sign nonetheless.
As is the case with Hart, the Tuscaloosa native is gradually becoming more involved in the offense. His development on that end is critical, considering the value he already provides on the defensive end of the floor.
New Orleans is well below the .500 mark, but it still has a shot at making the play-in tournament. Whether the Pelicans should even risk rushing Williamson back is up for debate.
Either way, Hart and Jones contribute to winning now and have joined Zion as future foundational pieces. New Orleans could try to dangle them in trade talks, but there's no guarantee that the player they get back would make for a sizable upgrade, particularly given Hart's growth and Jones still being so young.
Instead, the Pels how best to build around their current nucleus.
The Pelicans must add guard depth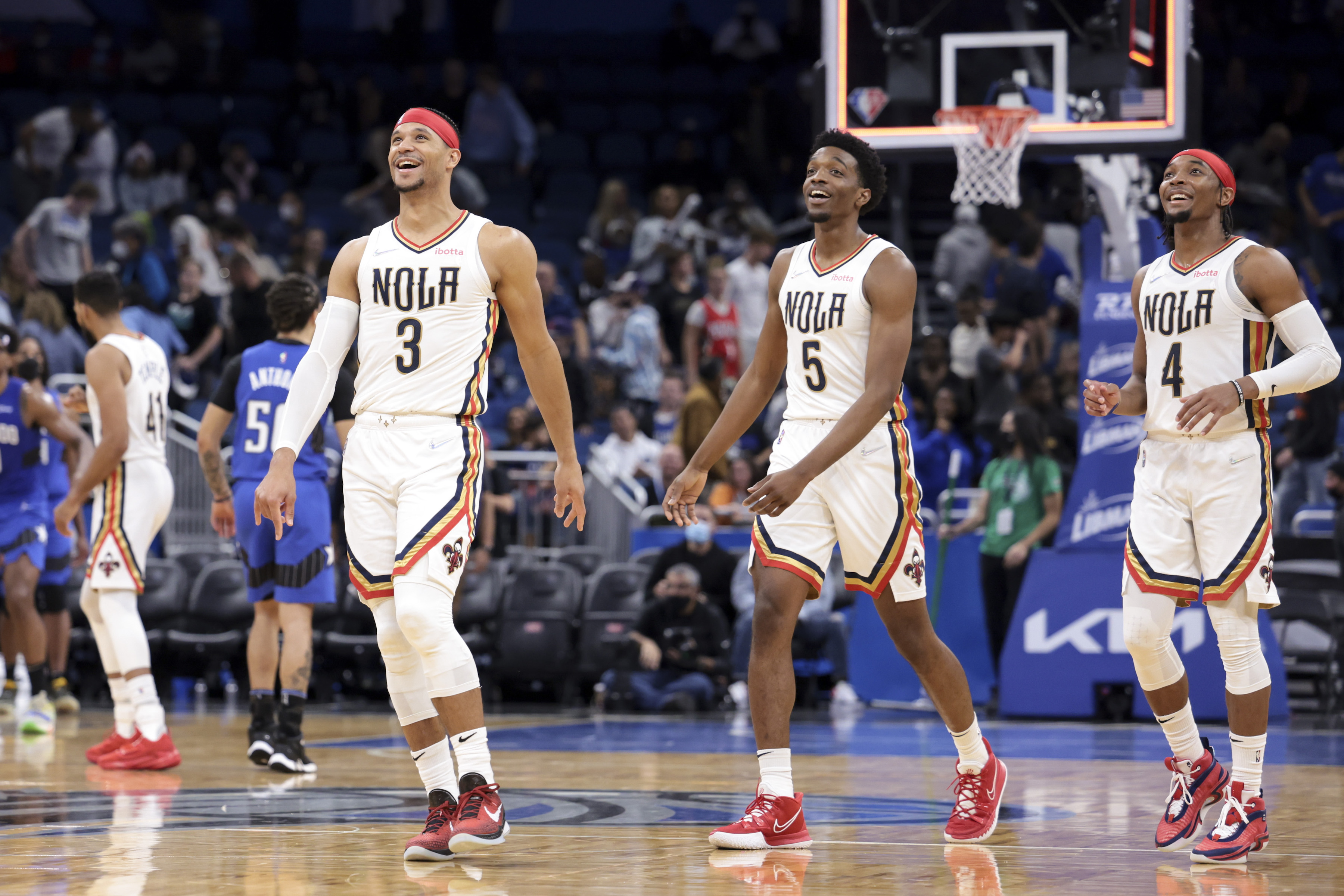 New Orleans' front office already appears to understand its backcourt needs.
The Pelicans struck out on Kyle Lowry in free agency and confusingly allowed Lonzo Ball to walk in restricted free agency. They've paid the price, as marquee signing Devonte' Graham continues to struggle mightily, while Nickeil Alexander-Walker has also taken a step back in his third season.
The Pelicans reportedly showed interest in Ben Simmons earlier this season, though it further illustrates the foolishness of letting Ball move on. In any event, New Orleans could indeed stand to add more dependable guards who can defend and space the floor.
Now, the Pels are not really in any position to make a splash before the February trade deadline, nor should they do something rash when they're only on the fringes of the play-in tournament. That said, the improvements made by Hart and Jones, plus the eventual return of Williamson should promote a sense of urgency to add a key backcourt piece in the offseason.
Stats courtesy of Basketball Reference.