Josh Jacobs' DUI Charge Turned Out Way Better Than Most NFL Players Facing Traffic Violations
NFL players generally try to avoid getting into legal trouble. This can lead to suspensions or even getting released from the team if the infraction is bad enough. Police charged Las Vegas Raiders running back Josh Jacobs with a DUI, but luckily for him, he got off easier than most players facing severe traffic violations. Let's take a closer look at what happened to Jacobs and why he was so fortunate to get what amounted to a slap on the wrist. 
Josh Jacobs had a great 2020 season on the field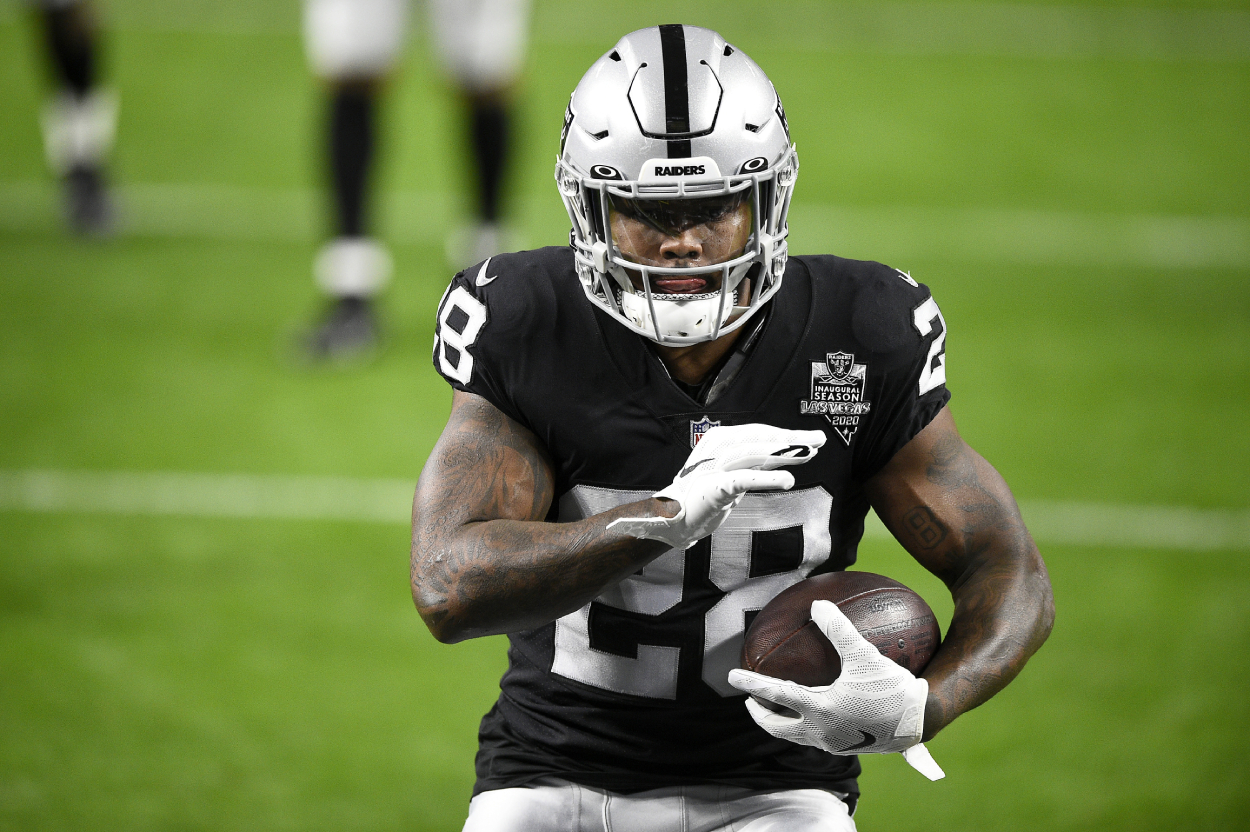 The 2020 season marked Jacobs' second season in the league. According to Pro Football Reference, Jacobs played his college football at Alabama before the Raiders selected him with the 24th overall pick in the 2019 NFL Draft. He had 1,065 yards rushing in 2020.
While this is an impressive total for such a young player, he actually failed to equal his rookie season total of 1,150 yards rushing. He did up his touchdown total from seven to 12. Jacobs played 15 games for the team, giving them stability out of the backfield and earning his first career Pro Bowl appearance.
Jacobs provides quarterback David Carr with yet another offensive weapon. He's clearly a playmaker to be reckoned with. He's also had 53 catches in his career. 
His yardage totals dipped slightly in year two, but regardless, Jacobs seems like a player with all the potential in the world. That potential came crashing down when he ran afoul of the law, however. 
Some unfortunate decision-making
The NFL season is an absolute grind, so it makes sense why players may want to celebrate after it's done. At the very least, they need a chance to unwind after completing the physically and mentally taxing challenge of finishing a 16 game season.
Jacobs went a little overboard, however. Almost immediately after finishing the 2020 season, he got into trouble. According to ESPN, mere hours after the 2020 season ended, Jacobs was arrested for a DUI. He was involved in a single-car accident at McCarran Airport. 
Luckily, no one else was hurt, and Jacobs himself suffered only minor injuries in the accident. It served as a sullen reminder that it could have been much worse, and Jacobs was lucky no further harm came from it. That wasn't where his luck ended, though. 
Why Josh Jacobs was flat-out lucky to not get punished more for his DUI
A DUI is a dangerous crime to commit. It has the potential to end lives and cause a lot of irreparable damage. It can often lead to NFL players seeing further repercussions for getting one.
Jacobs was able to avoid extended legal entanglements, however. ESPN reported that Jacobs was able to have all charges dropped in exchange for performing community service at a local Boys & Girls Club. He also delivered a $500 fine for a "failure to exercise due care" traffic violation.
All in all, Jacobs seems pretty lucky for many reasons. But give the player credit: he fulfilled his legal obligation to perform community service. Thankfully, no one was hurt due to his actions, including the man behind the wheel himself.
Jacobs was able to give back to the community and no doubt learned a lesson during the ordeal. It seems as though he was able to turn a negative into a positive by helping some young kids due to his mistake. This community service likely meant a lot to Jacobs, who grew up homeless and understands what it's like to struggle as a youth.