Josh Jacobs and His Looming Return to the Raiders' Offense Could Actually Crush Derek Carr's MVP Dream
Josh Jacobs, Derek Carr, and the Las Vegas Raiders are entering a crucial 2021 season. Pressure has been mounting on the Raiders over the past few seasons due to the hiring of Jon Gruden and the massive move to Las Vegas. However, thus far, results have been lackluster.
The Raiders won four games in 2018, seven games in 2019, and then limped to an 8-8 record this past season in 2020.
With all that said, the Raiders look like a completely different team in 2021. They've rocketed off to a 2-0 start, and Carr is playing like a legitimate MVP candidate.
Derek Carr is playing like an MVP
Obviously, we're only two games into the season. However, that doesn't take away from the sheer production that Carr has created for the Raiders' offense thus far.
Carr threw for 435 yards and two touchdowns during the Raiders' stunning Week 1 over the Baltimore Ravens, followed by a 382-yard and two-touchdown performance against the Pittsburgh Steelers in Week 2. Both the Ravens and the Steelers are known for their strong defenses, and Carr made them look like swiss cheese.
Carr has long been an underrated thrower compared to the rest of the NFL. He rarely gets the type of national attention that he truly deserves. However, it definitely looks like he made some big improvements this past offseason.
There's a sizable difference between being "underrated" and being an actual MVP candidate.
Josh Jacobs getting healthy could put a stop to Derek Carr's elite production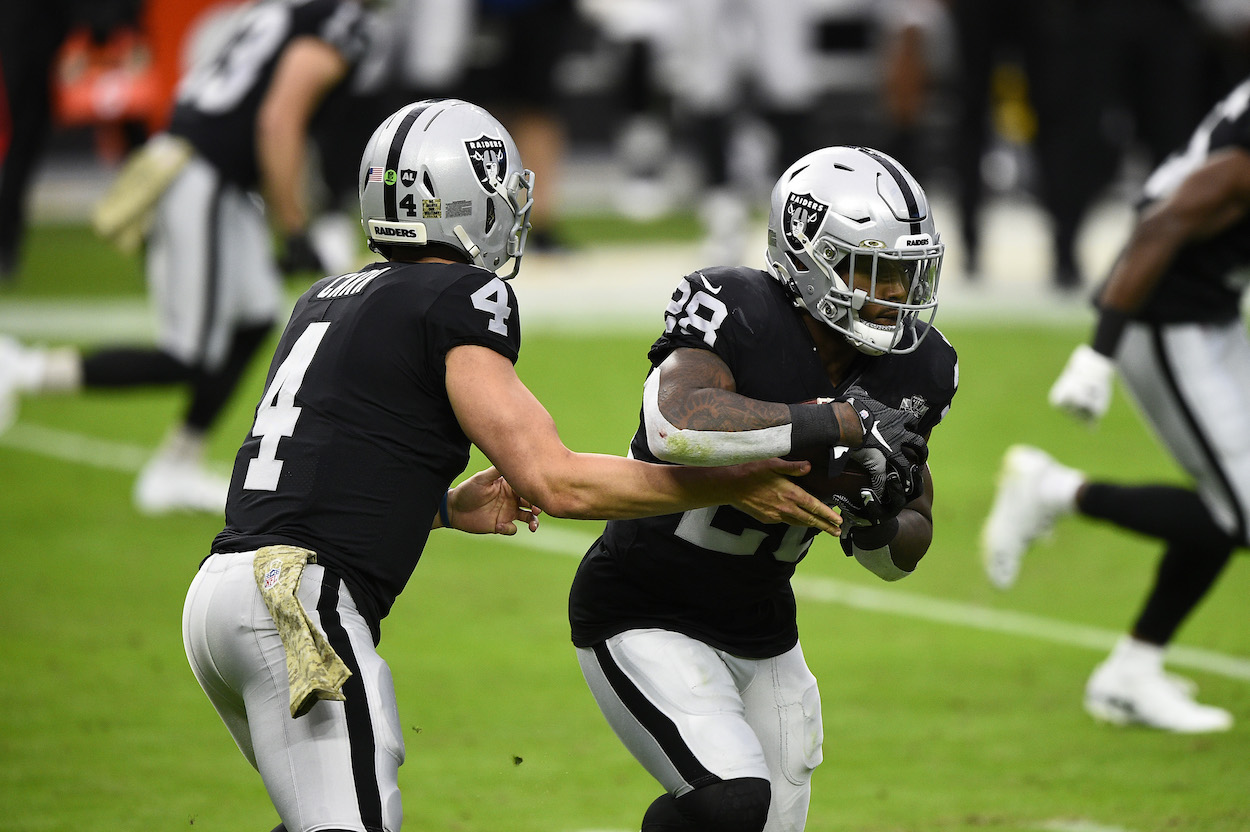 While Carr has been busy lighting up NFL defenses on the field, one of the Raiders' top offensive pieces, Josh Jacobs, has been stuck on the sideline.
The former first-round pick is dealing with ankle and toe injuries and just recently returned to practice. Jacobs participated in a somewhat limited capacity during the Raiders Week 1 win over Baltimore and completely missed the team's Week 2 matchup.
Jacobs eventually making his way back into the Las Vegas lineup is obviously good news (Week 4 seems like a realistic target date). However, it could spell trouble for Carr and his pursuit of the league MVP.
Carr's arm has been the focal point of the Raiders' offense through two weeks. Jacobs returning could see Gruden start to lean more on the run game, unintentionally robbing Carr of extra yards, completions, and passing TDs.
The Raiders need a healthy Josh Jacobs to be competitive
Ultimately speaking, the Raiders need Jacobs back in their active lineup sooner rather than later. They play in an incredibly tough division — they need all the help they can get.
The Kansas City Chiefs will presumably bounce back after a tough loss to the Ravens. The Los Angeles Chargers continue to improve under Justin Herbert's guidance. The Denver Broncos are looking increasingly more stable with Teddy Bridgewater at QB.
Even if it robs Carr of some crucial yardage in the MVP discussion, the Raiders should look to utilize Jacobs early and often once he's back at 100%. They'll need their franchise RB to have a spectacular season if they want to make the postseason for the first time since 2016.
All stats courtesy of Pro Football Reference.
RELATED: Jon Gruden's Foolish and Emotional Comments About Darren Waller Will Cost the Raiders Millions