Josh Rosen Is the Worst QB From the 2018 NFL Draft's 1st Round — Here's Why
Josh Rosen hasn't been the NFL quarterback many hoped for. Although he was one of several QBs selected in the first round of the 2018 draft, he's been the biggest bust by far. It's not entirely his fault, though this context doesn't make his performances in Arizona and Miami, any better.
Josh Rosen came with controversy but was still highly-touted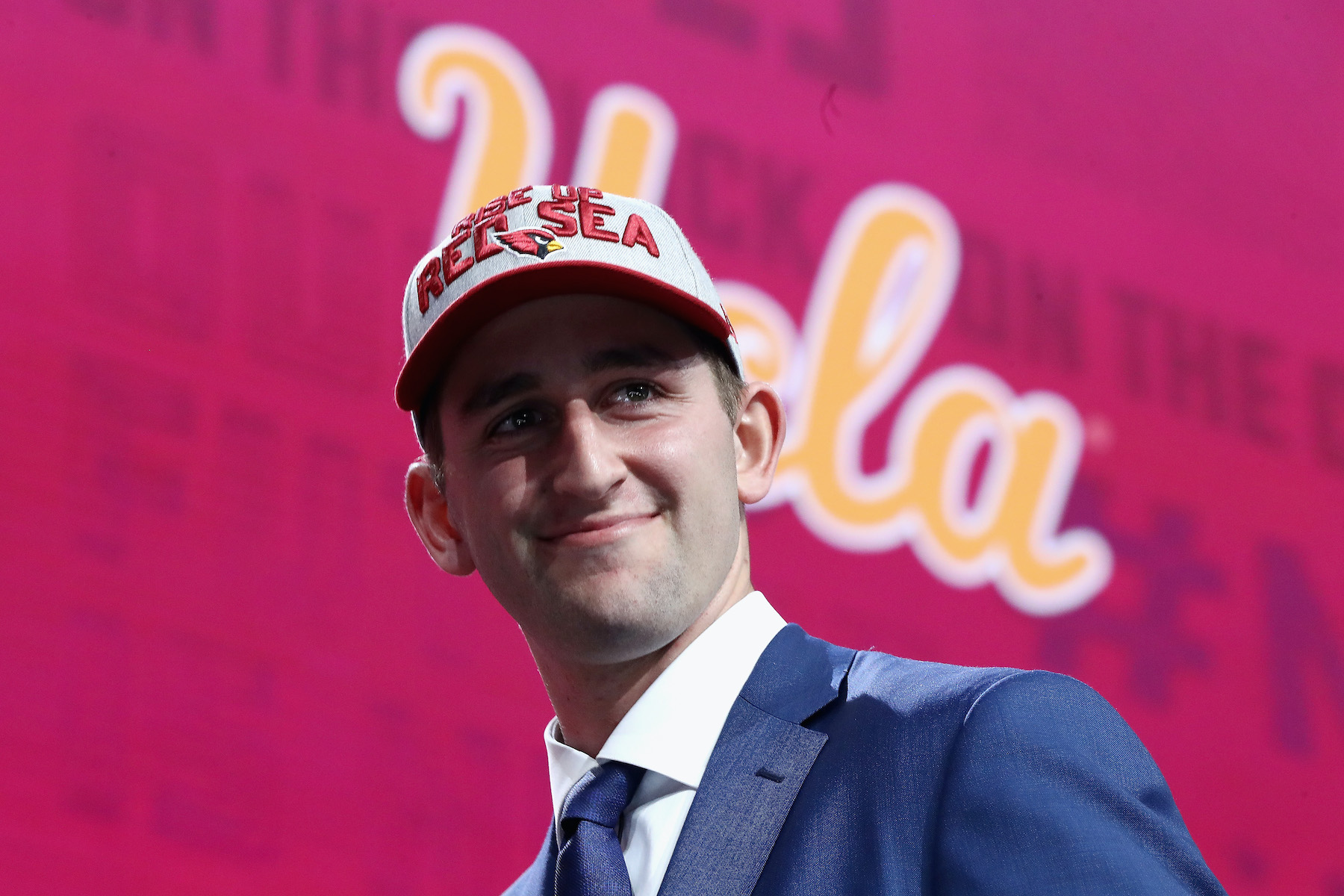 RELATED: Former No. 2 NFL Draft Pick Ryan Leaf Was Arrested for a Dark Reason
It gets harder to remember with every errant pass and mediocre performance. But there was a time when Josh Rosen's biggest impediment to NFL stardom was his brain, not his game. 
Everything about Rosen's pedigree marked him out as an outstanding quarterback prospect. He was a five-star recruit who started all three years at UCLA. He left school as the single-season record leader for most passing yards with 3,740 despite not having tons of talent around him.  At the beginning of the 2018 draft process, he was generally seen as the most polished passer on the board. 
During this time, Rosen's propensity to draw criticism despite not doing much wrong began in earnest. One of the main storylines that followed him as teams began to evaluate him was that his intelligence and interests in topics that didn't involve throwing a football now made him suspicious in the eyes of anonymous scouts and GMs.
His college coach, Jim Mora, added fuel to the fire by warning franchises that his former star's curiosity about the world and his tendency to ask questions of his coaches may hold him back as a professional:
"Millennials, once they know why, they're good. Josh has a lot of interests in life. If you can hold his concentration level and focus only on football for a few years, he will set the world on fire. He has so much ability, and he's a really good kid."
This says more about how little the NFL thinks of its players than it does Rosen, but the scorn stuck. He slid slightly in the draft, ending up as the tenth pick for the Arizona Cardinals. After being drafted, he said that they were "nine mistakes made" ahead of him. His play on the field added zero evidence of that belief.
Why has Rosen's NFL career been so bad?
RELATED: NFL Bust Danny Watkins Admitted His Heart Was Never in Football
The stats of his first two years make Rosen look like a terrible quarterback on every level. They're not wrong, but considering the situations he's faced, it's nearly impossible to imagine any young player doing better. 
His numbers as a rookie, courtesy of The Ringer, were abysmal. Rosen finished last in yards per attempt (5.8), net yards per attempt (4.47), adjusted net yards per attempt (3.53), and passer rating (66.7). He also finished in the thirties in touchdown percentage (2.8%) and completion percentage (55.2%).
But it's not like he put up these numbers with the Chiefs' supporting cast. The Cardinals did little to help their future star. Their offensive line was the NFL's worst pass-blocking unit. The coaching was poor enough that offensive coordinator Mike McCoy was fired midway through the season. Then, head coach Steve Wilkes was fired after the season. 
Kliff Kingsbury was named as the new coach. It was clear that a more mobile option would take Rosen's place to run Kingsbury's offense. A change of scenery could've helped Rosen. But he was traded to one of the few franchises with less appeal than the Cardinals: the Miami Dolphins. 
The Dolphins planned on tanking last season for better draft picks. This meant Rosen was put in a position to fail for the second year in a row. You can only rationalize throwing one touchdown and five interceptions in six appearances so much. But Miami's early-season chopping and changing at QB showed they weren't invested in either player.
Rosen started the year as a backup and only got three starts before being supplanted by Ryan Fitzpatrick for the rest of the season. With Tua Tagovailoa now on the roster, Rosen will likely need a third team to give him a shot as a starter if he ever wants to look less like a bust. 
The QB star of the 2018 NFL draft
The 2018 draft was hyped as featuring several potential cornerstone quarterbacks, but most of them have struggled more than most analysts thought they would.
The number one pick, Baker Mayfield, took a big step back last year after impressing as a rookie. The third pick, Sam Darnold, has shown flashes, but playing for the Jets is a real hurdle for any young player.
The seventh pick, Josh Allen, started in a playoff game, but he still has clear deficiencies as a passer that he has to work out. Ironically, the best QB by far in this class is the one that he was a quarterback and not a wide receiver.
Lamar Jackson was chosen with the last pick of the first round, a fact that looks bad now and will probably feel worse in the future – as long as he avoids jet skis. He's made the Bill Polians of the world look foolish after only a season and a half as a starter. He's not just a superstar and the reigning MVP.
Jackson is representative of the ways attitudes surrounding what a NFL QB "looks like" are changing to become more accepting of non-pocket passers (though he's still gets critiqued for the smallest things on occasion). As gifted as he is, he landed in the perfect place to express his talent.
The Baltimore Ravens built an offense that accentuated his strengths, hid his weaknesses, and picked up players who'd help him maximize his potential. Rosen wishes he was so lucky.