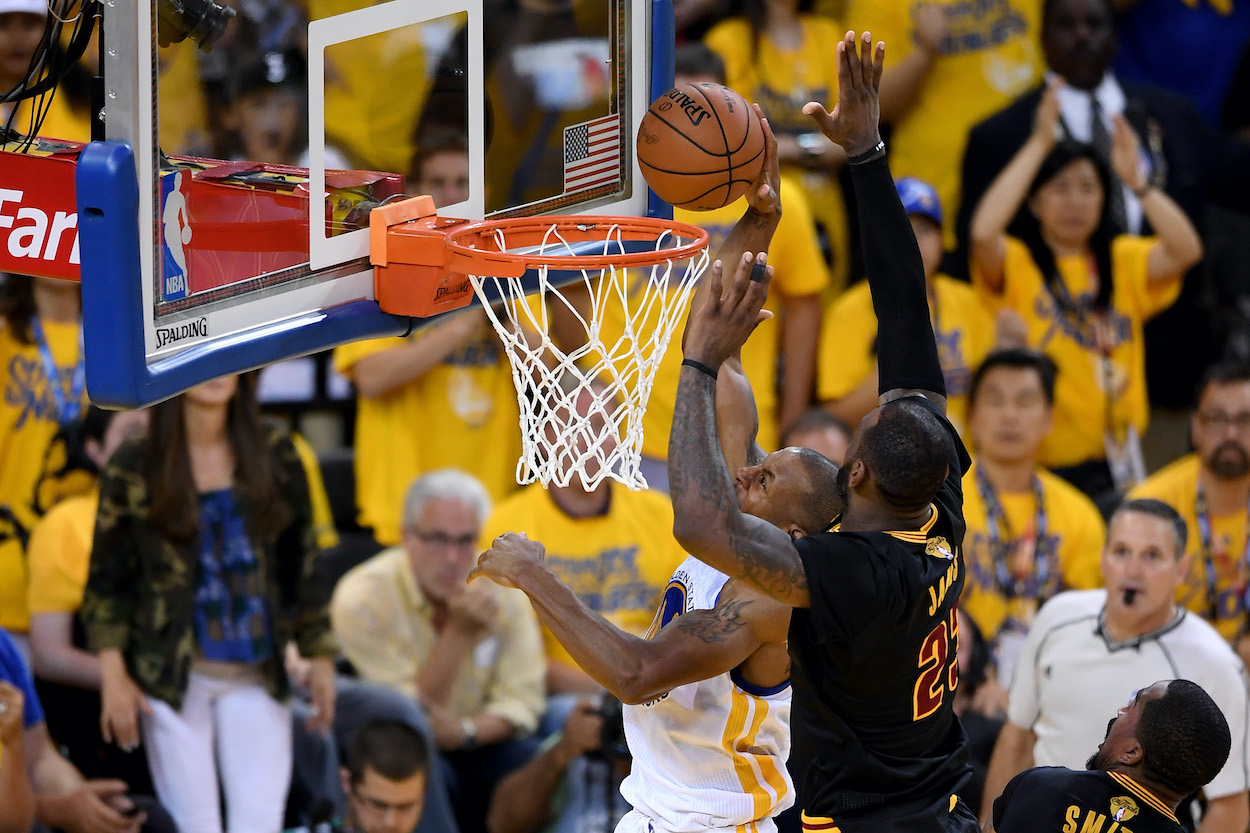 JR Smith Ridiculously Wants Credit for LeBron James' Iconic Block on Andre Iguodala: 'I'm the One Who Made Him Slow the Ball Up'
JR Smith believes he should get more credit for making LeBron James' legendary block in the 2016 NBA Finals possible.
JR Smith played five seasons with the Cleveland Cavaliers and was a crucial piece of the 2016 team that won the first and only NBA championship in franchise history. But despite all the good he did for the Cavs, he'll always be remembered for spoiling LeBron James' epic, 51-point performance in Game 1 of the 2018 NBA Finals with his bone-headed play at the end of regulation.
In a recent interview, Smith said he's tired of being unfairly blamed for that loss, and he even made a wild claim that he deserves more credit for James' iconic chase-down block of Andre Iguodala in 2016.
LeBron James' chase-down block is arguably the best play of his career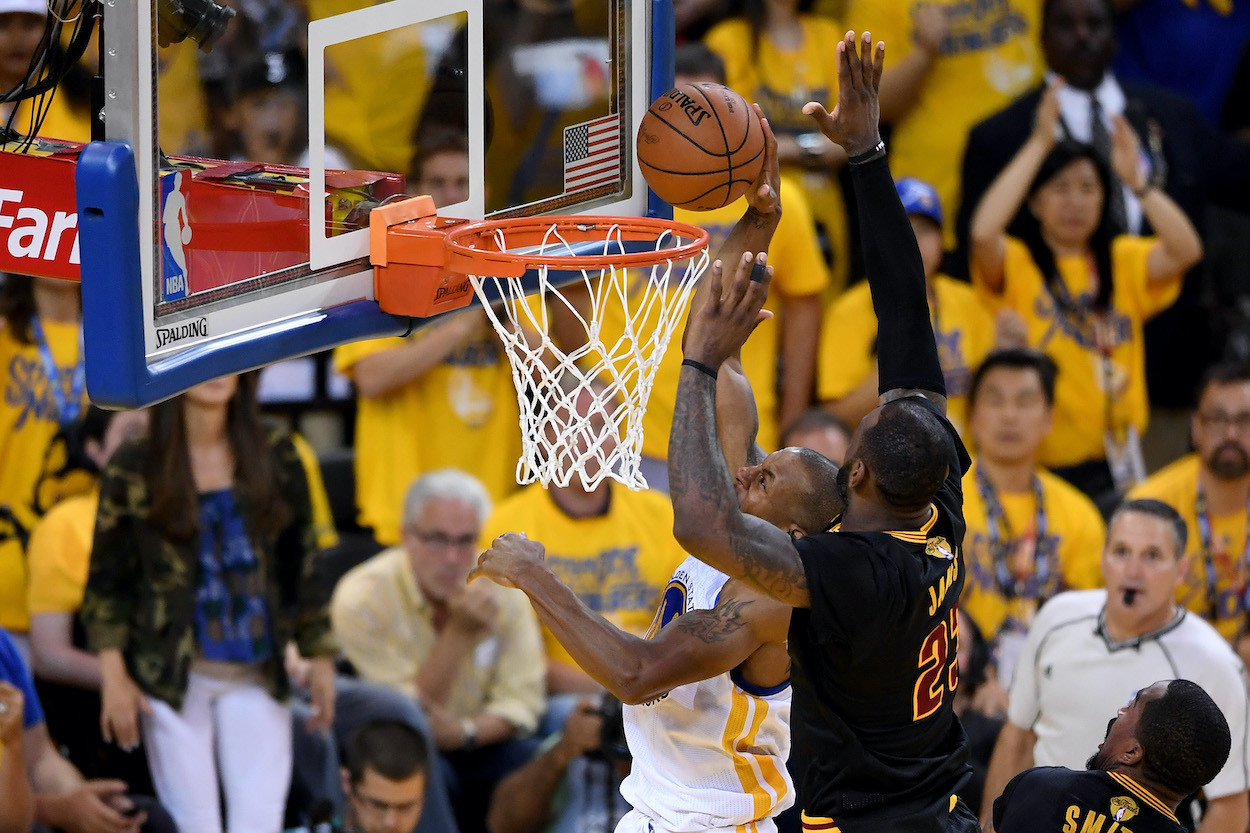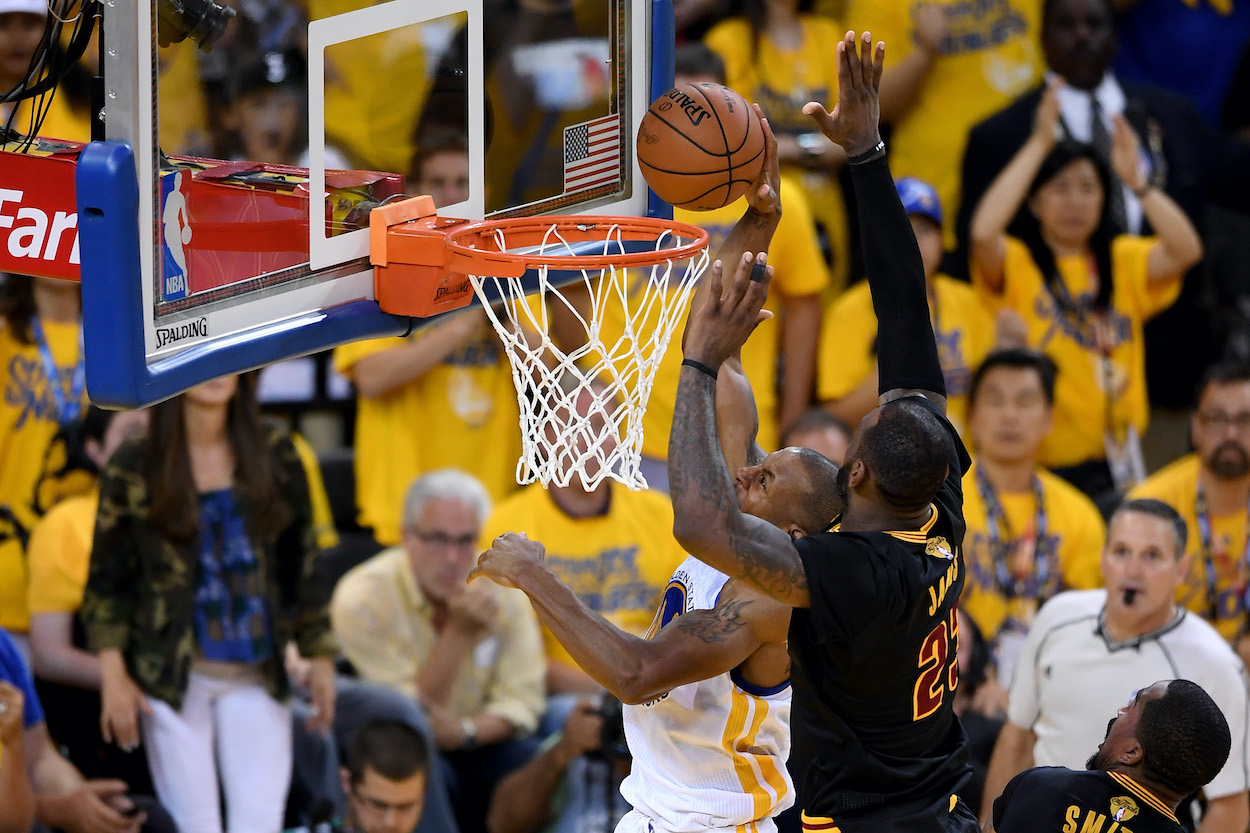 Let's take a trip back to 2016.
The Golden State Warriors had just finished up an NBA-record 73-9 regular season, and they entered the Finals as massive favorites over the Cavaliers. When Stephen Curry and company took a commanding 3-1 lead in the series, all hope looked completely lost for Cleveland.
But James heroically led the Cavs to two straight wins to force a Game 7, which is where he had his career-defining moment on an NBA court. With the game tied at 89 and less than two minutes to play, Golden State went on a fast break that seemed destined to end in an Iguodala slam dunk. But as the veteran went up for a seemingly uncontested bucket, James flew in from behind and swatted his layup attempt off the backboard.
The Cavaliers went on to pull off the improbable comeback and secure their first-ever NBA title, and James' superhuman block is still remembered as the defining moment. However, there's never been a mention of Smith's impact on that same play.
He's now trying to change that.
JR Smith wants more credit for LeBron's iconic block
Two years after Cleveland won its first title, the Cavs met the Warriors yet again in the Finals. That matchup shook out a bit differently, though, as Golden State won four straight to sweep its way to a championship.
The Cavaliers had a great chance to steal Game 1 thanks to LeBron's 51-point performance, but at the end of regulation, Smith grabbed an offensive rebound with 4.7 seconds left and immediately dribbled back to halfcourt instead of putting up a potential game-winning shot.
Smith has shouldered the blame for that loss ever since, but in a recent appearance on the I Am Athlete podcast hosted by former NFL wide receiver Brandon Marshall, he claimed he should get just as much of the credit for James' block in 2016.
"Me and Bron used to do that every time. Somebody switch, if he got the ball and it is you on the break, just know I'm coming. Just give me a split second and I'll get to it. I didn't look behind me, none of that. Andre Iguodala go up, extra second, block, win, championship.

"You don't give me credit for that because he got the block. But you give me credit for the loss because I rebound the ball and dribbled it out. On top of that, I'm the one who made him slow the ball up… It's a totally different narrative to what suits the situation. You gonna call Batman the villain or you gonna call Joker the villain? They called me the Joker for 10 years already, so what you gonna do?"

JR Smith
So, what are we gonna do?
Does Smith have a point?
Let's start with this. Smith still getting criticized for his blunder in 2018 is a bit of an overreaction. The Cavaliers were severely outmatched in that series, and they likely would've lost four straight games even if they squeaked out a win in Game 1. It's time to let him off the hook for that one.
As for Smith's claim about LeBron's block, he's not wrong that he was involved in the play. Smith stayed back on defense when no one else did, and he made Iguodala adjust his layup during his jump. But the Warriors still score that bucket if James isn't there to play Superman and make one of the most incredible plays in NBA Finals history.
Fans need to let up on Smith for his mistake in 2018, but giving him any credit for the greatest play of LeBron's career is a bit of a stretch.
Like Sportscasting on Facebook. Follow us on Twitter @sportscasting19.