Jrue Holiday Can Now Add Another All-Star Snub to His Growing Resume as One of the NBA's Most Indefensibly Underrated Players
Milwaukee Bucks' star Jrue Holiday — yes, he is a star — was snubbed, once again, of a berth in the NBA's All-Star Game. It seems there's nothing Jrue can do to prove he's one of the league's most valuable players.
The year he arrived in Milwaukee, the Bucks won their first championship in 50 years. He helped carry the US Men's Olympic Team to a Gold Medal this past summer. He was part of one of the most iconic plays in NBA Finals history.
But, apparently, he's not deserving of a spot in the All-Star Game.
It's just another line on Holiday's growing resume as one of the most indefensibly underrated players in the NBA.
Jrue Holiday was once again snubbed of an All-Star berth despite helping carry the Milwaukee Bucks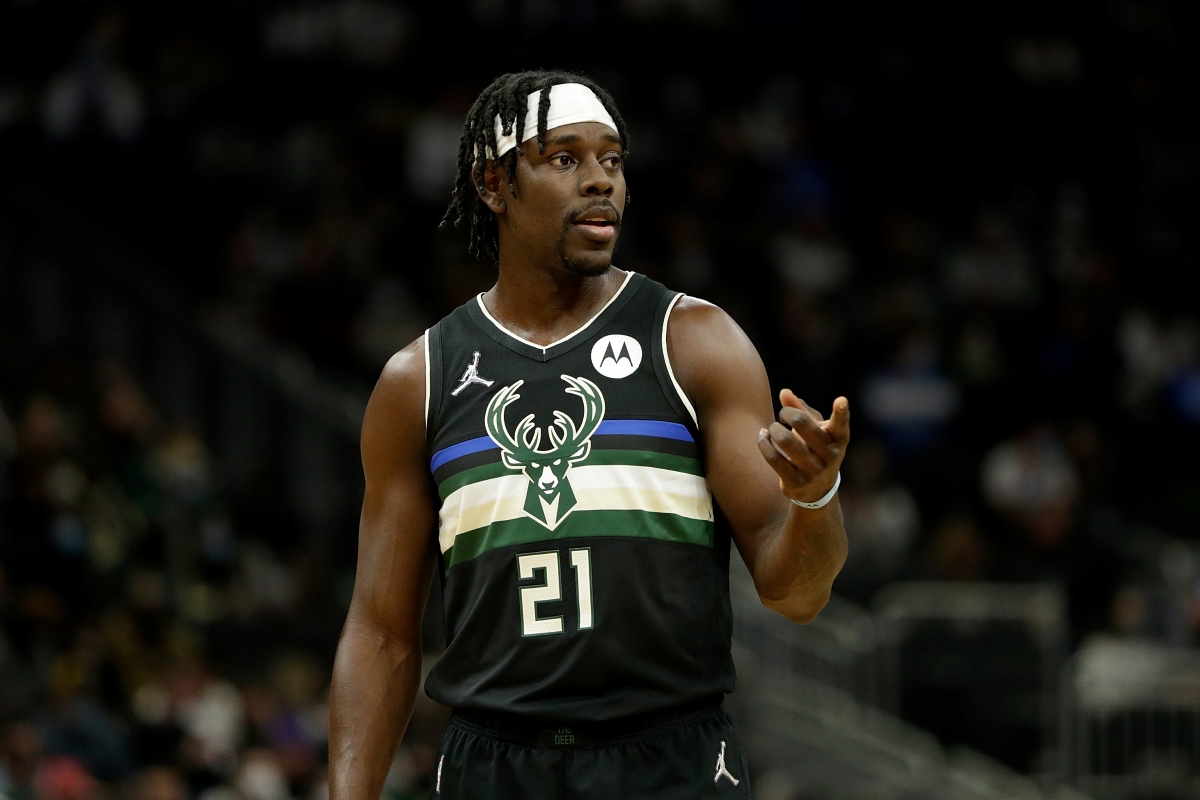 Milwaukee is one of the six teams currently in a heap atop the Eastern Conference standings. Depending on what happens over the course of a week, said standings can flip completely 1-6.
As of Feb. 4, the Bucks are fourth, but just one game back of the first-place Chicago Bulls and second-place Miami Heat.
However, they're also just a half-game ahead of the Cleveland Cavaliers and 1.5 ahead of the Brooklyn Nets.
Milwaukee averages 79.4 points with Holiday on the court. That drops to 51.8 with him off it. And that's ignoring his role as one of the league's best defenders. He has a good chance of making his fourth All-Defensive team this season.
Giannis Antetokounmpo and teammate Khris Middleton were named to the All-Star squad in the East. But Holiday is much more deserving than Middleton based on the season he's having. He's been far and away the Bucks' second-best player.
It seems the point guard just can't do enough to get any recognition
Let's do a blind comparison of two NBA players. Player A:
18.0 points, 4.7 rebounds, 6.5 assists per game
49.5% shooting and 39.2% from three
1.5 steals per night, which leads his team
Second among starters on his team in blocks
The highest offensive and defensive ratings among starters
Almost a 2:1 steal to turnover ratio
Now Player B:
18.2 points, 4.3 rebounds, 2.1 assists per game
48.6% shooting, 41.8% from three
1.0 steals, 0.7 blocks per night
Second among starters in blocks
Fourth highest offensive rating, third highest defensive rating among starters
minus-0.5 steal:turnover ratio
Player A is Holiday, who didn't even make the All-Star Game as a reserve.
Player B is Andrew Wiggins, an All-Star starter.
Wiggins is four inches taller. That's it. Every metric is comparable, if not slightly leaning in Jrue's favor. The Golden State Warriors wing was a controversial choice as a starter in the West. But he surely would have made it as a reserve, regardless.
What does a guy like Jrue gotta do to get some love around here?
Maybe if Holiday helps the Bucks win another NBA title he'll get his due
Milwaukee mortgaged the future to bring Holiday from New Orleans to the Cream City. And in his first year with the franchise, he won a championship.
The Bucks were the best team in the NBA, record-wise, the two seasons prior to Jrue's arrival. His acquisition put them over the top.
He defended Trae Young during last year's postseason. He defended Kevin Durant at times. In the Finals, he guarded Devin Booker when the Bucks needed it or willingly switched onto Chris Paul if that was necessary. Remember that memorable Giannis alley-oop at the end of Game 5? That came off a pass from Holiday. And that pass came off a steal by Holiday.
There's a long list of evidence proving the Bucks' point guard is one of the best in the league. But the list proving he's also one of the most underrated grows along with it every step of the way.
All statistics courtesy of NBA.com.
RELATED: Milwaukee Bucks NBA Trade Deadline: 3 Buyout Candidates For Another Championship Push