Jrue Holiday and Khris Middleton Join Only Michael Jordan and Three Others in USA Men's Olympic Basketball History
The USA Men's Basketball Team won Olympic Gold at the 2020 Tokyo Games after beating Spain 87-82 in the final. Kevin Durant scored a game-high 29 points to lead Team USA. He may have reinforced the notion that he's the greatest player in the world right now.
But his teammates, Jrue Holiday and Khris Middleton, helped lead the Milwaukee Bucks past Durant's Brooklyn Nets in this year's Eastern Conference Semifinals on their way to an NBA Championship. Giannis Antetokoummpo was Milwaukee's catalyst, but Holiday and Middleton played key roles on the Bucks' title team.
Now, Holiday and Middleton can add gold medals to go alongside Milwaukee's NBA title trophy. In the process, the duo joins an elite group of American basketball players, including one Michael Jeffrey Jordan.
Holiday and Middleton were key to Team USA's gold medal run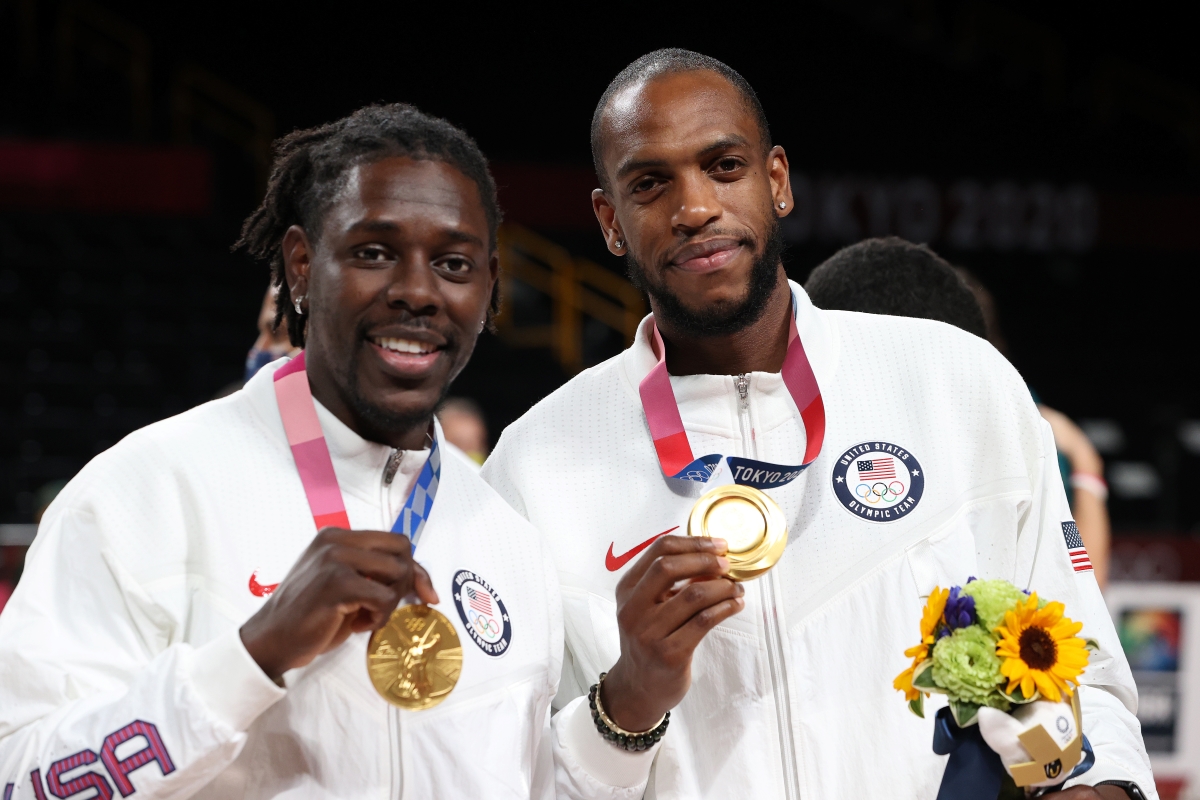 Once they joined the team in Tokyo (along with Phoenix Suns guard Devin Booker), Holiday and Middleton became immediate contributors. Holiday started and played 30 minutes in the gold medal game, second only to Durant. According to ESPN, he finished with 11 points and grabbed five rebounds, but in typical Holiday fashion, also had three steals and a block.
Middleton contributed off the bench with four points in 11 minutes.
Over the course of the tournament, Holiday averaged 12 points per game and racked up 10 steals and five blocks, according to USA Basketball. He started all five games once he arrived in Tokyo.
Holiday and Middleton join Michael Jordan and three other all-time greats in winning an NBA Championship and an Olympic gold medal in the same year
Holiday and Middleton join Jordan, LeBron James, Scottie Pippen, and Kyrie Irving as the only players in NBA history to have won an NBA Championship and a gold medal in the same year. They're the first pair of teammates to accomplish the feat since Jordan and Pippen on the Dream Team, according to NBA.com.
Coincidentally, Holiday isn't even the first person in his home to win Olympic gold. His wife, Lauren Holiday, was a member of the 2008 and 2012 gold-medal-winning USA Women's soccer teams.
Holiday and Middleton had a pretty solid two-and-a-half week run
The Bucks won the Larry O'Brien Trophy on Tuesday, July 20. Team USA won the gold medal on August 6. Holiday and Middleton reached the two highest pinnacles in their sport within the span of 17 days.
The only thing left to do now is to win another NBA title in 2022 and another gold medal in 2024.
RELATED: Why is an Olympic Event Being Disturbed by a Statue of a Sumo Wrestler?