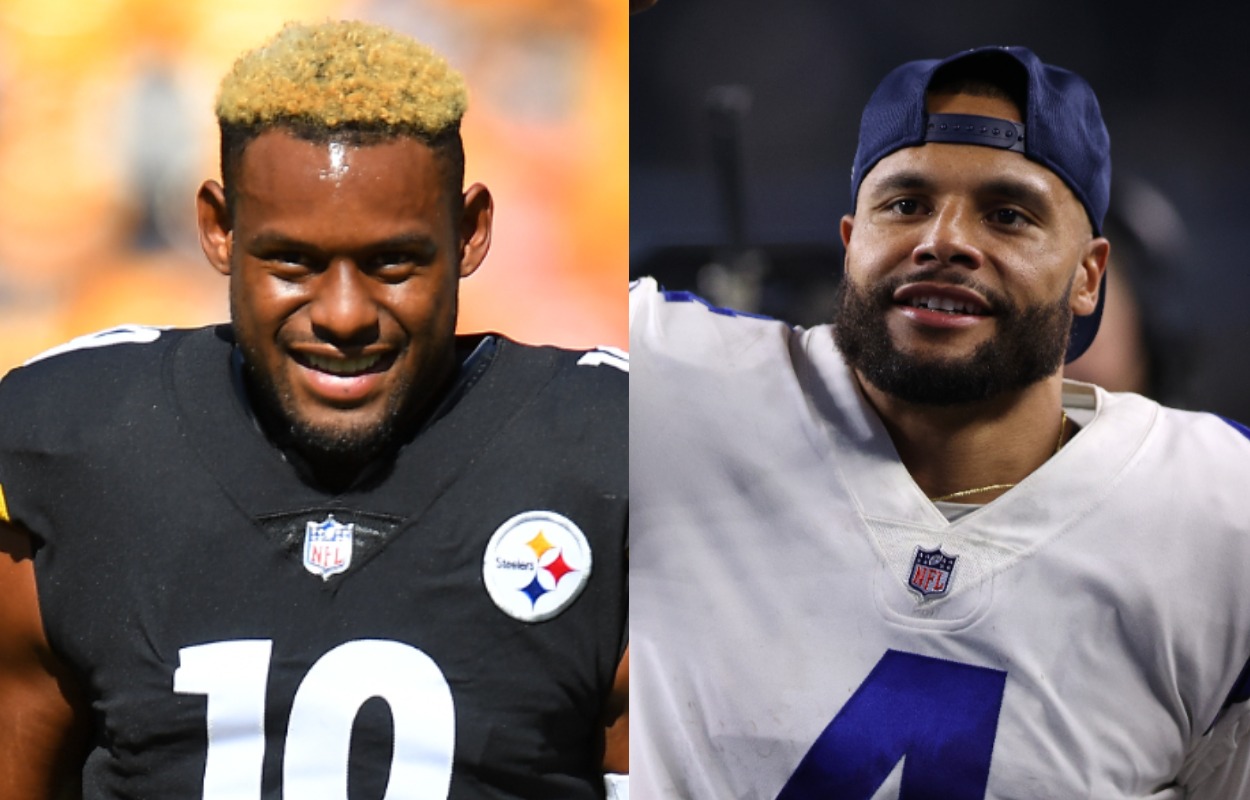 JuJu Smith-Schuster Is Already Envisioning a Possible Marriage With Dak Prescott and the Dallas Cowboys
Pittsburgh Steelers standout JuJu Smith-Schuster all but outright said he hopes to play alongside Pro Bowl quarterback Dak Prescott on the Dallas Cowboys in 2022.
Article Highlights:
Pittsburgh Steelers receiver JuJu Smith-Schuster hinted he wants to join Dak Prescott and the Dallas Cowboys in 2022
The 2018 Pro Bowl selection is scheduled to hit unrestricted free agency for the second straight year
Prescott and the Cowboys must strongly consider the negatives that would come with signing Smith-Schuster, who has a history of immaturity
If veteran Pittsburgh Steelers receiver JuJu Smith-Schuster gets his way, the 2018 Pro Bowl selection won't be wearing the Black and Yellow in 2022. At least, not unless the Dallas Cowboys break out a wasp-inspired alternate costume.
A shoulder injury limited Smith-Schuster, who turned 25 in November, to five regular-season games and a Wild Card Round loss to the Kansas City Chiefs this season. Ahead of hitting unrestricted free agency for the second straight year, the USC product all but outright said he wants to catch passes from Cowboys quarterback Dak Prescott next season.
JuJu Smith-Schuster hinted he wants to join Dak Prescott and the Dallas Cowboys in 2022
Barring a release in the coming weeks, Smith-Schuster cannot officially or legally negotiate with any teams until mid-March. Well, they're not supposed to, but that's another conversation entirely.
The NFL's rules won't stop Smith-Schuster from speaking his next possible team into existence. According to the Dallas Morning News' Michael Gehlken, the fifth-year receiver spoke with reporters at an event for 7-Eleven on Wednesday, Feb. 3, and said he is "most likely" headed for free agency. That news isn't exactly surprising, especially as the Steelers prepare to enter the post-Ben Roethlisberger era.
However, Smith-Schuster at least threw some fire on the hot stove by calling Prescott, who he filmed the commercial with on Wednesday, a "great quarterback." The two, along with Fox Sports reporter Erin Andrews, filmed the ad at the Cowboys' training facility.
"Catching balls from [Prescott] in a facility like this, I wouldn't mind it. He has some good guys around him, a great team, a great organization. So you never know."

JuJu Smith-Schuster
A reporter asked Prescott if he could see himself throwing to Smith-Schuster next season. Although the Pro Bowl quarterback said he didn't want to "cause any tampering," he sounded open to the idea of teaming up with the 25-year-old.
"Just getting to know him away from the game, yeah, he's going to be a great player wherever he is," Prescott said.
Smith-Schuster's history of immaturity makes him a risky addition even on a one-year, prove-it deal
Before discussing Smith-Schuster's potential fit in Dallas, it is worth noting that the Cowboys have four receivers, including veterans Michael Gallup and Cedrick Wilson, who will become unrestricted free agents in March. Gallup, who had 35 catches for 445 yards and two touchdowns in nine games, tore his ACL in January.
Although Smith-Schuster is young and experienced, he also has an ugly history of immaturity. Steelers head coach Mike Tomlin reprimanded the eccentric receiver for dancing on opposing teams' logos during the 2020 season. Smith-Schuster performed the dances for his social media audience — as of publication, he boasted over 1.1 million Twitter followers and 3.2 million fans on TikTok — and quickly earned ire from opponents and media critics.
To his credit, Smith-Schuster stopped his performances late in the 2020 campaign, although his "I'm not going to change who I am" defense left plenty to be desired.
Only weeks before the 2021 season began, Smith-Schuster went viral for performing the milk crate challenge, a viral phenomenon that consisted of climbing a pyramid of plastic cubes. The challenge became so dangerous that TikTok banned the videos.
If you're a Cowboys fan wanting to see the team reach the NFC Championship Game for the first time in nearly 30 years, are those really the problems you want to worry about next year?
Should the Cowboys sign Smith-Schuster in free agency?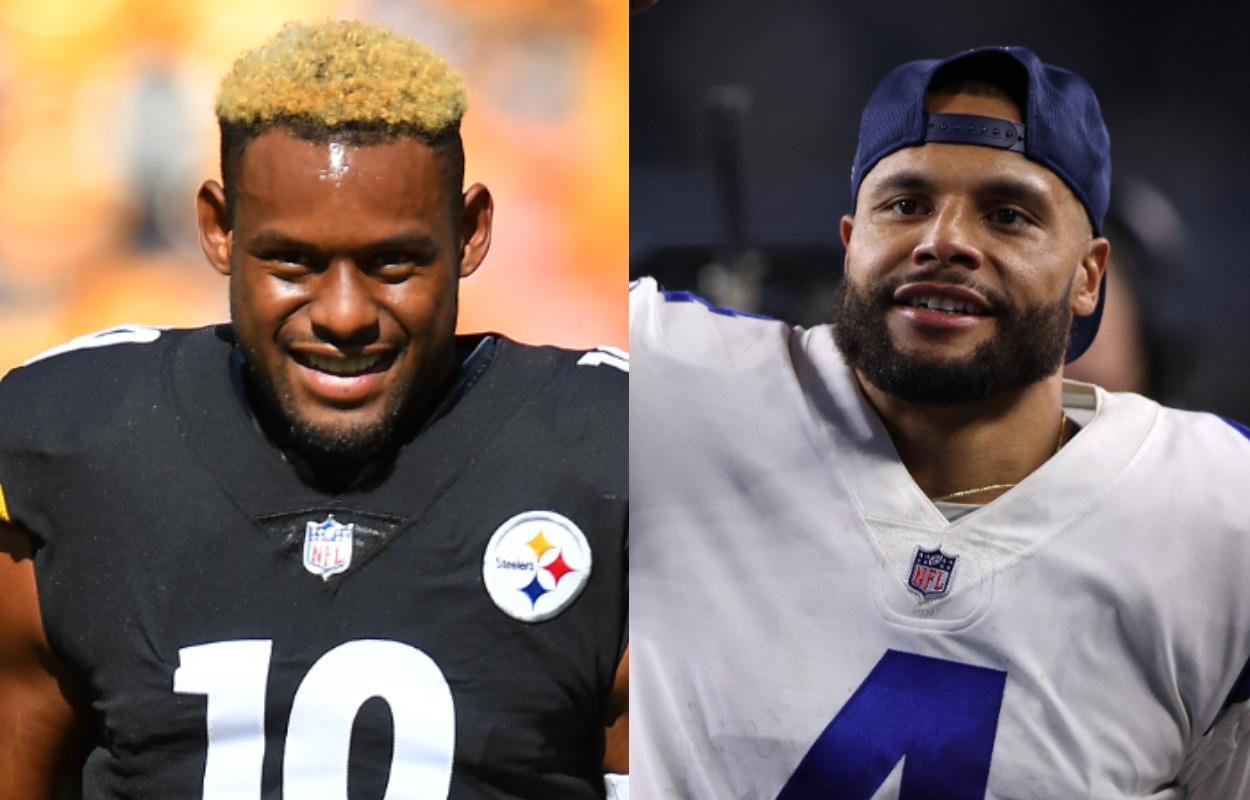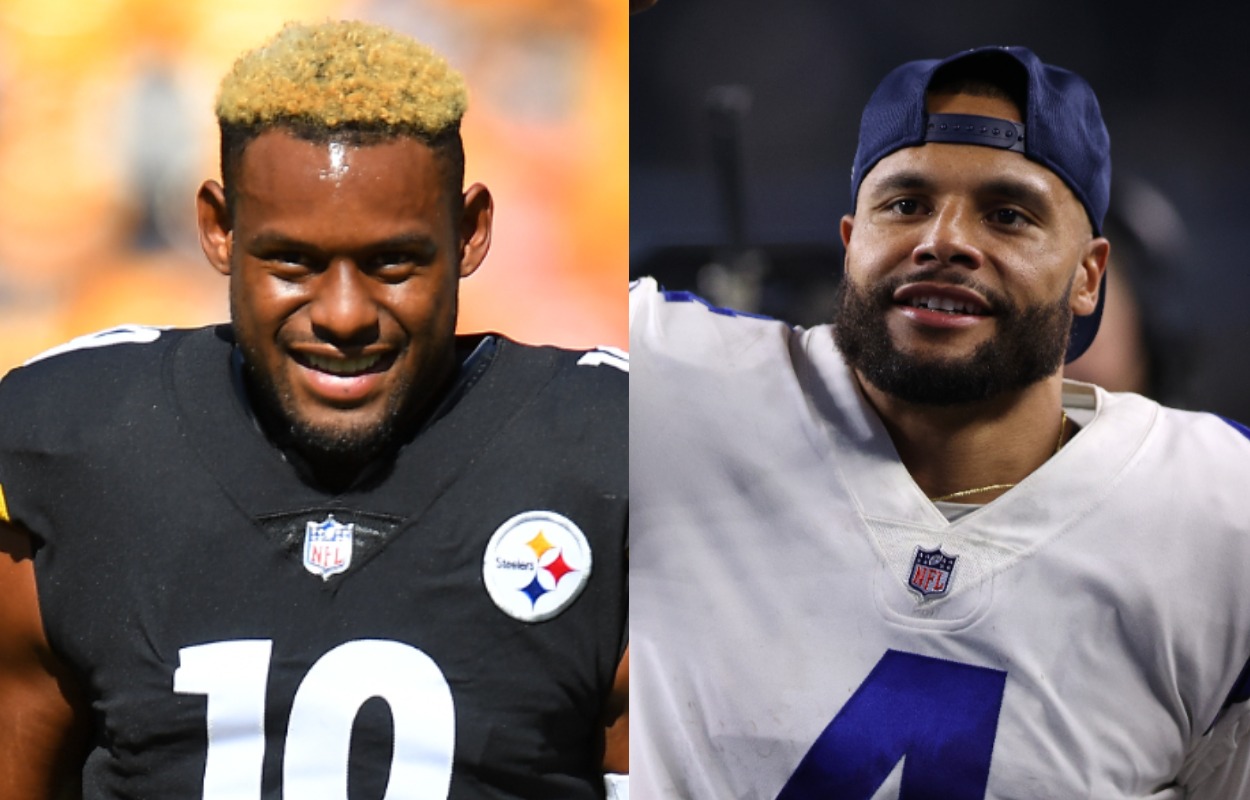 From an on-field perspective, Smith-Schuster makes some sense for the Cowboys. The keyword is "some," in large part because of Gallup and Wilson's uncertain futures in Dallas. Gallup's recovery from the torn ACL could also increase the Cowboys' need for another receiver.
However, Smith-Schuster doesn't fit what the Cowboys, as an organization, need right now. His history of immaturity and pandering to a social media fanbase should concern a franchise desperately trying to reach its first NFC Championship Game since January 1996.
Smith-Schuster has made it abundantly clear that he has no desire to change who he is, and that's fine. Millions of people around the globe clearly enjoy the veteran wideout's personality. But there are other contending teams, including the Kansas City Chiefs, which have the depth and management in place to better handle someone who wants as many likes as possible.
The Cowboys' priorities next season must be doing whatever they can to reach the Super Bowl. Prescott shouldn't have to worry about a starting receiver injuring himself in the next viral TikTok trend.
Like Sportscasting on Facebook. Follow us on Twitter @sportscasting19.