JuJu Smith-Schuster's Dangerous Offseason Workout Could Foreshadow His Future With the Pittsburgh Steelers
The Pittsburgh Steelers have a lot of impending free agents on their roster heading into the offseason. JuJu Smith-Schuster is one, and the team hasn't said much on his future with the team. The four-year receiver seems to be more focused on his offseason workouts.
The receiver is preparing for the 2021 season in a dangerously new way. He tested his abilities against a ferocious feline to train for whoever his team will be next year.
JuJu Smith-Schuster's up and down 2020 season
RELATED: JuJu Smith-Schuster Finally Pays the Price for His Disrespectful Behavior
The 2020 NFL season was a mix of good and bad for JuJu Smith-Schuster. He made headlines for his pregame dances during the year and made numerous comments about his opponents, specifically the Cleveland Browns. On the field, however, the USC alum played reasonably well.
Smith-Schuster caught 97 passes for 831 yards and nine touchdowns last season. He led the Steelers in receptions, despite the emergence of Diontae Johnson and Chase Claypool. He was tied for the team lead in touchdowns and was in receiving yards.
While the Steelers' receiving corps dropped 30 passes last season, according to Hosted Stats, Smith-Schuster only accounted for three of those. Despite his off-field antics, he was pretty reliable once he stepped between the white lines.
Juju Smith-Schuster is hoping to build off the on-field success in 2020 and has already started his offseason workouts. One of his training methods, however, seems to be pretty wild.
JuJu Smith-Schuster battles a lioness in a tug of war workout
RELATED: JuJu Smith-Schuster's Adorable French Bulldog Has Nearly 275K Instagram Followers
JuJu Smith-Schuster isn't wasting any time preparing for the 2021 season. The impending free agent battled a 425-pound female lion in a game of tug of war. Even though he was separated from the lioness by a cage, the animal proved to be more than a capable opponent.
"That was the first time I ever went against a lion in a tug of war. I thought I had it. She [the lion] got the regrip with her paw, and ever since then, I lost it," said Smith-Schuster in a video shared by Bleacher Report on Twitter.
The video didn't reveal a clear winner, although the lioness seemed to have the advantage against Smith-Schuster. It is also unclear where the battle took place.
JuJu-Smith-Schuster's recent workout could be a sign of things to come for the young receiver. The receiver needs a new contract and could find himself facing another type of tug of war in the coming months.
What is JuJu Smith-Schuster's future with the Pittsburgh Steelers?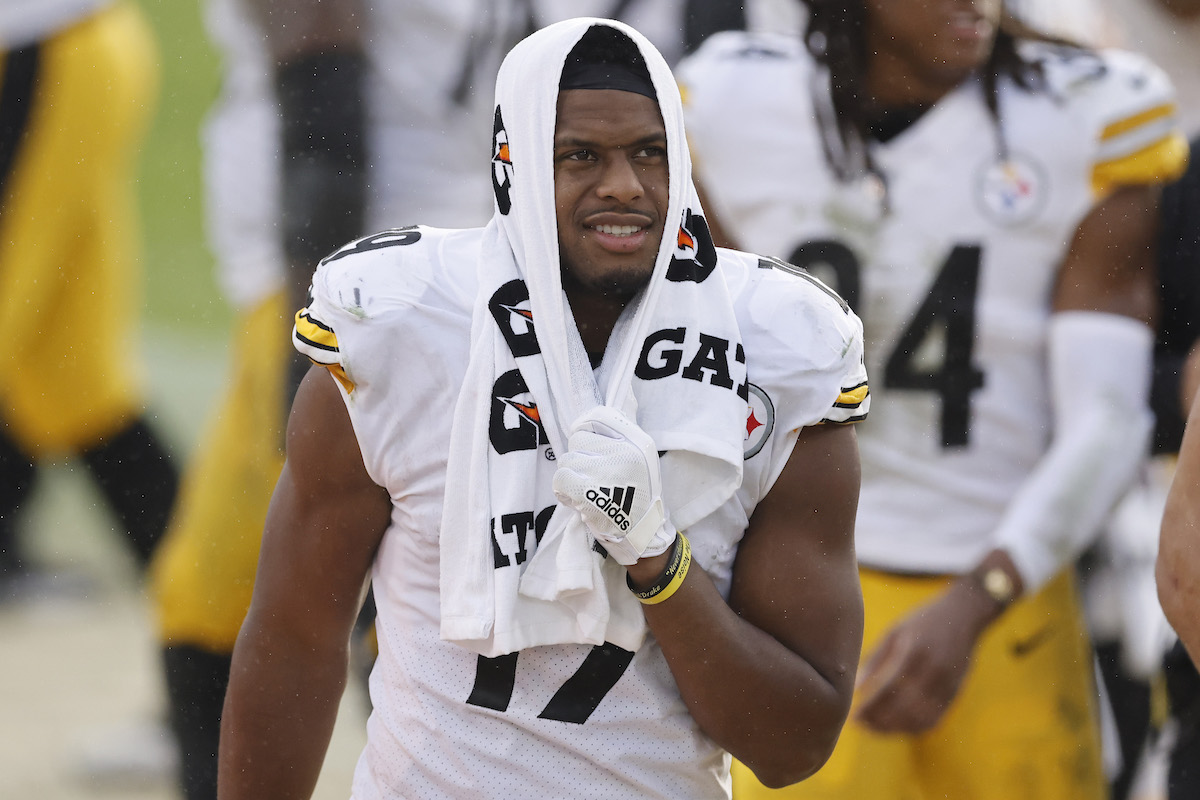 RELATED: Steelers WR JuJu Smith-Schuster Has a Side Hustle Most Football Fans Would Love
JuJu Smith-Schuster is one of the many impending free agents the Steelers have entering the 2021 offseason. He's signaled he wants to stay in Pittsburgh, as ESPN's Brooke Pryor tweeted a screenshot of Smith Schuster saying, "I wish I can get one" in response to his teammate Zach Banner's post about finalizing his contract.
To some extent, it is up to Smith-Schuster if he wants to return to the Steelers. The team doesn't have much rope to give, as they have a challenging cap situation. Pittsburgh could use the franchise tag, which would pay the 24-year-old $16.43 million in 2021, according to Over the Cap. Using the tag would give both sides more time to work out a long-term deal, although Pittsburgh hasn't used the franchise tag on a receiver since its existence in 1993, as noted by SteelersWire.
If the receiver can't work out a deal with the Steelers, though, he'll be a hot commodity in free agency. He would get much higher offers from other teams who aren't as cap-strapped like Pittsburgh. Smith-Schuster will have to decide whether he wants the big payday or sacrifice some money to stay with the Steelers.
The offseason just began, and JuJu Smith-Schuster is starting his with a bang. Going against a lioness in a game of tug of war is no easy task, and the young receiver held his own. As he enters contract talks with teams, he could be in another match of tug of war; it just involves dollars and cents.
Stats courtesy of Football Reference