JuJu Smith-Schuster: Pros and Cons to the Chiefs Adding the Eccentric Receiver to Patrick Mahomes' Arsenal
The Kansas City Chiefs have added former Pro Bowl receiver JuJu Smith-Schuster to Patrick Mahomes' arsenal. Was that the right move?
JuJu Smith-Schuster is taking his talents — and his dancing — to the Kansas City Chiefs.
The two-time Super Bowl champions officially signed Smith-Schuster, who turns 26 in November, to a one-year, $3.25 million contract with an additional $7.5 million in incentives. If all goes to plan, the 2018 Pro Bowl selection could emerge as one of Patrick Mahomes' most essential weapons next season, especially after the team traded star receiver Tyreek Hill to the Miami Dolphins.
In light of the Hill trade, now feels like the perfect time to re-examine the Chiefs' decision to sign Smith-Schuster. Was it the right move, or would the franchise have been better off going in another direction?
Pros: Smith-Schuster has a history of explosive play and is an excellent fit on a prove-it deal
Chiefs fans should understandably be wondering which version of Smith-Schuster the team just signed. Did Kansas City add the explosive receiver who totaled 169 catches, 2,343 yards, and 14 touchdowns in his first two seasons? If so, Mahomes should be ecstatic, especially considering Smith-Schuster's age and history of impactful plays.
After injuries and inconsistent quarterback play derailed his 2019 campaign, Smith-Schuster totaled 97 catches, 831 yards, and nine touchdowns in 2020. However, he registered a career-low 8.6 yards per catch and settled for a one-year, prove-it deal last offseason.
Then came a shoulder injury that cost Smith-Schuster most of the regular season and forced him to take an incentive-laden deal in free agency,
When Smith-Schuster is healthy, he is a dangerous weapon who can beat teams with his size or his 6-foot-1, 215-pound frame. Prior to the Hill trade, it appeared as if the USC product would typically be the Chiefs' third or fourth option in the passing game. Now? Depending on what happens in the draft or the next stage of free agency, he might instead open the 2022 campaign in the starting lineup.
If Smith-Schuster returns to his 2017-18 form with Mahomes throwing his way, the Chiefs could look back quite favorably on this signing. Unless, of course, his propensity for immaturity gets in the way.
Cons: Smith-Schuster has a reputation for immaturity and eccentric behavior
Throughout his career, the one knock against Smith-Schuster hasn't been injuries or drops. Instead, many in the football world, including Steelers head coach Mike Tomlin, have become frustrated with his carefree attitude and social media habits.
Tomlin reprimanded the Smith-Schuster for dancing on opposing teams' logos during the 2020 season. For those unfamiliar, the receiver performed the dances for his social media audience — as of publication, he boasted over 1.1 million Twitter followers and 3.3 million fans on TikTok — and earned criticism along the way.
Although Smith-Schuster stopped dancing, his "I'm not going to change who I am" defense reeked of immaturity.
Only weeks before the 2021 season began, Smith-Schuster filmed himself performing the milk crate challenge, a viral phenomenon that consisted of climbing a pyramid of plastic cubes. The challenge became so dangerous that TikTok banned the videos. Luckily for the Steelers, he escaped serious injury.
On second thought, maybe bringing in a receiver with a history of drops would have been the safer choice.
Should the Chiefs have signed Smith-Schuster?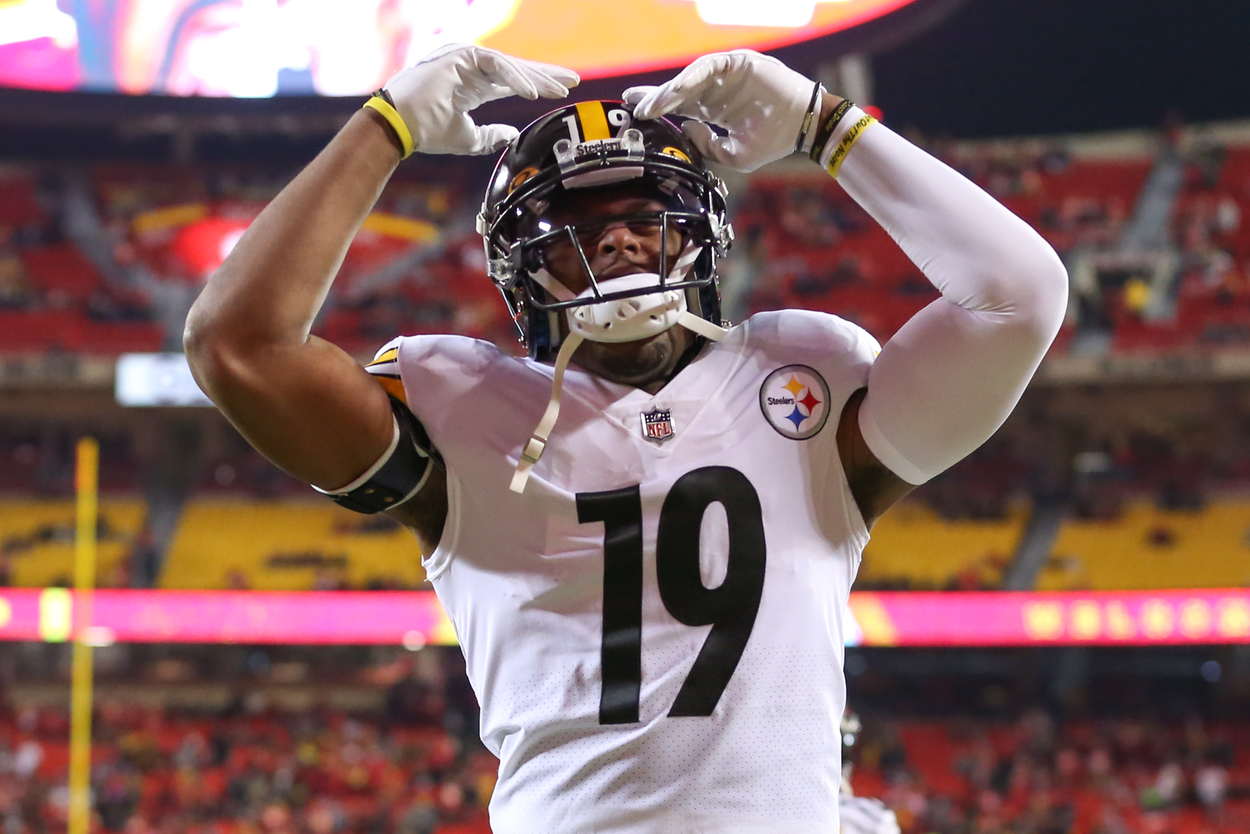 Smith-Schuster is a complicated case, in large part because of his social media antics. There is no disputing his ability to be a game-changing receiver, and joining the Chiefs' stacked offense should put him in a position to excel even if he's not putting up Pro Bowl numbers next season.
However, Smith-Schuster made it clear that he is who he is, and he has no desire to stop posting on Twitter and TikTok. In a league where Antonio Brown keeps getting opportunities and Deshaun Watson just signed a fully-guaranteed $230 million contract, a 25-year-old who loves filming himself dancing sounds relatively harmless. And, in fairness, it is usually harmless.
However, the Chiefs can only afford so much foolishness and immaturity, especially after a disappointing end to the 2021 season. Reid and Mahomes need players who are fully invested in the team's desire to win a Super Bowl for the second time in four years. Can the Chiefs count on Smith-Schuster to be all-in on that goal?
Even still, we feel comfortable saying that, yes, the Chiefs should have made this move. Smith-Schuster is cheap, and the team can move on if things don't work out. With that said, the Chiefs must strongly look into adding another veteran wideout if the team does not select multiple receivers in the draft. No one can replace Hill, but the Chiefs need to do everything in their power to ensure Mahomes still has enough weapons to make another Super Bowl run.
We do have one request for the Chiefs, though. If Smith-Schuster and Jackson Mahomes start filming TikTok videos together, can we send both to Mars?
Actually, can we send both to MetLife Stadium? They don't deserve Mars.
Like Sportscasting on Facebook. Follow us on Twitter @sportscasting19.