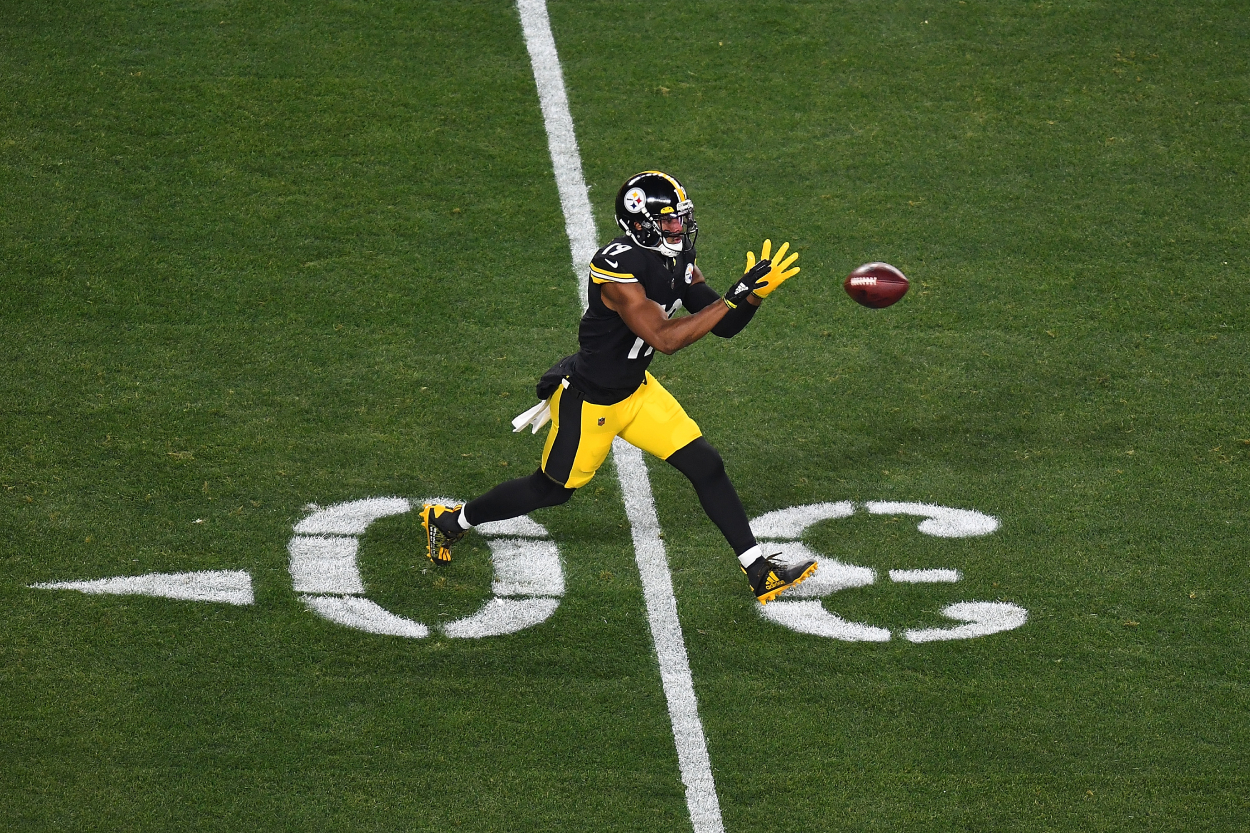 JuJu Smith-Schuster Reveals His Likely Steelers Fate Via Twitter Poll
JuJu Smith Schuster revealed his fate as a member of the Pittsburgh Steelers in a Twitter poll.
The Pittsburgh Steelers are apparently making one more strong push at a Super Bowl run with Ben Roethlisberger at quarterback. They brought back the veteran quarterback, who took a $5 million pay cut to remain with the team. One player Big Ben likely won't be throwing to is JuJu Smith-Schuster, who revealed his fate with the team on a recent Twitter poll.
JuJu Smith-Schuster quietly had a strong 2020 season
JuJu Smith-Schuster broke into the NFL in 2017 after playing his college football at USC. He was a second-round pick of the Pittsburgh Steelers and started seven of the 14 games he played his rookie year. He had a very productive season with 917 receiving yards on 58 catches. Smith-Schuster also scored seven touchdowns.
Smith-Schuster broke out in his second year in the NFL. He became the Steelers' top wideout threat, racking up 111 catches for a career-high 1,426 receiving yards. Smith-Schuster added seven touchdown receptions and made his only Pro Bowl.
He had a down year in 2019 when quarterback Ben Roethlisberger was sidelined most of the season. This season, Smith-Schuster bounced back when Roethlisberger returned, catching a career-high nine touchdown passes. He also recorded 97 catches for 831 yards.
Smith-Schuster lost in the shuffle
After JuJu Smith-Schuster's breakout season in 2018, it appeared he was going to take over for Antonio Brown as the Steelers Pro Bowl receiver of the future. It hasn't quite turned out that way. The speedy receiver had a down year in 2019, mainly because of the Pittsburgh Steelers' quarterback situation.
With Ben Roethlisberger injuring his elbow early in the year, the Steelers' offense suffered a major blow. When he returned in 2020, they looked like the team to beat, jumping out to an 11-0 record. They faltered down the stretch, finishing 12-4.
Smith-Schuster was no longer the big man on campus in the wide receiver department. The emergence of rookie wide receiver Chase Claypool and second-year receiver Diontae Johnson took much of the attention away from Smith-Schuster. Although Smith-Schuster led the receivers with 97 catches, he was joined by Johnson (88) and Claypool (62), who had bigger-than-expected seasons.
Smith-Schuster votes on a Twitter poll about himself
With the emergence of two younger wide receivers in Diontae Johnson and Chase Claypool in Pittsburgh, the Steelers have a decision to make. JuJu Smith-Schuster will be looking to get paid and the expectation is the Steelers will let him go.
On Thursday, Sports Illustrated put out a poll on Twitter regarding Smith-Schuster's future with the Steelers. The question was: Is the Ju-Ju Smith era over in Pittsburgh? The options were 'I hope so' and 'That's a negative.'
Things didn't look promising for Smith-Schuster returning to the Black & Gold when SI's poll showed an 89% chance of him not returning. What made things even more likely that he won't return is Smith-Schuster voted on the poll and was part of the group who believes he won't be back.
All stats courtesy of Pro Football Reference.