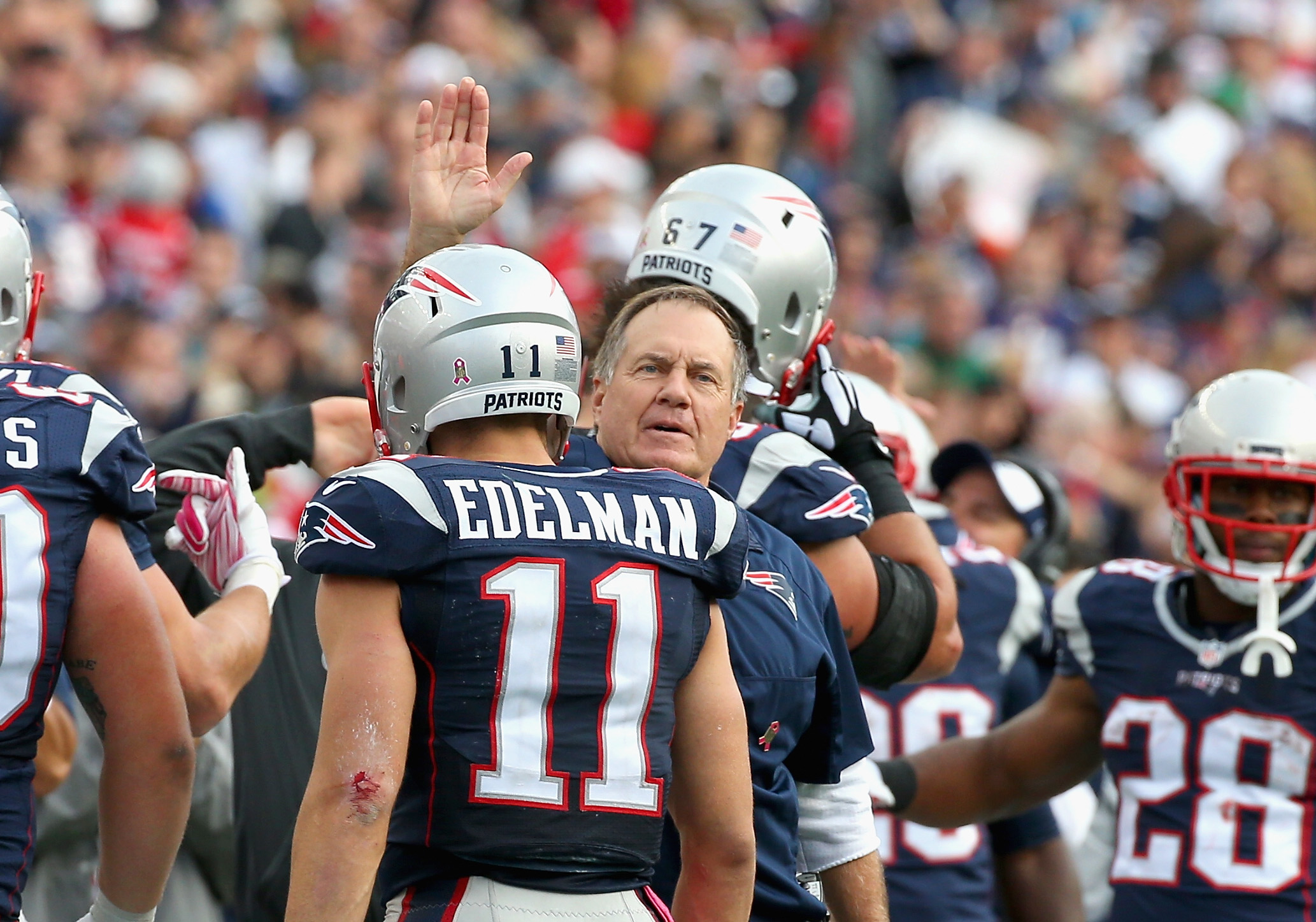 Julian Edelman Gets Highest of Praise From Bill Belichick Ahead of His Big Day Sunday
Julian Edelman got some high praise from Bill Belichick heading into his big day on Sunday.
While much of the focus of the New England Patriots has been on their Week 4 matchup with Tom Brady and the Tampa Bay Buccaneers, there's still a Week 3 meeting with the New Orleans Saints. On Sunday, former Patriots wide receiver Julian Edelman will get some well-deserved attention on"Julian Edelman Day" at Gillette Stadium. Patriots head coach Bill Belichick offered Edelman the highest of praise before his big day.
Julian Edelman will be honored at halftime of Sunday's New England Patriots game
The Patriots will honor their former receiver at halftime of their game against the Saints. New England is labeling it "Julian Edelman Day" and the recently retired Edelman is anxious to be back in Foxborough.
"It's definitely going to hit my soul," Edelman said, according to Boston.com. "I really haven't seen anyone, so it's going to be interesting. I don't know what to really expect. I'm an emotional guy. We'll see if I can hold it up."
Edelman spent all 11 of his NFL seasons with the Patriots. New England selected him in the seventh round of the 2009 NFL Draft. He spent played three years of college at Kent State as a quarterback. Belichick converted him to a wide receiver, and he became one of Brady's favorite targets.
He won three Super Bowls with the Patriots and was known for coming up big in the postseason. Edelman was the MVP of Super Bowl 53 and is second all-time in postseason receptions and receiving yards.
Julian Edelman got some high praise from Bill Belichick
Edelman was one of Belichick's favorite players. He showed no fear of going over the middle and making some tough, in-traffic catches. He finished with three 1,000-yard seasons and collected 36 touchdowns in his career.
None of it went unnoticed by Belichick.
"He had a tremendous career," Belichick said, according to NESN. "Had tremendous production in every area — receiving, run after catch, punt returns, was a good blocker, was a really tough, competitive kid."
Belichick then paid him one heck of a compliment, stating Edelman was one of the top players he's ever coached.
"He was right up there at the top of the guys that I've coached." Belichick said. "It'll be good to see him again and recognize him for the great career he had here and how much he meant to this team, this organization, and how much he stepped up in big games year after year, week after week."
Belichick is looking forward to seeing Edelman — sort of
Belichick admitted he's looking forward to reuniting with Edelman on Sunday, but believes his former player may have something up his sleeve.
"It will be great to see Julian," Belichick said, "assuming he doesn't roast me or get into a big impersonation."
Edelman put his impersonation of Belichick on display recently, and it's not out of the question that he'll have some fun with it Sunday. In any case, he's looking forward to the opportunity to see his former coach.
"I love the guy," Edelman said. "Yeah, he may have been hard to play for. And, you know, we all know Coach Bill. But he ultimately was the guy that gave me an opportunity to go out and fulfill a dream of mine."